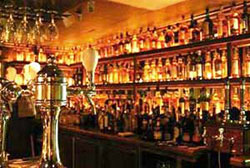 The Dam Pub is a warm and cozy upscale Scottish Whisky Pub in the heart of vacationland, just 2 hours north of Toronto, Ontario, Canada. The Dam Pub is owned and operated by Stephanie, Sandy and Gordon Price who, having a passion for detail, have created a true Scottish ex-perience.
Thornbury is just minutes away from the Blue Mountain ski area, boast-ing the best skiing in Ontario. This summer sees the opening of Lora Bay Golf Course, a PGA course designed by Tom Lehman. People from around the world come to see the salmon jump the ladder at the Dam on the Beaver River, right in the middle of Thornbury. Sailing and water sports abound from May till September. This is a one stop vacation land with plenty of B&Bs and hotels in the area.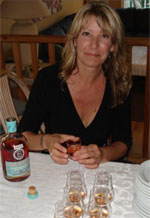 Our pub provides a wee bit of present day Scotland in a very Scottish area of Ontario. No wonder we have been jammed since our opening on 25 October 2005. Over 500 whiskies from around the world including over 300 single malts. Belly up and ask Stephanie, our Certified Whisky Ambassador, for a bar side whisky tasting. You can be sure Stephanie will share her knowledge and a few whisky tales from her whisky travels and experiences. All this in addition to a well stocked bar.
Our beers are second to none with 10 great brews on tap. Bass Pale Ale and lo-cally crafted Hockley Dark are pulled from our restored 1880 beer pull taps to give you a true Scottish pub experience. Our bar and tables were built by cousin Peter, master cabinet maker, using Meaford Oak, which matches the 120 year old restored Meaford oak floors.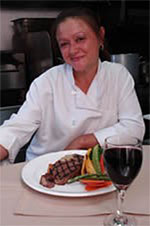 Executive Chef, Suzette Gerrie has wowed our patrons with outstanding world class gastro pub fare including our famous braised Lamb Shank, Fresh Georgian Bay Whitefish and Steak & Kidney Pie to name a few. Our customers tell us we have the best in house ,dry aged steak dinner in the world. The Dam Pub fish supper is an old and secret beer batter recipe passed down through generations of 'McKay's' Sandy's family heritage. Besides our standard restaurant and pub fare we offer a wide assortment of daily specials to provide variety for our frequent patrons.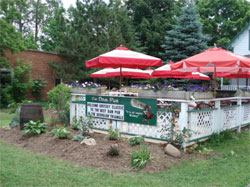 The main floor accommodates 65 people with a choice of the pub or dining room. The upper level accommodates up to 30 people for a more intimate ambience for your private celebrations and functions in the Robbie Burns Room or our cozy Fireside Parlour. In the warmer months, our award winning patio accommodates 40 people complete with an outdoor bar surrounded by our beautiful and fragrant gardens.