Boiler Engineering Limited
Westerhill, Annan, DG12 6SA, Scotland
Tel: 01461 202242 - Fax: 01461 205957


Founded in 1975, Boiler Engineering Ltd is a specialist boiler plant service and installation engineering company. Based in Annan, Dumfriesshire this family business has been operating for over thirty years and has a combined industry experience of over 60 years. The customer base continues to grow due to the focus and commitment of the management staff and the dedication of the workforce.
Specialising in supply, installation, maintenance and repair of Packaged Shell Boilers and the associated ancillary equipment, the company is fully equipped to carry out all your planned and emergency boiler work. From refractory to re-tubes, de-scaling and 'D' patches, they have the skills and equipment to keep your plant running.
Installation, Service & Maintenance at Boiler Engineering Ltd.


Larslap 'in position' Valve Grinding.
Fully equipped to carry out all required boiler work – from Turnkey installations, Annual Survey work, Valve Refurbishment and Testing, NDT preparations, full or partial re-tubing and all types of weld repairs, to refractory installation and modification and burner installation and conversions.
Spares at Boiler Engineering Ltd.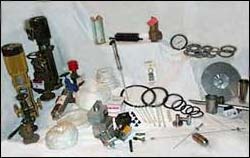 The company stocks a large quantity of boiler spares required for the everyday running and maintenance of your boiler. Trade accounts are held with all the major suppliers in the industry, allowing ready availability of parts not in stock.
Plant for Sale
The company buys, refurbishes and sells packaged steam boilers and associated equipment. Preferred supplier and customer support for the Byworth Boilers Ltd range of products. Please contact us for details.