The Scotch whisky industry has altered a great deal during the past century, and many of the most significant changes have come about due to an increasing understanding of the science and technology of distilled spirits. At the forefront of the scientific analysis of whisky throughout that time has been the Scottish firm of Tatlock & Thomson Ltd.
The firm's founder, Robert Tatlock, was born in Glasgow on May 18th, 1837 and initially trained under Professor Penny at Anderson's College in Glasgow and then worked as his assistant. In 1891, he, along with his nephew Thomson founded the partnership of Tatlock and Thomson, Analytical and Consulting Chemists in Bath Street, Glasgow.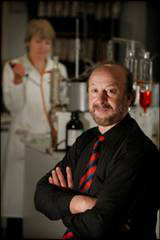 Since 1994, the firm has been based in the Old Corn Exchange in the Fife port of Inverkeithing, and is headed by Dr Harry Riffkin.(right)
"The major proportion of our work is for the alcoholic drinks industry", says Dr Riffkin. "We provide independent UKAS accredited analysis for a wide range of companies in the whisky industry, looking at spirit quality and wood chemistry, among other things. We do work on fraudulent whiskies, brand authenticity, and analyze samples where complaints have been made by consumers."
Tatlock & Thomson is also often involved in the development of new products and new expressions to meet consumer demand across the alcoholic drinks' spectrum, for example, undertaking analysis to create gin styles and flavours.
Within one of the Inverkeithing laboratories, small-scale trial distilling equipment carries out malting, mashing, fermenting and distilling processes, making some 15 litres of wash per batch, yielding two litres of spirit per run. Currently, plans are in place to build a pilot trial distillery for the use of client companies which would allow mashes of up to 500kg of malt distilling approximately 2,500 litres of wash.
Overseas projects have included a number in North America, most notably developing the prize winning Old Potrero Single Malt Rye Whiskey with the Anchor Distillery in San Francisco.
As well as work for the drinks industry, Tatlock and Thomson carry out analysis of private water supplies both for distilling use and for private individuals and analysis of distilling raw materials including malt, cereals and yeast.
Tatlock & Thomson continues to combine the most progressive thinking and modern scientific methods of analysis and with a thorough understanding of production requirements and priorities.
For more information, please contact:

Tatlock and Thomson Ltd
The Old Corn Exchange,
4 Hope Street,
Inverkeithing, Fife,
KY11 1LW, Scotland
Tel: +44(0)1383 411017 | Fax: +44(0)1383 411018