Royal Mile Whiskies
379 High Street, The Royal Mile, Edinburgh, EH1 1PW Scotland.
Tel: +44 (0)131 2253383 Fax: +44 (0)131 2262772
and
3 Bloomsbury Street
London WC1B 3QE
Tel: +44 (0) 207 436 4763 Fax: +44 (0) 207 436 4764
www.royalmilewhiskies.com E-mail: info@royalmilewhiskies.com
Royal Mile Whiskies, Whisky Magazine's Retailer of the Year 2003, opened its doors in Edinburgh's historic Old Town over 10 years ago. Within the last year, a second shop has been opened in the Bloomsbury area of London, close to The British Museum.
As you might expect from an award winning whisky merchant, both shops have an impressive range of malt whiskies, ranging in price from little more than £10 to several thousand pounds including some very rare malts. Other spirits on the shelves include Bourbons and Irish as well as an extensive range of calvados, cognac and armagnac and a selection of wines in the London shop.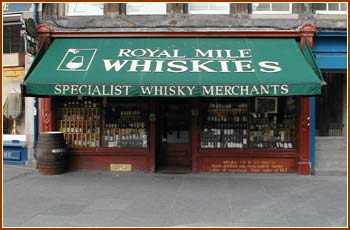 The shops are run by whisky enthusiasts who are happy to take the time to chat about whisky, offer suggestions on which malt to try and provide visitors with information on whisky distilleries and the main whisky regions of Scotland. Royal Mile Whiskies also organise an annual whisky festival in Edinburgh.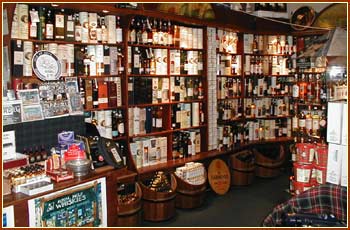 Royal Mile Whiskies' website - www.royalmilewhiskies.com has the shops' wide range of products and offers worldwide delivery.