George Strachan Ltd
Licensed Grocer and General Merchants Est. 1926
George Strachan Ltd was established in 1926 and has premises in Aboyne, Ballater and Braemar on Royal Deeside.
The family run business provides it's customers with a vast choice of single malt and blended whiskies combined with a first class service. Over 500 malts are held in stock. We also have a huge range of miniatures and commemorative decanters.
If you are seeking a whisky which we do not have we will order it for you. Delivery available within UK.
Aboyne
Station Square, Aboyne, Aberdeenshire, AB34 5HX Scotland.
Tel: 013398 86121 Fax: 013398 86080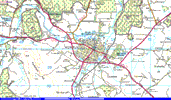 Click here
to Locate
The Shop
Ballater
Golf Road, Ballater, Aberdeenshire, Scotland.
Tel: 013397 55452
Braemar
Castleton, Braemar, Aberdeenshire, Scotland.
Tel: 013397 41245