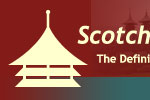 FREE WHISKY MAP OFFER
Sign up to our free newsletter and "facts & tips" emails below and INSTANTLY receive your FREE "Scotch Whisky Distilleries map".



Herzlich Willkommen auf Scotch whisky.net, der Website rund um den Whisky
Diese Seite ist zur Zeit nur in Englisch. Sie wird bald übersetzt.

March 2014 Scotch Whisky News
17 Apr
2014
Bowmore partners with renowned chef Mark Sargeant to launch Small Batch
Bowmore, Islay's first Single Malt Whisky, is partnering with Michelin starred chef Mark Sargeant to help promote the distiller's latest expression, Small Batch , bringing the 'Taste of Islay' to life for whisky lovers across the country.
Bowmore will be working with Sargeant – previously Head Chef at Gordon Ramsay at Claridge's – to create a range of recipes that reflect the unmistakeable Bowmore flavour profiles of citrus, vanilla, smoke and salt, with Mark adding his own unique seafood skills to the mix.
Graeme Dunnet, Bowmore Ambassador said:
"We jumped at the chance to work with Mark Sargeant, he has the experience with flavours and expertise in seafood that means working with Bowmore Small Batch will come naturally to him. Mark's recipes will help us demonstrate how you can bring the key flavours, which encapsulate the taste of Islay, to life in food."
Mark Sargeant said:
"I particularly love Islay whiskies, as a liquid they are steeped in interesting flavour characteristics which have been exciting to bring to life in the recipes I have designed to be used with Bowmore Small Batch. I have loved having the challenge and opportunity to introduce people to this taste, the taste of Islay in the dishes."
Exclusively matured in first and second fill bourbon barrels before being married together, Bowmore Small Batch offers subtle salt, spices and bourbon oak smoke combined with a trademark honey and creamy malt character. This is all framed against the gentle peaty smokiness Bowmore is famed for.
Article Courtesy of Press Release

17 Apr
2014
A QUINTET of victories for Ian Macleod Distillers at the San Francisco World Spirits Competition
The San Francisco World Spirits Competition, the most prestigious and highly regarded spirits competition in the USA, has announced a quintet of medals for Ian Macleod Distillers brands' Glengoyne Highland Single Malt Scotch Whisky and Tamdhu Speyside Single Malt Scotch Whisky.
Glengoyne scooped the DOUBLE GOLD Medal for its 18 and 21YO malts, the GOLD medal for its 12YO malt and SILVER medal for its 15YO malt whilst Tamdhu lifted the DOUBLE GOLD Medal in the Single Malt Scotch category and DOUBLE GOLD Medal for Packaging.
Held at the distinguished Hotel Nikko in San Francisco, the 2014 San Francisco World Spirits Competition was the largest in its 14-year history with Glengoyne and Tamdhu fighting off stiff competition from 1,474 entries. Spirit entries were evaluated by 39 of the finest palates from the industry including spirits experts from noted restaurants and hotels, well-known spirits journalists from major national media, spirits buyers for large purveyors, and spirits consultants.
Commenting on the awards, Iain Weir, Marketing Director for Ian Macleod Distillers, said: "We are delighted with the success of both Glengoyne and Tamdhu at this year's San Francisco Spirits World Competition. It is extremely gratifying to receive independent recognition for something that we already knew – that Tamdhu and Glengoyne are both excellent whiskies."
Ian Macleod Distillers is one of Scotland's leading, independent family owned distillers. The company acquired the Glengoyne brand in 2003 and Tamdhu in 2011.
For more information, please visit www.ianmacleod.com, www.glengoyne.com or www.tamdhu.com.
Article Courtesy of Press Release

15 Apr
2014
Tomatin Releases Cù Bòcan 1989 Vintage Limited Edition
Following on from the launch of our standard batch release Cù Bòcan Highland Single Malt Scotch Whisky at the end of last year, we are delighted to announce the release of our first limited edition expression for the range.
Casks 37470, 37471 and 37472 have been lurking quietly in Warehouse 9 at Tomatin Distillery since a rare and unintentional production of peated whisky at the distillery on 7th June 1989.
Now the beast has been unleashed in this sweet and smoky rare edition of Cù Bòcan.
Article Courtesy of Press Release

14 Apr
2014
New Look Benromach unveiled
Benromach Distillery Company Ltd has unveiled a new look for its flagship Benromach 10 Years Old Speyside Single Malt Scotch Whisky as the brand continues its strong growth in the domestic and overseas markets.
The new packaging reflects the handcrafted credentials of the single malt whisky which is made in the traditional, time honoured way by just three experienced distillers at the Benromach Distillery on Speyside.
Michael Urquhart Managing Director of Gordon & MacPhail, owners of Benromach Distillery Co. Ltd, explained the thinking behind the change: "We wanted our new packaging to reflect the way we make our whisky. Our 10yo has a classic pre-1960s character which arises from the sum of all its parts used to create it. Every cask is hand-filled, hand weighed and hand-stamped before maturing in our traditional dunnage warehouses.
"The new packaging reflects that approach with its hand-cut lettering and its classic heritage colours. Yet at the same time the packaging provides a contemporary, sophisticated, luxury feel that looks to the future of a malt whisky that is very much a growing brand."
The Benromach stills provided the inspiration for much of the change. The elegant new bottle shape includes a neck and shoulder designed to resemble the shape of the Benromach stills. The foil packaging has been created using an image of the surface of the stills themselves.
The embossed lettering and cut foil on the label create a soft and tactile feel. An innovative lid which doubles as a bottle plinth and leaflet holder provide an unique option for display, and the embossed lettering and cut have enhanced its shelf presence.
The new packaging is launched to the trade at the start of April.
The launch will be supported by a full marketing campaign incorporating a new website featuring a series of beautifully crafted films outlining the Benromach story.
Benromach sales have grown dramatically since the reopening. Sales increased by 29% last year and there is ongoing growth this year of 27%. The company now exports Benromach to 42 countries across the world. In 2013 the company announced an expansion to meet growing demand, including the recruitment of a third distiller and the building of more warehouses.
Benromach 10 Years Old was recently named "Best Speyside Single Malt – 12 Years and Under" at the World Whisky Awards 2014.
Article Courtesy of Press Release

14 Apr
2014
Single Malts Direct "NOW SHIPPING TO THE USA"
After many months of hard work, sweat and toil, we at Single Malts Direct are delighted to announce that we have commenced shipping to the United States. I would like to thank those of you who have contacted me directly over the past number of months for your patience while we got all of the pieces of the Jigsaw into place, so "Thank you guys", and I will contact you all personally. I hope you like the new look website and the selection we are carrying but, as always we want to provide you with the best possible service and DO listen to your ideas and suggestions, so if you have any, please contact me directly ronnie@singlemaltsdirect.com
You will find our carriage rates under the shipping tag on our website, these charges include the FDA charge and a signature charge as our consignments need to be signed for to ensure the recipient is over the age of 21. The only additional charges to this is the cost of the whisky you select (you will get the ex-VAT price) and the US import duty which is calculated at checkout point depending on the strength of the whisky and the size of bottle. e.g. a 70cl bottle at 40% abv = £1.19.
Just for your information, we are also an Independent Bottler and have an extensive range of our own label "Whiskies of Scotland" single malt whiskies bottled at natural colour and natural strength and in a range of sizes, mostly 50cl but also in 70cl and 20cl. The 20cl size allows you to choose a selection from various distilleries, and there's a couple of blends in the range too. In 2013 our own label whiskies won 6 gold medals and 3 silver medals in the Whisky Magazine's "Independent Bottlers' Challenge".
Article Courtesy of Press Release

10 Apr
2014
anCnoc Peaty Has Arrived
We are delighted to announce the arrival of the first three expressions in our Limited Edition anCnoc Peaty Collection.
Aiming to unravel the mysteries of peated whisky for modern drinkers, this new collection from our Knockdhu Distillery features anCnoc's classic light, easy-drinking style but with a dark, distinctive and smoky twist. Click here to shine a light on your dark side and discover the anCnoc Peaty Collection.
To celebrate the launch of the new collection we are giving you and a friend the opportunity to win a trip to Scotland to visit Knockdhu Distillery and enjoy a whisky masterclass with our Distillery Manager. Visit our website to enter before the 30th April for your chance to win.

Article Courtesy of Press Release

10 Apr
2014
anCnoc Peaty Has Arrived
We are delighted to announce the arrival of the first three expressions in our Limited Edition anCnoc Peaty Collection.
Aiming to unravel the mysteries of peated whisky for modern drinkers, this new collection from our Knockdhu Distillery features anCnoc's classic light, easy-drinking style but with a dark, distinctive and smoky twist. Click here to shine a light on your dark side and discover the anCnoc Peaty Collection.
To celebrate the launch of the new collection we are giving you and a friend the opportunity to win a trip to Scotland to visit Knockdhu Distillery and enjoy a whisky masterclass with our Distillery Manager. Visit our website to enter before the 30th April for your chance to win.

Article Courtesy of Press Release

10 Apr
2014
Glenglassaugh releases first batch of single cask bottlings
GLENGLASSAUGH has released its first batch of single cask bottlings.
Revived from the dark and hand-selected by Managing Director and Master Distiller Billy Walker, there are eight phenomenal malts in Batch 1 which range from 45 to 28 years.
All are crisp, fresh, sweet Highland malts that hit the palate with the power of complex fruit bombs – from apples, bananas, pineapples, grapefruit, prunes and plums to lime, cantaloupe melon and caramelised orange!
The oldest, cask # 1601, 45 years old, was distilled in May 1968. Bottled at 44.3% vol, this autumn gold veteran is long and luxurious. On the nose, heady red candy apples balance with delicate spiced orange softening to distant pineapple juice. And on the palate, crisp oak spices soften to reveal elegant waves of fresh green apple and wisps of ripe banana. Delicate hints of passion fruit, cedar wood and lime zest bring a fantastic depth to the long finish.
As a contrast, the youngest in the batch is a 28 year old distilled in February 1986.
This rich amber beauty, cask # 2101, was bottled at 43.7% vol. On the nose, gentle heather honey holds warm cigar box spices. Crisp, freshly-ground barley surrounds soaked raisins and sultanas. And on the palate, a toasted white oak spice runs through Demerara caramelised orchard fruits which mellow to dried apricot and hints of vanilla in the long subtle finish.
Sales Director Alistair Walker said: "We took over Glenglassaugh last year and were thrilled to discover a treasure trove of old and rare spirits slumbering in the warehouses. Revived from the dark, selected by Billy Walker for their excellence and personality and bottled last month, this is an extraordinary collection of rare casks which will be warmly welcomed by connoisseurs worldwide. Taken together, they are stunning examples of Glenglassaugh at its finest."
All eight are presented in a beautiful golden box.
The batch details are:
1968 cask # 1601 / 45 years old / Finished in the finest Sherry Hogshead / 44.3% vol
1972 cask # 2114 / 41 years old / Matured in the finest Sherry Butt / 50.6% vol
1973 cask # 6801 / 40 years old / Finished in the finest Manzanilla Sherry Puncheon / 52.1% vol
1975 cask # 7301 / 38 years old / Finished in the finest Oloroso Sherry Hogshead / 40.7% vol
1975 cask # 7801 / 38 years old / Finished in the finest Moscatel Hogshead / 42.4% vol
1978 cask # 1803 / 35 years old / Finished in the finest Sherry Hogshead / 41.6% vol
1978 cask # 1810 / 35 years old / Finished in the finest Port Hogshead / 42.9% vol
1986 cask # 2101 / 28 years old / Finished in the finest Hogshead / 43.7% vol
Article Courtesy of Press Release

09 Apr
2014
Diageo, Beckham and Fuller to launch Haig Club single grain whisky
Diageo will launch Haig Club single grain scotch, in partnership with David Beckham and British entrepreneur Simon Fuller.
Haig Club, which will launch later this year, is a new innovation from the House of Haig, Scotland's oldest grain whisky producer and makers of Haig Blended Scotch and Dimple Scotch.
The launch follows William Grant and Son's 100% grain whisky release, annnounced last year.
Working alongside Diageo, Beckham and Fuller will play "a fundamental role" in developing the brand, its strategy and positioning. Beckham will also lead the promotion of a responsible drinking programme for Haig Club.
Whisky authority Dave Broom is one of the few to have tasted Haig Club. He described it as "a hugely versatile spirit, and I expect bartenders will love what they can do with it. Forget everything you thought you knew about Scotch."
Haig Club is made from whisky from three cask types to create, said Diageo, "a fresh, clean style that showcases butterscotch and toffee for an ultra-smooth taste that the company believes will be enjoyed not only by current whisky drinkers, but also by those who have always wanted to try whisky".
David Gates, Diageo's global head of premium core spirits, said: "Whisky is experiencing a continued global renaissance and like many of the world's most respected whisky experts, we believe this will be the year that grain whisky breaks into the mainstream and gains the recognition it deserves.
"Diageo has a proven track record in Scotch Whisky innovation and we have applied this expertise through the House of Haig in liquid development and craftsmanship, creating a sophisticated new whisky in Haig Club.
"David Beckham and Simon Fuller are renowned for breaking boundaries and shaking up markets in every sector in which they work. We are immensely proud to partner with them on our first large scale grain whisky innovation."
Beckham said: "The House of Haig has a rich history and I'm proud to be working at the heart of a home-grown brand which has built an incredible heritage over 400 years. Working closely with Diageo, we look forward to collaborating on Haig Club, valuing and treasuring the Haig traditions while reinventing this whisky for years to come."
Simon Fuller added: "This is a long term commitment. It is important to us that we create something unique and of great quality. With Haig Club we have an opportunity to push boundaries and help shape how Scotch will be perceived in the future, it's an exciting proposition. We could not wish for a better partner than Diageo."
Founder John Haig established Cameronbridge Distillery in the early 19th century, where he pioneered grain whisky production in continuous Coffey and Stein stills – an invention which laid the foundations for the growth and success of the modern Scotch whisky industry, according to Diageo.
Article Courtesy of Drinks International

09 Apr
2014
Wolfburn Distillery Fills Its 1,000th Cask
Wolfburn Distillery today achieved the production milestone of filling its one thousandth cask. A total of 811 casks were filled in 2013; this week the 189th cask of 2014 was filled, making a grand total of 1,000.
"It's a huge achievement," comments Shane Fraser, production manager. "We reached the magic 1,000 number quicker than expected – and even better, we have done it without compromising on quality."
The spirit laid down in 2014 will only be bottled as whisky in 2017 – and even then the vast majority of casks will be held back for longer maturation. "This year we have laid down more spirit in large ex-sherry casks," explains Shane. "They will produce really lovely whisky but it will benefit from longer aging, so we'll keep most of it to mature for many more years."
Wolfburn's inaugural whisky is expected in the first quarter of 2016. It will be made from spirit laid down during the early part of 2013. "There's still a long way to go until we start bottling," says Shane, "but we're ahead of projections in almost every aspect of the business and very much looking forward to being able to share our whisky with the world."
Article Courtesy of Press Release

09 Apr
2014
The Jura Whisky Festival Is On The Horizon
The experiences that await you in our intersection of whisky, art and breathtaking scenery will create a multi-sensory escapade worth travelling for. Held on the Isle of Jura on the 28-29th May, the #JuraTastival is a celebration of our world-class whiskies. Will you be joining us for the tantalising ride?
We want our flavours to get under your skin, so you can let your taste-buds do the talking. It's a taste revolution where you tell us exactly what you taste as you follow your nose and your palate on this unique exploratory adventure.
Join Master Distiller Richard Paterson for Dramming in the Dark – a surreal tasting of the Jura Festival Whisky held in pitch black. Or why not meet up with our Jura Ambassador's Graham and Anthony as they guide you through a multi-dimensional sensory experience featuring our most popular whiskies. Let them tickle your taste buds and reveal to you the riot of sounds and colours in our whiskies. In short, you will experience whisky like never before.
If you're a fan of explosive flavours , then book your space now!
We'll also be offering free tours of our distillery throughout the two days and our Dramming Bar will be open throughout the festival.
And just because we know how ungetatable the island is, Garelochhead Coaches are offering free transport on the island from the port to the distillery.
Be part of this unique toast to the Jura way of life and put the dates in your diary.
You can purchase tickets here: http://www.eventbrite.co.uk/e/the-jura-tastival-2014-tickets-9653996363
We'll see you on the island!
Willie Cochrane and everybody at the Jura Distillery.
Article Courtesy of Press Release

08 Apr
2014
Kilchoman Releases Second Limited-Edition Loch Gorm
Independent farm distillery, Kilchoman, has just released a limited edition Loch Gorm Single Malt Whisky. Only 2850 cases (17,100 bottles) of the five year-old bottling will be available worldwide through existing distributors and online.
This is the second Loch Gorm Single Malt to be released. The first, which was released in April last year, was awarded the prestigious 2013 IWSC Gold (2013 edition). Each release is differentiated by the distillation and bottling dates on the front of the bottle and carton.
Fully matured from filling to bottling in fresh Oloroso sherry butts, Loch Gorm adds a new dimension to Kilchoman's portfolio, bringing a depth of character and colour to the Islay Single Malt. The Loch Gorm range is the only all sherry cask-matured expression from Kilchoman.
This range is named after the famously peaty loch in front of the distillery on Islay; Kilchoman draws the water for Loch Gorm from the burn that runs into the loch.
Anthony Wills, Managing Director of Kilchoman, said: "'Our sherry cask matured releases have proved very popular and this is the third and most mature to date so we anticipate this latest offering to be very well received.
"Loch Gorm shows wonderful balance between the peat smoke and spicy rich flavours, typical of sherry cask maturation, producing a unique flavour which characterises Kilchoman whiskies."
Founded in 2005, Kilchoman is one of the smallest distilleries in Scotland and the first distillery to be built on Islay for 125 years. A working farm distillery, it is one of only a handful of distilleries still practising floor malting. Kilchoman also grows a portion of its barley at the distillery, and completes all parts of the production process, from barley to bottling on the island.
Loch Gorm is bottled at 46% ABV and will be available from specialist drinks, whisky stores and online, priced at a RRP of £55-£59.
Article Courtesy of Press Release

08 Apr
2014
Double Award Success For Black Bottle
International recognition for Burn Stewart's premium blended Scotch whisky
The distinctive new look of Black Bottle, Burn Stewart Distillers' premium blended Scotch whisky, has won the 'World's Best Relaunch' category at the World Whisky Design Awards. The award was announced at a ceremony in London on 20th March – just a few days later, Black Bottle gained further recognition for its recently relaunched whisky with a Bronze Medal win at the 2014 San Francisco World Spirits Competition.
Recognising excellence in bottle, label and pack design, the World Whisky Design Awards are judged by an international panel of design experts who also consider factors such as breakthrough in category, inspiration, confidence, craft skills and insight. The San Francisco World Spirits Competition is considered the most respected spirits competition in the world, with over 1,400 spirits blind-tasted by a selection of the industry's leading spirits experts.
Commenting on Black Bottle's distinctive black glass bottle, which replaced the previous standard green bottle, the World Whisky Design Awards judges described it as: "A beautiful, superbly crafted bottle, that is a real move on from the existing design and which picks up on the brand's heritage to present a compelling and authentic looking product."
Black Bottle, a premium blended Scotch Whisky acquired by Burn Stewart in 2003, was re-launched in October 2013 with a new look and new liquid, both of which were inspired by the original vision of Gordon Graham dating back to 1879 when he used his tea blending skills to create his first whisky, initially only for close friends and family. This new look is a modern interpretation of the iconic black glass bottle, which gave rise to the Black Bottle name over a century ago and of which only a few intact examples still exist today.
The new liquid that earned Bronze at the San Francisco World Spirits Competition was created by Burn Stewart Master Distiller, Ian MacMillan, who took inspiration from the original recipe of Black Bottle and re-introduced a richness to balance the smokiness of the blend. The result is a curiously rich and slightly smoky whisky that maintains the distinctiveness of Black Bottle but adds another layer of depth to the liquid.
Marco Di Ciacca, Global Marketing Manager for Black Bottle, said: "We are thrilled to win these awards for Black Bottle and are particularly proud of the new design as it has real stand-out when compared to other brands in what is a fairly traditional category. It is also a significant departure from the previous design and we believe this award is further evidence that we have taken the brand in the right direction."
Article Courtesy of Press Release

01 Apr
2014
Isle of Arran Distillers score a hat-trick of wins at China Wine and Spirits Awards
Independent whisky producer, Isle of Arran Distillers, is celebrating three prestigious awards in the recent China Wine and Spirits Best Value Awards 2014.
The competition is the biggest and most well-respected drinks awards in China. Designed to celebrate excellence in the drinks industry across the globe the awards act as a major springboard for wine and spirits entering China, and for brands already selling in the fastest growing market in the world.
One hundred judges, comprising of China and Hong Kong's most respected buyers, chose the winners after blind tasting the spirits. Isle of Arran Distillers came away with two double gold awards for their 10 Year Old and 12 Year Old Cask Strength whiskies, whilst the 14 Year Old picked up a silver award.
Euan Mitchell, Managing Director at Isle of Arran Distillers, said: "We are absolutely delighted with our recent award wins. The Arran Malt is very popular in China so it's great to have this formally recognised. I expect and hope that these prestigious awards will help make more people aware of the Arran Malt as we continue to expand our export market to China and Asia."
This is not the first time that Isle of Arran has won an international award, recognising the increased interest in the Arran Malt overseas. For the past two years, malts from the distillery have been recognised in the renowned San Francisco World Spirits competition.
Euan continued: "Our export sales have consistently performed significantly well, which is a trend we hope to continue. It has been a great start to the year for us as we've also just launched our oldest whisky to date – the Arran Malt 17 Year Old – which is already in high demand."
German-born and Hong Kong based Importer Nikolas Prehn said: "This extraordinary competition has showed that at each and every price point, including the very highest - Chinese buyers and consumers want confidence that the wines and spirits they are choosing are the 'Best Value'.
"As CWSA Judges are known as the most respected buyers based here in Hong Kong and China, the results are trusted - and therefore winning products showcasing their success are a very desirable purchase.'
Article Courtesy of Press Release

31 Mar
2014
Glengoyne introduces NEW 25YO
Glengoyne Highland Single Malt Scotch Whisky is expanding its whisky portfolio with the release of an outstanding 25YO bottling. Matured exclusively in hand-selected sherry casks for a quarter of a century, this unique malt is an important addition to the Glengoyne collection, which includes the 10, 12, 15, 18, 21 Year Old and Cask Strength malts.
The malt is presented in a new heavy bespoke bottle and outer box. The bottle features a fine metal stopper, crafted cartouche and delicately branded neck tag and is attractively displayed in an oak box interior, which includes an engraved plinth. The elegant exterior has a refined feather pattern subtly varnished on the pack.
Commenting on the new malt, Iain Weir, Marketing Director for Ian Macleod Distillers, said: "The Glengoyne 25YO is an extremely special malt. Matured in our traditional dunnage warehouses for 25 years in the finest European oak sherry casks, unchill-filtered and bottled as taste insists at 48%ABV, the result is a flavour of soft oak, cinnamon, stewed fruits and a Seville marmalade tang. A perfect after dinner dram."
Glengoyne is owned by one of Scotland's leading, independent, family-owned distillers, Ian Macleod Distillers Ltd. Unlike most other single malt whiskies, Glengoyne dries its malted barley using only warm air resulting in this extremely subtle yet complex malt where all the delicate flavours are freely expressed.
Glengoyne Distillery - highly regarded as Scotland's most beautiful distillery in Dumgoyne near Loch Lomond – runs its stills slower than any other distillery, supporting the claim that Glengoyne genuinely is "Worth the Wait".
The Glengoyne 25YO will be available from April. The UK RRP for the 70cl bottle is £250. For more information, please visit www.glengoyne.com.
Article Courtesy of Press Release

25 Mar
2014
Diageo Wins Distiller Of The Year For Investing In Scotch
Diageo, the world's leading premium drinks company, has been named Distiller of the Year 2014 by Whisky Magazine in recognition of the company's investment in its Scotch whisky business.
The coveted accolade was awarded at Whisky Magazine's annual Global Icons of Whisky awards, with Diageo congratulated on "putting its money where its mouth is" with its £1billion investment in expansion Scotch whisky production capacity across Scotland.
Whisky Magazine Distiller of the Year is judged by a panel of independent whisky commentators and is one of the most highly prized titles in the industry. The judging panel's citation read: "Production capacity increased at many of its sites, an investment of nearly £150 million across the Highland Council area and more expansion plans to come, increasing grain capacity, a raft of new expressions and building new distilleries – Diageo has been putting its money where its mouth is for its brands and the category, proving that with great size comes great responsibility."
The award of the overall title came after Diageo had earlier been named Whisky Distiller of the Year in the Scottish category of the Icons of Whisky awards in an earlier round of judging.
The award adds to the Distiller of the Year title which was given to Diageo by the US-based The Whisky Advocate magazine in December 2013, citing the company's investment and commitment to its brands.
David Cutter, Director of Diageo International Supply Centre, who runs the company's Scotch whisky production business from Edinburgh, welcomed the award on behalf of all the employees who work to produce Diageo's portfolio of world leading brands.
"We are very proud of our Scotch whisky business and of the investment we are making in its future and it is gratifying to have that recognised and acknowledged by independent industry commentators and by Whisky Magazine."
Dr Nick Morgan, Diageo's Head of Whisky Outreach, who accepted the award on behalf of Diageo at the Global Icons ceremony, added: "We are grateful to the judges and to Whisky Magazine for this significant global award, which I was delighted to accept on behalf of all my colleagues in Diageo whose commitment, vision, skill and sheer hard work makes everything possible."
Diageo produces Johnnie Walker, the world's number one Scotch whisky brand, as well as a portfolio of other leading blended Scotch whiskies including Bell's, J&B and Buchanan's. The company also produces award-winning single malt whisky brands such as Talisker, Lagavulin, Cardhu and Dalwhinnie. Recent distillery investment announcements are linked to the growth of key Scotch whisky brands. Glen Ord Distillery near Inverness will see its capacity doubled to support the Singleton of Glen Ord brand, which is the fastest growing single malt in Asia. A major expansion investment at Mortlach Distillery in Speyside will support the launch of Mortlach as a global single malt brand later this year.
Diageo announced its £1billion Scotch whisky investment programme in June 2012. As well as the distillery expansions the company is also investing in new warehousing to store the additional spirit, with a major new bonded warehouse site being developed at Cluny in Fife.
In January the company announced the latest phase of the investment with a £30million plan to double capacity at the iconic Clynelish Distillery in Sutherland, taking the company's capital programme in the Highlands to around £150million.
This adds to previous major investments by Diageo, including building a new malt whisky distillery at Roseisle in Speyside and a new state of the art cooperage at Cambus in Clackmannanshire.
Article Courtesy of Press Release

21 Mar
2014
Introducing Glenglassaugh Torfa, A New Richly Peated Highland Expression
GLENGLASSAUGH has launched a new richly peated Highland single malt that will now be part of its core range along with Revival and Evolution.
Glenglassaugh Torfa, with its smoky, peaty, phenolic nature, is a unique expression and quite different to the usual type of whisky produced in the Highlands.
"At Glenglassaugh, in addition to the traditional production, we also produce a very limited quantity of whisky using richly peated malted barley as the cereal varietal. The malted barley has been dried in the traditional way, over peat-infused kilns, giving the whisky its unique smoky flavour," says Sales Director Alistair Walker.
Torfa has a brooding, edgy character whose personality is to be found at the darker end of the spectrum. Its name takes its inspiration from the Old Norse language with which the Scots dialect spoken in North East Scotland has an affinity and translates to "turf" or "peat".
The historic distillery was acquired by The BenRiach Distillery Company last year. It dates back to 1875 and re-opened in 2008 after being mothballed for more than 20 years. The first whiskies from this refurbished distillery are now available to single malt Scotch whisky lovers everywhere.
Non-chill filtered, with natural colour and at 50% vol, Torfa was specially selected by Glenglassaugh's Master Distiller Billy Walker. His tasting notes show the distinct characteristics of this truly phenomenal malt.
COLOUR: Gleaming yellow gold.
NOSE: Vivid, sweet, sooty campfire smoke and sea air infuse zest of lime, apricot jam and ripe soft fruits, all gently warmed by hints of stem ginger and cracked black pepper.
PALATE: An eloquent, sweet coastal peat smoke engulfs candied peel over melon, pineapple and roasted red apples. Oat biscuits, hints of heather honey and a gentle cigar box spice all combine to give a terrific balance to the expressive smoky character.
FINISH: A heady, yet elegant harmony of distinct coastal peat and striking spiced fruit flavours.
Torfa is a new single malt from Glenglassaugh to be treasured and savoured in quiet moments.
Article Courtesy of Press Release

20 Mar
2014
Freeze on whisky tax viewed as bid to win No votes
TAX on Scotch whisky has been frozen and the controversial duty escalator has been scrapped for all types of alcohol in what has been seen as a political move by the UK Government with the independence referendum less than six months away.
The announcement in ­yesterday's Budget means an expected 4.8% hike in whisky duty, equal to a 40p tax rise on a bottle of Scotch, will no longer go ahead.
The Scotch Whisky ­Association (SWA) said the tax freeze on spirits would give confidence to distillers and consumers, noting that jobs and investment will be boosted if it leads to higher demand for Scotch in UK pubs and shops.
With its lawyers continually locked in negotiations aimed at reducing import tariffs in markets abroad, the SWA also said it would send a signal to governments overseas that the Treasury treats one of its most prized exports fairly.
Chief executive David Frost said: "It is a move that supports hard-pressed consumers, a major manufacturing and export industry and the wider hospitality sector.
"This fairer tax treatment in the UK, the third biggest market for Scotch whisky, also sends the right signal on excise policy to the governments of the 200 countries to which we export.
"So its effects will be felt around the world."
The SWA's views were endorsed by Stewart Laing, boss of Glasgow-based whisky blending and bottling company Hunter Laing and Co.
Mr Laing, whose company sells in Taiwan, Japan, Russia, Ukraine, Germany and across Scandinavia, said: "We are all delighted. We are all encouraged and hopefully this will last over the coming years.
"It is a vote of confidence in Scotch whisky [and] it can only be of benefit to the industry."
However, Mr Laing is not convinced the Scotch whisky industry can suddenly dictate how governments overseas should approach spirits tax, noting this is the first year in many that whisky duty has not been increased at the Budget.
With the independence referendum looming in September, it has been suggested the concessions given by the UK Government to the whisky industry were politically driven.
A spokeswoman for the SWA said it was for government ministers to comment on the motivation for the decision, and chose to emphasise the economic case behind it instead. She said: "The Chancellor makes it very clear in his announcement the revenue and fiscal reasons that he bases his Budget on.
"It makes sense that if you can increase revenue from more spending on whisky that will boost the economy as a whole, it will help create new jobs.
"We're a neutral organisation and our whole argument for the Budget was based on business and economic reasons."
However publican Paul McDonagh, who runs The Bon Accord in Glasgow, suspects there was a political dimension to yesterday's announcement.
He said: "I had a funny feeling he was going to do that. I think that's political, the Scotch thing, playing into the Yes and No vote, but I'm delighted with it."
Mr McDonagh also welcomed the moves to take a further penny off beer duty and freeze duty on cider duty, with the latter designed to help producers hit by flooding this winter.
He said: "Hopefully it will bring more people out. Overall I think the economy is getting better. We sell a bit of cider but whether that [duty freeze] comes through to us is a different story.
"I don't think it will. I think they [producers] will be trying to recover things down there."
The decision to scrap the ­alcohol duty escalator ends a controversial policy that was introduced by the Labour government in 2008.
It has seen alcohol duty rise by 2% above the rate of ­inflation each year since, though it was abolished for beer in last year's Budget.
Article Courtesy of the Herald Scotland

19 Mar
2014
Whisky industry welcomes tax freeze
Duty on Scotch whisky has been frozen by Chancellor George Osborne, who described the product as a "huge British success story".
He singled out the industry for praise during his Budget address at Westminster.
"To support that industry, instead of raising duties on Scotch whisky and other spirits, I'm today going to freeze them," he said.
He also scrapped Labour's alcohol duty escalator, a move welcomed by the industry but described by health campaigners as a backwards step.
The Scotch Whisky Association (SWA) said the freeze means planned increases, which would have added 4.8% in excise duty, will now not go ahead.
David Frost, SWA chief executive, said: "This show of support for distillers from the coalition Government will be warmly welcomed across the Scotch whisky industry.
"We are delighted that the Chancellor and the Chief Secretary to the Treasury listened to our case for scrapping the unfair alcohol duty escalator and freezing whisky duty. It is a move that supports hard-pressed consumers, a major manufacturing and export industry and the wider hospitality sector.
"This fairer tax treatment in the UK, the third biggest market for Scotch whisky, also sends the right signal on excise policy to the governments of the 200 countries to which we export. So its effects will be felt around the world."
The industry supports 35,000 jobs, mainly in economically fragile areas, according to the SWA.
Andrew Cowan, country director for drinks firm Diageo Great Britain, said: "The Chancellor has today given a huge boost to one of Britain's most successful industries. From Scotch whisky to London gin, British spirits are admired and enjoyed around the world.
"In freeing the industry from a debilitating tax policy, the Government has given a show of support for these quality products. That will benefit the industry not just at home but also help us as we fly the flag for British business across the world."
Scottish Conservative leader Ruth Davidson had written to the Chancellor calling for a freeze on duty for spirits.
She said some malts threatened to break the £40 barrier.
"I am pleased the Chancellor has given the whisky industry a break by freezing duty and scrapping the alcohol duty escalator," she said.
"This tax boost will not only benefit the big players, but also the small independent distilleries right across Scotland who rely on our domestic market for sales.
"I don't believe any product should be taxed at 80% and if the Chancellor hadn't acted, that's what we would have seen for a bottle of Scotch.
"Taking this action shows the Government is prepared to take on board legitimate concerns from across the UK."
Dr Evelyn Gillan, chief executive of Alcohol Focus Scotland, said: "No-one should be surprised that the spirits industry, represented by the Scotch Whisky Association, campaigned against alcohol duty increases just as they have fronted the industry campaign against minimum unit pricing.
"What is surprising is that a number of MPs from parties which have supported alcohol price controls in Scotland appear to have supported them."
Dr Peter Rice, chairman of Scottish Health Action on Alcohol Problems, said: "Scottish politicians have made some ground-breaking policy to reduce alcohol-related harm and it is disappointing to see that some of them appear to have supported this backwards step."
The Scottish Parliament endorsed SNP plans to set a 50p floor price per unit, but the policy is tied up in the courts.
Westminster SNP leader Angus Robertson, MP for Moray, said: " Congratulations to the Scotch whisky industry and workers in helping scrap the duty escalator and the planned duty rise.
"This is one of Scotland's leading industries, exporters and employers and even with this announcement nearly 80% of the price of bottle of Scotch whisky will continue to be tax levied by the Treasury in London.
"It's worth remembering that UK Governments have repeatedly acted against the interests of the Scotch whisky industry, with Labour introducing the duty escalator, and the Tory-Lib Dem coalition keeping it going for years. The escalator has meant duty increasing by 2% above the rate of inflation each year since 2008. Tax on Scotch whisky has risen by 44% over five years."
Scottish Finance Secretary John Swinney said: "While I welcome the Chancellor's choice of whisky as his referendum tipple, sticking with the Westminster system will leave Scotland with a severe hangover."
Article Courtesy of Evening Express

18 Mar
2014
Bladnoch whisky distillery for sale
Twenty years after it was saved from closure the Bladnoch whiskey distillery near Wigtown is up for sale once more.
The company, which is financially sound, was put in the hands of receivers on Monday and the business is to be sold as a going concern.
It has been run for the past two decades by Raymond Armstrong and his wife who own a 50% share of the business.
"I'm very sad about the way it has all ended, we didn't want to sell. My wife and I have enjoyed our Scottish adventure. It has been a great challenge but we have enjoyed it.
"The staff are naturally worried about their jobs but they are a great and dedicated workforce and I see no reason why new owners wouldn't keep them on.
"The company is profitable so I'm sure someone will want to buy it."
– Raymond Armstrong
Accountants Ernst and and Young have been appointed to sell the distillery.
Article Courtesy of ITV

18 Mar
2014
Campari releases £8k Glen Grant 50 whisky
An "exceptionally rare" 50-year-old Glen Grant whisky has been released by Gruppo Campari with a starting price of €10,000 (£8,377).
A cask containing what would become Glen Grant's 50 Year Old single malt Scotch whisky was filled by Dennis Malcolm in October 1963 – a man who would go on to become the Master Distiller of Scottish distillery Glen Grant.
Fifty years later just 150 bottles are set to be released globally retailing at a starting price of €10,000 (£8,377) – making it Campari's most expensive and oldest whisky ever released.
Dennis Malcolm said: "Only time measures our pursuit of perfection. Maturation cannot be rushed. Like people, casks mature at their own pace. I have protected and cared for this barrel for 50 years, letting it breathe and patiently waiting for the magic and interaction of whisky and wood."
Each of the 150 bottles has been handcrafted and presented in a hand-blown crystal glass decanter created by craftsmen at Glencairn Crystal, the last family-owned crystal glass company in Scotland.
Each decanter is hand engraved, hand numbered and finished with the number 50 in 18-carat gold lettering.
The design of the decanter is an exact replica of Glen Grant's tall pot stills and housed in a copper-lined box made from Scottish new oak.
Each Glen Grant 50 Year Old comes with a certificate of authenticity, signed by Dennis Malcolm and every craftsman involved.
The Glen Grant 50 Year Old will be launched in Asia's Travel Retail Market and will be available in Hong Kong from Friday 21 March and shortly following in Singapore, Seoul, Shanghai, Beijing and Taipei.
As of June 2014, it will be launched internationally in other duty free and domestic markets.
Article Courtesy of The Drinks Business

16 Mar
2014
Whisky industry calls on chancellor to scrap duty rise
The Scotch Whisky Association has appealed to the chancellor to freeze duty ahead of his Budget this week.
The industry body is fronting a campaign calling on the UK government to abolish the automatic annual increase in duty on wines and spirits.
The alcohol duty escalator, which goes up by inflation plus 2% each year, was introduced in 2008 but was scrapped for beer in George Osborne's last Budget.
The Treasury has said 90% of Scotch was exported and unaffected by UK duty.
But, according to the association, some 79% of the price of an average bottle of Scotch whisky is made up of duty and VAT.
It said if the alcohol duty escalator were implemented again at this week's Budget, this would raise that figure to 81%.
'Simply unfair'
The whisky industry body claimed Scotch sales in the UK had declined since the introduction of the escalator.
Its Call Time on Duty campaign was also backed by the Wine & Spirit Trade Association and the Taxpayers' Alliance.
Scotch Whisky Association chief executive David Frost said: "We urge the chancellor to listen to that large majority of the population who believe the alcohol duty escalator is simply unfair to a major Scottish, and British, industry.
"An overhaul of the alcohol duty system would support not just the Scotch whisky industry, but also the wider hospitality industry, which provides employment across the UK."
Article Courtesy of the BBC News

14 Mar
2014
Campbell Meyer secures £1.75m facility
CAMPBELL Meyer & Company, the Scotch whisky blender, bottler and exporter, has secured invoice finance worth £1.75 million from Aldermore, the Cheshire-based challenger bank.
The company, which employs 40 staff at its warehouse complex in East Kilbride, said the facility will allow it to maintain a steady cash flow while it secures payments from around the world.
Campbell Meyer supplies whisky to markets overseas with a range of its own single malt, blended malt and blended Scotch brands. These include Hart Brothers single malt, Glendower blended malt, and blended Scotch whiskies Highland Chief, McIvor, Barclays and Bonnie & Clyde.
Gerry McSherry, managing director at Campbell Meyer, said: "The very nature of our business means that, from time to time, finances are tight as we await settlement of export sales invoices.
"Using invoice finance made complete sense and we choose Aldermore because we found them to be completely flexible in their method of providing finance.
"Aldermore were quick to understand the complexities of our business and, as a result, the facility was in place in a matter of weeks."
Ben Day, regional sales manager at Aldermore, noted that the facility will last for a year, stating: "Their main criteria for financing was that it should be flexible, easy and non time-consuming, and scalable enough to support their growth ambitions.
"I'm delighted to say that Aldermore was able to achieve this, and we are proud that we are supporting such an important, thriving small business both locally and internationally."
Article Courtesy of the Herald Scotland

13 Mar
2014
World's blenders to sniff out top dram
Ten of the world's top Whisky blenders will assemble at The Scotch Whisky Experience this May, as the International Spirits Challenge returns to the Capital.
The five-star attraction will play host to some of Scotland's most revered Whisky blenders, alongside experts from as far afield as Sweden, the United States and Japan.
Taking place during Whisky Month – from the 11 to 15 of May – the International Spirits Challenge is the world's most authoritative and influential drinks competition, with the winners held in high regard by their peers. This year's challenge will see 400 malts from across the globe scrutinized by the expert panel of malt masters.
Susan Morrison, director and general manager of The Scotch Whisky Experience, said: "We feel privileged to be welcoming the International Spirits Challenge back to Edinburgh. This will be the third year we have hosted the Whisky element of the Challenge and there is always a real buzz about the building when it is taking place.
"This year, the Challenge will form part of our Whisky Month celebrations and we look forward to welcoming Whisky experts from across the globe to celebrate Scotland's national drink."
As part of the weeklong event, amateur Scotch drinkers will have the chance to grill these Whisky wizards during An Evening With The Blenders.
On Wednesday 14 May, an exclusive evening reception will offer the chance to chat with the experts over a dram, followed by a tutored tasting of a very special malt. The tasting will be led by Richard Paterson, master blender at Whyte & MacKay and director of The Scotch Whisky Experience, and will be followed by a Q&A session where the blenders will give an insight into their alcoholic alchemy.
John Ramsay, chairman of the International Spirits Challenge and former master blender for Edrington Group, said: "The International Spirits Challenge is an intensive time for all the blenders involved, so An Evening With The Blenders offers the judges the chance to unwind with the people who actually drink their creations.
"The Scotch Whisky Experience has been a great host these past few years and I am looking forward to returning to the attraction again, for the chance to catch-up with old friends, as well as meeting some new ones."
Tickets for the evening are priced at £25 per person. For more information, or to book a ticket, visit scotchwhiskyexperience.co.uk.
Article Courtesy of Press Release

11 Mar
2014
Two New Speyside Single Malts Released As Tormore Reveals New Look
Chivas Brothers, the Scotch whisky and premium gin business of Pernod Ricard, has released two new small batch, single malt whiskies from its Speyside distillery, Tormore.
The launch of Tormore 14 Year Old and Tormore 16 Year Old, both produced in limited quantities from a small number of carefully-selected casks, coincides with a new identity for the brand, as it aims to appeal to the growing number of discerning drinkers who appreciate the craft quality and provenance of Speyside single malt whisky.
Tormore 14 Year Old and Tormore 16 Year Old are aged in American oak casks that demonstrate the distillery's light, smooth, and fruity character. Tormore 14 Year Old has a fruity nose that offers hints of citrus and raspberry, a smooth, sweet taste featuring liquorice and ginger, followed by a long, sweet finish with a spicy tang.
Tormore 16 Year Old, which is bottled without chill-filtration to reveal further layers of complexity, presents a well-balanced nose of sweet orange and barley sugar, a mouth-watering, juicy taste of ripe melon and pear, with a long and slightly dry finish. Tormore 14 Year Old and Tormore 16 Year Old are currently sold in France, priced at 42€ and 56€ respectively, and are expected to be available in other countries throughout 2014.
The new look for Tormore includes a contemporary logo and refreshed packaging, which highlight the distillery's still room and natural landscape, reinforcing the purity of the spirit. The whiskies are presented in a luxury gift box that features the batch number and the signature of Master Distiller, Neal Corbett, reinforcing its crafted quality and making it an ideal gift for single malt fans.
A new website (www.tormoredistillery.com) has also been developed, enabling malt whisky enthusiasts to discover the unique flavour profiles of the two expressions and to explore the distillery's heritage.
Neal Corbett, Master Distiller at Tormore Distillery, comments: "The re-design of Tormore and the release of these handcrafted whiskies herald a new era for the distillery, which I am proud to be leading. Tormore 14 Year Old and 16 Year Old showcase the distillery's smooth signature style, so we hope that both Scotch connoisseurs and discerning drinkers looking to expand their repertoire will enjoy discovering these whiskies in the months to come."
Tasting notes from Master Distiller, Neal Corbett
Tormore 14 Year Old 43% ABV
Nose: Refreshing citrus and raspberry notes with a background of toasted almonds.
Taste: Sweet with a hint of citrus, followed by an extra level of complexity from liquorice and ginger flavours.
Finish: Long and sweet with a spicy tang.
Tormore 16 Year Old 48% ABV
Nose: Deep and fruity with a tantalising layer of sweet orange and barley sugar. Incredibly smooth and well balanced.
Taste: Juicy and sweet with bursts of ripe melon and pear.
Finish: Long and slightly dry.
About Tormore Distillery
Tormore Distillery, named after the Gaelic 'Torra Mhòir', meaning 'big hill', is nestled in the heart of Speyside. Opened in 1960, the distillery was designed by renowned neoclassic architect Sir Albert Richardson and features stone balconies, a copper roof and a musical clock, which led to the distillery being granted listed building status within just 30 years of construction.
About Chivas Brothers
Chivas Brothers is the Scotch whisky and premium gin business of Pernod Ricard – the world's co-leader in wine and spirits. Chivas Brothers is the global leader in luxury Scotch whisky and premium gin. Its portfolio includes Chivas Regal, Ballantine's, Beefeater Gin, The Glenlivet, Royal Salute, Aberlour, Plymouth Gin, Longmorn, Scapa, 100 Pipers, Clan Campbell, Something Special and Passport.
In July 2010, Chivas Brothers launched The Age Matters campaign to help consumers understand the importance of Scotch whisky age statements.
Article Courtesy of Press Release

07 Mar
2014
Exponent Private Equity Acquires Loch Lomond Distillery Company Assets
Exponent Private Equity ("Exponent"), a private equity firm specialising in UK business investments, today announces the acquisition of the assets of The Loch Lomond Distillery Company for an undisclosed sum.
The Loch Lomond Distillery Company's assets include the Loch Lomond Distillery at Alexandria, West Dunbartonshire; the Glen Catrine packaging plant at Mauchline in Ayrshire; and the Glen Scotia malt distillery in Campbeltown, Argyll and Bute. The company's brands currently include the "Loch Lomond" and "Glen Scotia" single malt Scotch whiskies, the "High Commissioner" blended Scotch whisky and "Glen's Vodka".
Under the terms of the acquisition, The Loch Lomond Distillery Company's assets have been acquired by the newly formed Loch Lomond Group, in which Exponent owns a majority stake, with the management team also investing in the venture.
Exponent has a portfolio of businesses ranging across a number of sectors including retail, media and financial services, and specialises in identifying and investing in businesses with strong growth potential working with effective management teams to realise that potential.
The management team at Loch Lomond Group is headed up by Colin Matthews as CEO. Originally from Glasgow, Colin was previously responsible for leading Imperial Tobacco's businesses in Africa, the Middle East, Asia and the Indian sub-continent.
Former Diageo Chief Financial Officer Nick Rose will chair the new business.
Outlining the rationale behind the acquisition, Colin Matthews explained:
"Loch Lomond, Glen Catrine and Glen Scotia have built a sound business platform with brands that perform well in the UK and in a number of international markets.
"The growth of the Scotch whisky industry in recent years offers a great opportunity to develop further the Loch Lomond business, to refresh and expand the product portfolio, and to move into a number of new international markets building on the excellent progress the company has already made.
"We are delighted to have Exponent as our partner as we embark on this next exciting stage of our development. We have assembled a strong and experienced management team who will work alongside the existing management to take on this challenge and we are confident that together we can fulfill the considerable potential of the new group, its brands and its people in what is a robust and expanding industry."
Article Courtesy of Press Release

06 Mar
2014
The Singleton Of Dufftown Launches Two New Variants, "Tailfire" And "Sunray" In 2014
The Singleton of Dufftown Single Malt Scotch Whisky is adding two new, vibrant and exciting variants to its existing range, Diageo has announced.
Whilst keeping the smooth, rich nature of The Singleton of Dufftown, both "TAILFIRE" and "SUNRAY" have been created using specially selected casks to enhance particular elements of the flavour profile of this classic Speyside malt whisky. We want to inspire a new generation of whisky drinkers by putting flavour at the heart of everything we do and continuing our quest to create amazing tasting whiskies.
TAILFIRE has a vibrant and enticing character, which comes from maturation in a higher proportion of European oak casks specially selected to enhance the juicy red berry freshness and sweet aromas of vanilla and fresh cut grass. This variant will be launching in both grocery and whisky specialists in March 2014 across a number of markets in Western Europe (UK, France, Belgium, Netherlands, Switzerland, Denmark, and Germany in July 2014). The Recommended Retail Price of TAILFIRE in the UK market will be £33.
TAILFIRE bottle visual_mediumres
The smooth yet intense character of SUNRAY comes from maturation in a higher proportion of toasted Bourbon casks specially selected to deliver a honeyed, vanilla sweetness with aromas of blackcurrant and baked apple. SUNRAY will be launching exclusive to whisky specialists in March 2014 across a number of markets in Western Europe (UK, France, Germany, Belgium, Netherlands, Switzerland and Denmark). The Recommended Retail Price of SUNRAY in the UK market will be £36.
Colourful packaging indicative of the taste profile, and clear flavour descriptors have been chosen to facilitate the demystification of single malt whisky, a category with historically fewer younger consumers. We want to clearly communicate what flavours people can expect to enjoy.
SUNRAY bottle visual_mediumres
TAILFIRE and SUNRAY have both been created by Diageo Master Blender, Dr Matthew Crow. Matthew comments, "I am immensely proud of these two single malts. TAILFIRE and SUNRAY embody the future of whisky, and have been created to inspire a new generation of whisky drinkers. The Singleton is a much loved Speyside whisky, and has always put great taste and flavour at the heart of their single malts."
The names TAILFIRE and SUNRAY are derived from the names of salmon flies, inspired by the world of our icon, the leaping salmon and fly fishing near our home on the River Spey. The names are colourful, vibrant and interesting whilst also being indicative of the flavour profile of each whisky. TAILFIRE and SUNRAY join The Singleton family alongside the 12, 15 and 18 year old expressions.
Article Courtesy of Press Release

05 Mar
2014
Public sees plans for Isle of Harris's first whisky distillery
Plans to create the first whisky distillery on the Isle of Harris have gone on display to the public.
Construction on the distillery in Tarbet is now underway and it's hoped that production of the single malt whisky will start next year.
It is hoped the £10m distillery will produce around 300,000 bottles of single malt every year, and create 20 new jobs.
It is being planned by the Isle of Harris Distillers group.
The whisky produced on the island will be called the Hearach, after the Gaelic word for an inhabitant of Harris.
Once completed, it will become only the second distillery in the Outer Hebrides.
The other is on the Isle of Lewis, and it's owner has welcomed the new development on Harris.
The development has received Government and local grants as well as attracting private financial backers.
It comes as the Scotch Whisky industry as a whole is seeing a rise in investment and it's hoped that the new site will give a boost to the Harris economy when the whisky starts flowing next year.
Article Courtesy of STV
05 Mar
2014
Glenmorangie Partners With Luxury Shirt Brand Thomas Pink To Curate The 'Perfect Pairings'
Glenmorangie Single Malt Scotch Whisky has partnered with luxury shirt brand Thomas Pink to present three distinct 'perfect pairings' of their Unnecessarily Well Made brands.
Glenmorangie shares many values with Thomas Pink, from a proud history to only using the finest ingredients and a relentless dedication to excellence. It is in celebration of this Unnecessarily Well Made approach to creation that the two brands have partnered to present three unique pairings of Glenmorangie Single Malt and Thomas Pink shirts, each representing a distinct personality and highlighting the rich diversity within the Glenmorangie portfolio.
'The Classic Gentleman' pairing features Glenmorangie Original, an elegant and floral spirit and the real backbone of the Glenmorangie range. A must have for any Scotch drinker, Glenmorangie Original is paired together with Thomas Pink's Classic White Shirt, the hero of any gentleman's wardrobe. This package is tailored to fit a knowledgeable and sophisticated man who is eternally classic, just like the original expression of Glenmorangie's smooth and complex Single Malt.
'The Discerning Adventurer' pairing highlights the spirit of innovation with items which marry the traditional with the unexpected. This set features The Lasanta Sherry Cask Finish, a 12 year old Single Malt extra matured in Oloroso Sherry casks, coupled with Thomas Pink's Bengal Stripe Shirt collection, a brightly colored line which takes its inspiration from the rare and beautiful fabrics associated with East India. This pairing is perfectly suited for a refined and confident man who indulges in life's pleasures and enjoys new discoveries.
'The Ultimate Perfectionist' pairing celebrates 170 years of dedication to excellence, since Glenmorangie's founding in 1843. This package joins together Glenmorangie Signet, the masterpiece of the portfolio alongside Thomas Pink's Imperial Collection, a line of skilfully crafted shirts made from the finest fabric in the company's range. This exquisite pairing fits the ambitious man who seeks out precious and rare items and goes above and beyond to experience the best that life has to offer.
Maxime Balay, Glenmorangie's Brand Director, said, "We are excited to partner with Thomas Pink. Like Glenmorangie, Thomas Pink has a long standing history steeped in tradition. We feel that they share in our relentless dedication to quality and craftsmanship whilst always keeping perfection in mind."
Glenmorangie and Thomas Pink will celebrate their partnership with a private shopping event at the Thomas Pink New York Flagship location where guests will be invited to experience these pairings, and taste the featured Glenmorangie expressions with Glenmorangie Master Brand Ambassador, David Blackmore. The three curated parings are available on Reserve Bar until the end of April. http://www.ReserveBar.com//Glenmorangie-Thomas-Pink
Additionally, Glenmorangie is giving one lucky winner and a guest a chance to win a trip to the United Kingdom for a custom Thomas Pink & Glenmorangie experience. The winner will enjoy personalized shopping at the Thomas Pink flagship store on Jermyn St. in London, and fly to Scotland to visit the Glenmorangie Distillery to experience Glenmorangie's pursuit of perfection first hand. For more information and to enter please visit http://www.glenmorangiesweeps.com/thomaspink.
Article Courtesy of Press Release

04 Mar
2014
Mortlach Whisky's New Bottles Revealed
Following last year's announcement of the rebirth of Mortlach™, one of the most formidable and revered Single Malt Scotch Whiskies to have been created on Speyside, images have now been released that reveal the highly distinctive engineered style of the stunning new Mortlach bottles, along with more distribution and pricing details.
In 1823 Mortlach was the first distillery to be built at Dufftown, now one of the epicentres of Speyside whisky distilling. Its most eminent owners were the entrepreneurial Scottish civil engineer George Cowie, and his gifted and equally ambitious son Dr Alexander Cowie.
In tribute to these distinguished pioneers, the design style of the new packaging is rooted in an engineered world, reminiscent of beautiful man-made structures, whilst also elegant, luxurious and contemporary.
The engineering cues incorporated in the bottle design are most visible in the unique faceted base of the Rare Old & Special Strength bottles, whilst the metal structures of the 18 and 25 year-old bottles protect, enhance and display the fine single malts they contain. The design of the metal structures has been inspired by some of the great engineering feats of the Victorian period, especially the cantilever bridge design made famous on Scotland's very own Forth Road Bridge.
Georgie Bell, global brand ambassador for Mortlach, said: "Mortlach whiskies are a celebration of those audacious thinkers who shape and make today's world, just as their forefathers did in the era in which Mortlach was born. These spectacular bottles help tell that story."
Limited supply
Four new Mortlach variants are designedMortlach firing_4Y7Z9051 for global travellers and for connoisseur Scotch whisky drinkers. Due to the very limited supplies of this unique liquid, these new expressions of Mortlach will be sold in 50cl bottles, except for the USA where for legal reasons 750 ml bottles will be used.
In the early years, the distribution of these rare and prestigious whiskies will focus on carefully selected cities. They will first be available in London and Berlin in June, and in a small number of global travel retail channels. They will then roll out - again in very restricted volumes - to the cosmopolitan cities of Asia-Pacific in August (for example Taipei, Shanghai, Beijing, Hong Kong, Singapore) and at the same time to New York, Chicago and San Francisco in the United States.
Distillery expansion
Meanwhile, to build more stocks of Mortlach for the years ahead, plans are progressing for the expansion of Mortlach distillery with all the strong purpose, ingenuity and attention to detail of the Cowies, doubling the distillery's capacity.
The expansion will include the building of a new stillhouse. This will replicate the bewilderingly complex process with which Alexander paved the way - a unique distillation system (which commentators have attempted to explain as '2.81 Distilled') precisely calculated to create this celebrated, highly complex and richly flavoured whisky. Mortlach has been described by whisky connoisseurs as "The Beast of Dufftown" for its rich and powerful flavours.
Article Courtesy of Press Release

01 Mar
2014
Chivas Celebrates The Skill Of The Master Bartender With Exclusive New Cocktail Competition
As the world's first luxury Scotch whisky, recognised by modern gentlemen around the globe for its exceptional quality, timeless style and exclusivity, Chivas Regal deserves a place in all the world's finest bars.
Chivas Regal is aiming to spread this message amongst the bartender community this year as it launches a bartender engagement programme, The Chivas Masters.
Over the coming months, Chivas will roll out a global five year programme, The Chivas Masters which will challenge the world's finest bartenders to 'travel back through time', re-discovering the classic cocktails of the past and giving them a modern interpretation with Chivas.
The Chivas Masters is a truly international competition that will have a presence in every major region globally.
Follow #Chivasmasters to be a part of the journey.
Article Courtesy of Press Release

February 2014 Scotch Whisky News
28 F eb
2014
Businessman seeks £5m for new Borders distillery
The Scottish Borders could soon welcome its first whisky distillery in over 170 years if one local businessman manages to secure £5 million of funding.
Alasdair Day, who revived the Tweedale blended Scotch whisky brand that was once headed by his great-grandfather, hopes to transform an old water mill in Walkerburn, near Tweedale, into a Scotch whisky distillery.
Day is currently in talks with a number of potential investors and, if successful, plans to build a new distillery with capacity for the production of 100,000 litres of alcohol a year.
If built, the distillery would be the first to open in the Scottish Borders since 1837.
"There are a lot of projects involving Scotch whisky currently in the pipeline, so I thought momentum was with me and this is the right time to get my project off the ground," Day told The Spirits Business.
"We have spoken to all of the relevant council departments and are currently in the early stages of discussions with potential investors. Everything seems very positive at the moment."
Day added that of the £5m in funding, £3m will be earmarked for planning and building costs, while £2m will go towards capital costs to keep the distillery running until its first whisky is released.
Through his firm, The Borders Distilling Company, Day spent almost two years searching for the ideal location to set up the distillery.
He has also spoken to residential committees in the region, which Day claims have responded favourably to the proposals.
Should these plans come to fruition, the first planned release of the Borders Distilling Company will be a three-year-old single malt. Day also claims that all whiskies from the distillery will have a "lowland character".
A formal planning application will be submitted once funding has been secured.
Article Courtesy of The Spirits Business

27 Feb
2014
Diageo Global Travel Releases Rare Single Malt Whisky From The Now Silent Brora Distillery
Diageo Global Travel and Middle East (GTME) today announced the release of just 160 bottles of BroraTM 40 Year Old, the most expensive Single Malt whisky ever released by Diageo. Drawn from a single cask, the bottles are priced at GBP £6,995 and are available today as a worldwide exclusive for pre-order through World Duty Free Group's online outlet www.worldofwhiskies.com.
The Brora distillery closed in 1983, yet some of the famous liquid has been slowly maturing to perfection in a Scottish warehouse. This fine, pale gold Single Malt, taken at the natural cask strength of 59.1% from a single cask distilled in 1972, is the first 40 year old Brora whisky ever to be bottled, and the oldest and rarest Brora expression ever released. It has been drawn from what is considered to be the most brilliant of its highly-peated bottlings – the famous 1972 reserve.
The exquisite packaging of Brora 40 Year Old reflects the true quality, craftsmanship and luxury credentials of the rare Brora liquid. The decanter is presented in a beautiful wooden case, an interpretation of the closed Brora distillery, skilfully handcrafted by the Queen's cabinet makers at N.E.J Stevenson Ltd1. The bespoke designers were appointed to craft the case because of their expertise, which is evident in other highly respected creations, such as the unique chests that house the Diamond Jubilee by John Walker & Sons.
The whisky itself is housed in an exquisite crystal decanter that bears the golden emblem of the Scottish Wildcat2, the legendary guardian of the closed distillery and crest of the distiller's founder, the Duke of Sutherland. The unique crystal stopper is etched with the number '40' and the decanter has an engraved copper neck detailing the 1972 distillation year.
Steve White, Global Marketing Director of Diageo Global Travel and Middle East, said: "We have chosen to launch Diageo's most expensive Single Malt whisky, Brora 40 Year Old, through our exclusive partnership with World Duty Free Group UK. We are confident that the supreme quality and rare nature of this whisky will delight and excite Single Malt collectors and aficionados who will want to add a bottle of this prestigious whisky to their prized collection."
David de Miguel, Global Head of Liquor at World Duty Free Group comments, "It's great to be partnering with Diageo on this worldwide exclusive malt whisky launch, which showcases our ability to consistently offer a range of unique whiskies across our stores. The exceptional quality of this rare whisky will attract and intrigue whisky connoisseurs, helping to highlight our reputation as whisky specialists with the finest expertise".
Brora 40 Year Old is available for pre-order from today, exclusively at www.worldofwhiskies.com, at a recommended retail price of GBP £6,995 for 70cl, and will be available for collection from selected UK World of Whiskies and World Duty Free Group stores from 21st April 2014.
Article Courtesy of Press Release

26 F eb
2014
Whiskey Obsession Festival Announces Panelists and Seminar Classes
Twenty-five distillers and professional brand ambassadors will travel to Sarasota, Florida in March to serve over 200 whiskies from Scotland, England, Ireland, France, India, Australia, Japan, and the United States. Whiskey Obsession is one of the largest whisk(e)y festivals in Florida and will held March 27 and 28, 2014 at Michael's on East.
The festival kicks off with the Panel of Whiskey Experts on Thursday, March 27, 2014 featuring eight distillers and ambassadors each presenting their favorite spirits. The panel occurs in Michael's Wine Cellar and is limited to forty guests; the cost of this event is $45 per person. The panelists include:
David Blackmore - Ardbeg and Glenmorangie Master Brand Ambassador
Gary Keimach - Gordon & MacPhail Senior Vice President
David Laird - Balvenie and Glenfiddich Brand Ambassador
Jimmy Russell - Russell's Reserve and Wild Turkey Master Distiller
Raj Sabharwal - Amrut and English Whisky Company Brand Ambassador
James Wills - Kilchoman Brand Ambassador
Al Young - Four Roses Brand Ambassador
Louisa Young - Arran Senior Brand Manager
The grand tasting occurs on Friday, March 28, 2014 with VIP entrance at 6:30 pm and general admission at 7:30 pm. Last pour is at 10:30 pm followed by an after party at Made Restaurant in downtown Sarasota.
In our educational series, five seminar classes will occur during the Friday night grand tasting, allowing guests to participate in intimate discussions with these industry professionals:
The Glenmorangie Academy with David Blackmore, Master Brand Ambassador
Suntory: The Art of Japanese Whisky with Gardner Dunn, Brand Ambassador
Cigar and Whisky Pairing: Balvenie and Torano with David Laird, Brand Ambassador
Four Roses: 2 x 5 = Unlimited Possibilities with Al Young, Brand Ambassador
Smooth Ambler Spirits: Current and Emerging Whiskies with John Foster, Distiller
Article Courtesy of Press Release

25 Feb
2014
Speyburn Distillery Unveils £4 Million Expansion Programme as Global Demand Grows
One of Scotland's most picturesque and time-honoured distilleries has announced a major expansion plan to double its production capacity, in a bid to satisfy demand for Scotch whisky which continues to grow around the world.
Speyburn Distillery, which is nestled in a beautiful glen near Rothes in Speyside - the heart of single malt whisky distilling in Scotland, will undergo the £4 million programme which is set to be completed by the end of 2014.
Speyburn is part of the Inver House Distillers portfolio, which is owned by International Beverage Holdings. The distillery investment will increase Speyburn's production capacity from 1.8 million litres to over 4 million litres each year, allowing the business to lay down stock for predicted future growth in both established and emerging markets – with the brand's volume growth forecast at 15 per cent for the 2013 / 2014 period.
The expansion design will significantly reduce the distillery's energy consumption per litre of alcohol and improve its carbon footprint, with predicted energy savings of more than 20 percent once the extended distillery is up and running. This will be achieved by using the most up-to-date and energy efficient distillation equipment - whilst maintaining the distillery's traditional methods of production. The expansion will also provide a boost for local businesses, with Rothes-based whisky specialists Forsyths contracted to manufacture all new production equipment and Elgin-based construction company Robertson also undertaking elements of the project.
Often described as one of the nation's most photographed distilleries, Speyburn Distillery was founded in 1897 and produces Speyburn Highland Single Malt Scotch Whisky, which is already a top 10 malt brand in the USA - the biggest Scotch single malt market in the world.
Nestled in a valley in the northern edge of Rothes, very little has changed at Speyburn Distillery in the last 100 years, including its time-honoured distillation methods and most of its original features – a pagoda roof, wooden wash backs, unique stills and traditional dunnage warehouses, helping maintain its unique character.
The award-winning Speyburn 10 Year Old, 25 Year Old and 'Bradan Orach' expressions are distilled using water from the nearby Granty Burn, a tributary of the River Spey, which is famed for its purity and world-class salmon fishing. The result is a classic, perfectly-balanced single malt with a distinctive character and unique flavour.
Inver House Distillers' Managing Director Graham Stevenson commented: 'As we continue to be very optimistic about the long term potential for Scotch whisky, particularly in the emerging BRIC, African and South East Asian economies, investment in our production capabilities is crucial. Having the infrastructure in place to produce our high quality whiskies in greater quantities will be key to the future success of our brands, so we are delighted to see the first phase of this major programme of work get underway at Speyburn Distillery.'
Bobby Anderson, Speyburn Distillery Manager added: 'This is an exciting time for everyone here at the distillery and we are working with a great team of local companies to deliver the expansion programme, whilst retaining the great traditions and time-honoured techniques involved with crafting our whisky. It's exciting for us to know that even more people around the world will be able to enjoy a taste of Speyburn as the project progresses this year.'
Rural Affairs Secretary Richard Lochhead said: "This is excellent news not only for the whisky industry, but to the local economy in Speyside.
"We know there is great demand for Scotland's national drink with whisky exports from the UK increasing by 87 per cent over the last ten years from £2.3 billion in 2002 to £4.3 billion in 2012, and the expansion of this distillery will play an important role in meeting that global appetite for our premium product. I also welcome the fact the distillery is showing leadership by reducing its carbon footprint through the installation of energy efficient distillation equipment, and playing its part in the move towards making Scotland a low carbon economy."
Article Courtesy of Press Release

25 Feb
2014
Cardhu Speyside Single Malt Scotch Whisky Launches New "Amber Rock" Expression
CARDHU Single Malt Scotch Whisky is adding a new, highly crafted variant to its popular and successful range of Speyside whiskies, Diageo has announced.
CARDHU AMBER ROCK™ has been double matured in toasted American Oak casks, to deliver richer notes of vanilla and spice. Elegant and deeply flavoured, it still retains the impeccable balance and the clean sweet notes that are a hallmark of CARDHU, and are faithful to the tradition of generous single malt whiskies created by the distillery's remarkable founders, Helen and Elizabeth Cumming.
Official tasting notes announce that "the classic CARDHU notes of citrus and honey are deepened by fruit, spice and sweetness: superbly balanced and well-paced, with consistent intensity and texture and a tasteful mingling of silky tannins and clean, fresh vanilla flavours and aromas."
Master Blender Dr Matthew Crow, who worked on the new CARDHU AMBER ROCK, said:
"The Bourbon nuances that develop from the second maturation in toasted casks seasoned with Bourbon whiskey add an even greater silkiness and roundness to the already balanced and delicious CARDHU, bringing vanilla and spice notes along with hints of oak. We are very pleased with how this has turned out."
CARDHU AMBER ROCK joins the CARDHU family of Speyside Single Malt Scotch Whiskies, which was recently expanded with the addition of 15 and 18 year old expressions.
Destined mainly for distribution through whisky specialist stores, CARDHU AMBER ROCK will be available in France and Belgium from spring 2014, and more widely in Western Europe [UK, Switzerland, Spain, Portugal, Germany, Greece & Netherlands] from late summer onwards. The launch will be supported by in-store publicity, advertising and promotion through digital channels.
"Western Europe remains a major market for our single malts, including CARDHU", commented Nik Keane, Diageo's Global Brand Director for Malt Whiskies. "We are excited and confident that this very original new variant will appeal both to existing CARDHU drinkers and to whisky drinkers new to the category or the brand."
The name "CARDHU" means "black rock" in the Gaelic language; "CARDHU AMBER ROCK" has been chosen as the name for the new CARDHU as a variant on the distillery's name and to reflect the golden jewel-like colour of the new expression.
The Recommended Retail Price of CARDHU AMBER ROCK in the UK market will be £41.
Article Courtesy of Press Release

21 Feb
2014
Glendronach Launches New Grandeur 24 Year-Old
THE START of a new year brings a new limited edition GlenDronach single malt designed for the serious connoisseur.
Replacing the GlenDronach Grandeur 31 Years Old that has now sold out, the GlenDronach Grandeur 24 Years Old is another exquisite long-aged representation of the smooth, complex and full-bodied style for which GlenDronach Distillery is justly famous worldwide.
For if the glorious rum-soaked golden sultanas don't capture you as you savour it for the first time, you'll definitely be ensnared by the dark chocolate and zesty orange oil softening to a deep clove spice.
The Grandeur 24 Years Old, at 48.9%vol, shows the finest sherry oak casks, masterful maturation and traditional crafted Highland single malt in perfect harmony.
Lovingly aged for almost a quarter of a century and beautifully gift-boxed, this exceptional whisky has been specially selected by Master Distiller Billy Walker from some of the oldest and most unique Oloroso sherry casks at GlenDronach.
This bottling, batch number 4 of the Grandeur releases, is limited to 569 bottles. Individually numbered by hand, each bottle is a one-off and truly unique, making it a very special and remarkable malt.
Billy Walker's tasting notes demonstrate that the Grandeur 24 Years Old is indeed one of the greats.
Appearance: Glistening burnt amber holds a rich crimson heart.
Nose: A magnificent combination of honey-drenched dates and succulent raisins which gently ebb and flow with waves of delicate orange blossom, mint and cracked black pepper. Hints of glazed cherries and toasted almonds perfectly complement the seductive nose - a nose to be appreciated slowly and often.
Palate: A fabulously full-bodied, vibrant palate captures a multitude of classic sherry cask characteristics. The delicate sweetness of rum-soaked golden sultanas refines rich espresso, dark chocolate and treacle toffee. Zesty orange oil softens to a deep clove spice and prolongs the ever-changing palate. A sublime example of understanding the relationship between cask and single malt perfectly.
Conclusions: The Grandeur 24 Years Old encapsulates the perfect harmony of exquisite sherry oak casks, masterful maturation and traditional crafted Highland single malt. A dram to be savoured in order to reveal the depth of dramatic flavours held in the glass. A truly memorable and captivating GlenDronach expression.
Sales Director Alistair Walker commented: "This is a wonderful dram that needs a great amount of time spent on it in order to be fully rewarded with its stunning qualities – luscious, long and lingering."
Article Courtesy of Press Release

20 Feb
2014
New Isle of Skye whisky distillery planned
Mossburn Distillers Ltd are to invest £5 million in The Torabhaig Distillery
Mossburn Distillers Ltd are to invest £5 million to build a new distillery on the Isle of Skye.
Planning has already been approved for The Torabhaig Distillery, which will housed in a listed early 19th century farm steading at Torabhaig on the island's south-east coast.
Work is expected to begin on the distillery in the summer, with the first new spirit from the distillery expected by the end of 2015.
Edinburgh-based Mossburn Distillers Ltd was set up by Neil Mathieson - a former managing director of Dutch spirits producer and distributor Eaux de vie (Marussia Beverages UK Ltd) - as a new company in September 2013.
He said: "Skye is renowned all over the world for its natural beauty and cultural heritage and we believe that Torabhaig will be a valuable contribution both to whisky distilling on Skye and to the island's continuing attraction to international visitors.
"We have a wonderful property in a beautiful setting looking over the Sound of Sleat to Knoydart.
"It's a perfect location for a small, traditional distillery and we look forward to working with the local community to bring our plans to life."
The site for The Torabhaig Distillery was originally earmarked as a potential site by the late Sir Iain Noble, one of the founders of Noble Grossart merchant bank, who had acquired the site as as part of a 20,000 acre purchase in the 1960's.
Currently Talisker Distillery, in the village of Carbost, is the only distillery on the Isle of Skye.
Article Courtesy of Business7

17 Feb
2014
Call for tax breaks as domestic sales of Scotch whisky fall by 12%
A trade body has called for the UK chancellor to hand out tax breaks in a bid to boost the Scotch whisky industry.
The Scottish Council for Development and Industry (SCDI) said that excise duty was 44% higher now than it was in 2008 and claimed that distillers were suffering as a result.
In an open letter ahead of George Osborne's March budget, the body called for a freeze on both duty and the duty escalator.
The letter read: "Excise duty is now 44% higher than it was in 2008. Consequently, the UK is the fourth highest taxed spirits market in the European Union.
"The UK is still the third largest market by volume for Scotch whisky, but volumes have declined by 12% over the last five years. Overseas markets often use large tax increases on Scotch Whisky in the UK to justify their own protectionist tax rises, harming UK exports.
"The alcohol duty escalator was abolished for beer in 2013 and a fair deal for Scotch whisky, involving a freeze on duty and the scrapping of the escalator, would support business investment and exports, and, as independent research has shown, would increase the drinks industry contribution to public finances by £230m in 2014 alone."
The SCDI also called for a reduction in Air Passenger Duty and further investment in renewable energy and transport in its statement.
Chief executive Ross Martin said: "It is positive to see increasing output, falling unemployment and growing confidence as businesses regain ground, but a truly balanced recovery, with higher business investment and exports, would increase its resilience and long-term sustainability.
"SCDI welcomes steps already taken to stimulate growth but believes there remains room for action to be taken to support our key exports, harness our energy potential and deliver infrastructure.
"Among our key recommendations, SCDI is calling for the Chancellor to end, at long last, the penalisation of Scotch whisky through duty rises, and take further steps to support this important sector.
"2014 will be a year when the eyes of the world are on Scotland, with the Commonwealth Games in Glasgow, Ryder Cup at Gleneagles and the referendum. SCDI believes that the UK and Scottish Government should work together to maximise the interest generated in Scotland by these events and the long-term benefits for Scotland as a destination for major events, tourism and investment."
Article Courtesy of STV
13 Feb
2014
J&B releases tattooed whisky bottle
We've seen many an unusual piece of packaging at CR towers - but Scotch Whisky brand J&B's latest range of bottles may be the strangest yet.
The brand recently released 25 bottles of its finest blend wrapped in a fleshy latex skin. Each 'skin' was delicately tattooed by SM Bousille, owner of Paris tattoo parlour Le Sphinx.
The concept was devised by French design studio Button Button as an unusual way to commemorate J&B's heritage. The product was launched in the mid eighteenth century by London wine merchant Justerini & Brooks, at a time when tattoos were becoming popular with UK sailors, says the agency. In 1862, the Prince of Wales became the first monarch to receive one and the trend for tattoos spread throughout Europe.
It took Bousille around 20 hours to tattoo each bottle, and each one features the same design. The latex skins used had to be slim enough to respect the bottle's shape yet strong enough to withstand being hit with Bousille's needle. A flesh colour was chosen for added authenticity and intrigue, says Button Button.
Bottles were packaged in a black silk screened box and sold at Paris' Publicis Drugstore and L'eclaireur rue Herold. Priced at 150 Euros each, they sold out within a week.
There's something a little unsettling about these eerily realistic skins, but it's certainly a novel approach to packaging. Button Button says there are no immediate plans to release any more, but the company is interested in collaborating with a different tattoo artist in another country.
Article Courtesy of STV

11 Feb
2014
First whisky fair planned for HK
Hong Kong is to have its inaugural malt whisky fair later this year in a show that will include masterclasses from leading distilleries.
The show will take place from Friday 11 April to Saturday 12 April at Crown Wine Cellars and it is hoped some 450 people will attend.
Confirmed brands giving masterclasses include the Macallan, Glenmorangie, Interbev Group, Bowmore and Dalmore.
Organisers are currently still in talks with Glenfiddich and Springbank to participate and with Glenmorangie to host a VIP dinner.
Also at the show will be various whisky accessories including Glencairn glassware, Uisge Source water and Pacific Cigars, Sir David Tang's Cuban cigar distributor.
A website is currently in development and will be up shortly. Ticket prices will begin at HK$800.
Article Courtesy of The Drinks Business

07 Feb
2014
Diageo's Bell's whisky ad proves industry is a soft touch
It seems to me that ads for alcohol used to fall into two categories - funny or cool.
Nowadays, our marketing men are branching out into a third option - touchie-feelie. Last week's Super Bowl provided us with more than a few cry-fests (and an adorable puppy). And now Diageo's Bell's whisky brand practically pokes us in the tear-ducts with its South African commercial that shows an illiterate man desperate to read a particular book.
After the Super Bowl, a marketing professor told Reuters: "We are seeing companies talk about more inspirational topics."
For inspiring, read emotional. So, will 2014 be the year of the advertising weepies? Well, put it like this - the Bell's ad already has half-a-million views just a week out from its launch.
That's pretty impressive for a single-market commercial.
Hankies at the ready, everyone.
Article Courtesy of Just Drinks

06 Feb
2014
Whisky producers' appeal against minimum pricing set for court
The Scottish Government's plan for alcohol minimum pricing will again be the subject of a court battle on Thursday.
Legislation which would see a minimum unit price of 50p is being opposed by the Scotch Whisky Association (SWA).
It took legal action against the policy, which it argues would breach European Union (EU) trading rules, after it was passed by MSPs in 2012.
Judge Lord Doherty rejected the challenge in May 2013, ruling that the legislation was compatible with UK and EU law. An appeal will now get under way at the Court of Session in Edinburgh.
The Scottish Government has said it is committed to introducing the policy in a bid to address Scotland's unhealthy relationship with drink, and save lives.
But the SWA maintains that minimum pricing will be ineffective in tackling alcohol misuse, will penalise responsible drinkers and damage the industry.
Chief executive David Frost said: "We are serious about tackling alcohol misuse in Scotland but it has to be done in ways which are proven to work.
"We are taking legal action against minimum unit pricing (MUP) because we believe it is not only illegal under EU law, but actually ineffective in tackling misuse, as well as damaging to the Scotch whisky industry which supports 35,000 jobs across Scotland.
"We are far from alone in this view. Last year the UK Government abandoned their plans because of lack of evidence MUP would help, and several EU member states and the Commission have voiced their concerns.
"We are not seeking to delay a resolution; we want the case to go rapidly to the European Court, but it is the Scottish Government that has refused."
Speaking in advance of the hearing, Scottish Health Secretary Alex Neil said evidence that alcohol costs as little as 20p a unit is proof that minimum pricing is needed.
He pointed to research showing it is possible to buy three litres of branded high-strength cider, around 22 units, for £4.50.
Twelve cans of lager coming to 21 units are being sold for £8, while 26 units of supermarket brand vodka is available for less than £11, the Scottish Government says.
Mr Neil said: "Each week on average in Scotland, alcohol misuse is responsible for more than 20 deaths and 700 hospital admissions.
"Being able to buy 20 units of alcohol for the change in your pocket is just unacceptable. It shows that this kind of high-strength alcohol - the type which does much of the damage - has become far too cheap in Scotland.
"Time and time again the research proves that affordability is the key factor in the misuse of alcohol and that the most effective way to tackle this is by setting a minimum unit price.
"This is about targeting the cheap drink that causes so much harm within communities, often in the most deprived areas of Scotland."
Article Courtesy of STV
04 Feb
2014
Distillery plant to generate electricity from whisky ingredients
A distillery energy plant which will generate gas and electricity from spent whisky ingredients has been given the go-ahead by councillors.
Moray Council approved the anaerobic digestion facility at Glenfiddich Distillery in Dufftown on Tuesday.
The plant will process leftover malted barley and pot ale from the distilling procedure.
The ingredients will be cleaned and turned into gas or electricity for the National Grid.
Councillor Douglas Ross, chair of the council's planning and regulatory services committee, said: "This proposed development has been well managed by the applicant as can be seen by the fact that there were no objections to the plans.
"They have worked with the council to ensure this energy plant can be approved and built as quickly as possible to start generating electricity from this anaerobic digestion facility.
"The position of the plant was also sympathetic to the local area and the fact that it will be barely visible to the majority of passers-by is an added bonus given its location near to Dufftown."
The facility will be built on an open field in the south east corner of the distillery site.
Article Courtesy of STV
10 Jan
2014
Rare Macallan whisky sets world record after selling for £380,000
THE six-litre bottle distilled in Banffshire and snapped up at a sale in Hong Kong is the most expensive malt at £2000 a dram.
A RARE bottle of whisky set a new world record by selling at auction for £380,000.
The Macallan M – in a handmade crystal decanter – was just one of four created by the distillers.
It was snapped up at a sale in Hong Kong by a collector in Taiwan who smashed the previous record by more than £100,000.
The six-litre luxury bottle works out more than £2000 a nip – although the proceeds are going to charities.
Experts at the distillery in Banffshire spent two years choosing seven casks, ranging from 25 to 75-years-old, out of nearly 200,000 to be blended to create the world record single malt.
The same devotion to detail was lavished on the decanter.
It took 17 craftsmen from French firm Lalique more than 50 hours to create it. Forty earlier versions of the hand-blown decanters had to be destroyed because they had flaws.
Two other bottles will be archived by The Macallan and one will go to another private collector in Asia.
The firm's David Cox said: "We are absolutely delighted at the generosity of the successful bidder in securing such a wonderful contribution to a number of Hong Kong charities and, at the same time, setting a new world record for The Macallan.
"It is testimony to the craft, quality and passion underpinning the creation of this great decanter.
"It is a very proud moment for us."
Article Courtesy of Scottish Daily Record
January 2014 Scotch Whisky News
30 Jan
2014
New scotch whisky will set you back $2,000 for a bottle
Johnnie Walker & Sons has released a new scotch whisky in Canada, but unless money isn't an object, chances are you won't taste it any time soon.
Johnnie Walker Odyssey, previously released in Asia and parts of Europe but new to your local liquor store, has a manufacturer's suggested retail price of $2,000 per 750 ml bottle, which works out to $80 a shot.
Ewan Gunn - who has one of the world's great business cards that give his title as "Global Scotch Whisky Ambassador" and his office location as "Drummuir Castle" - was on a tour of Western Canada this week to trumpet the swanky spirits.
He described how master distiller Jim Beveridge blends three single malts (Gunn won't say which ones) into a rare triple malt then recasks it for a time (he also won't say for how long) to come up with Johnnie Walker's top of the line tipple.
Gunn believes that although a single bottle will retail for slightly less than airfare for two to Edinburgh, there will be enough Canadians interested in paying up for this "absolutely phenomenal" whisky.
He says it has a "beautiful caramel sweetness, there's a lovely honey sweetness and gentle rich texture as well and a lot of people find they get a nice zesty citrus note" to go with just a "hint of signature smokiness."
Even the packaging is high end. The decanter has a weighted, rounded bottom designed to rock with the motion of oceangoing liners and is based on a design by Sir Alexander Walker, a grandson of the distillery's founder, and the box is a gyroscopic design, also drafted to rock with the waves.
Article Courtesy of Vancouver Sun
29 Jan
2014
Ballantine's whisky launches 'digital shirt'
Ballantine's Scotch whisky has stepped into the tech market by unveiling the world's first "scrunchable and washable digital t-shirt" allowing wearers to display digital text and animation.
The tshirtOS 2.0 was revealed to a global audience at the Pernod Ricard Innovation Day in Paris yesterday with its creators predicting that "wearable technology" will be a key trend in 2014.
The t-shirt features an illuminated LED blank canvas allowing wearers to create their own designs and express their thoughts encouraging wearers to show the world the "true you" – in keeping with the Scotch whisky brand's slogan "Stay True".
Created by "wearable technology experts" SWITCH – a San Francisco-based fashion technology company – the t-shirt is accompanied by a mobile app which allows wearers to control the display via their phone.
Peter Moore, global brand director for Ballantine's, said: "tshirtOS 2.0 represents a truly innovative way for consumers to express themselves and answer Ballantine's invitation to 'Stay True', by literally creating and then wearing an expression of themselves on their chest.
"Wearable technology is going to be one of the key trends of 2014, and we can't wait to give Ballantine's fans around the world the chance to see and experience tshirtOS 2.0 for themselves."
Alison Lewis, Founder of SWITCH and co-creator of tshirtOS 2.0, added: "tshirtOS 2.0 is a whole new way for people to create, share and express themselves through fashion. It's soft, feels great on and is completely undetectable as technology.
"We are very pleased to be working with Ballantine's on such a magical and inspirational product."
Article Courtesy of the The Drinks Business

23 Jan
2014
Glen Catrine plant fined over 6,600 litre whisky spill
A whisky bottling plant has been fined £12,000 after a spillage of the spirit polluted a river in East Ayrshire.
Glen Catrine Bonded Warehouse, in the village of Catrine, spilled 6,600 litres of whisky on 6 September 2011 - most of which went into the River Ayr.
The firm admitted the offence during a hearing at Ayr Sheriff Court.
The spill occurred when whisky spirit from a road tanker containing 27,500 litres of whisky spirit was pumped into the wrong vat.
The absence of any failsafe, such as high level alarms or trips, meant that the error was not identified until the overspill was seen by a passing employee.
Due in part to a drain valve in the bund having been left open, the spillage drained into the River Ayr.
Overfill risk
It later emerged that neither the operator, nor the duty production manager had seen any company procedures for cleaning up spills and neither had received any formal training on dealing with spills.
Following the case, procurator fiscal Sara Shaw said: "The risk of pollution of the river should have been one of the considerations at the forefront of the company's policies.
"Due to the absence of a number of appropriate systems and staff training, there was always the risk of accident or an overfill incident if an error was made.
"Improvements have been made at the site designed to prevent similar incidents happening in the future, albeit, too late, as shown by the pollution of the River Ayr in 2011."
Article Courtesy of the BBC News

21 Jan
2014
Glenmorangie whisky to launch global marketing campaign decided by the public
Glenmorangie, the a whisky distillery, is readying a global marketing campaign that will be part-created by the public for its Taghta brand, a name decided on last year by single malt fans.
The activity is part of the Cask Masters programme, which has allowed the whiskey to be crowd-managed from its name and bottle design to the campaign that will promote it.
For the latest installment, members of the public have been asked to upload photographs to three online moodboards accessed via a dedicated website. Each moodboard has a different theme: Chosen by Many; From Spain to Scotland; and Pioneering Innovation.
Photographer, Kevin Mackintosh, will then create three public-inspired images which will be put to an online vote with the winning image used in promotional shots for the new whisky.
The images will also form the centrepiece of the worldwide marketing campaign.
Dr Bill Lumsden, director of distilling and whisky creation, explained: "This really is a ground-breaking initiative with whisky aficionados having a genuine say in each step of crafting this exclusive Glenmorangie single malt".
"The public response has been outstanding and we are really grateful for all the excellent ideas which have gone into inspiring this programme. I'm not surprised though, it's not every day you get the chance to create your own whisky."
The final stage of the programme will see fans select the location of the worldwide launch venue in autumn 2014.
Article Courtesy of The Drum
21 Jan
2014
Plans for five-star makeover of whisky visitor centre unveiled
A whisky visitor centre in the Highlands is set to get a five-star makeover.
Dewar's World of Whisky, at the Aberfeldy Distillery, has unveiled plans for a major redevelopment of its home in the Highlands.
The proposals include the total refurbishment of the cafe and shop, which welcome 32,000 visitors to the Aberfeldy Distillery each year.
Work on the redevelopment will commence on site from Saturday January 25 and is scheduled for completion in April 2014.
Charlotte Brown, centre manager, said: "Along with creating a cosy environment for our visitors to relax and enjoy their dram, we will also see a new menu in the café, offering freshly prepared hot and cold lunches with a focus on local produce.
"The brand store will also be redeveloped to truly showcase the full Dewar's portfolio. This is a genuinely exciting development and demonstrates our dedication to providing five-star facilities for visitors to the Aberfeldy Distillery."
The design also features unique Dewar's artefacts and vintage memorabilia going on display to the public for the first time, along with a stunning 'stave tunnel' installation.
Richard Pinn, VisitScotland regional director, said: "The planned redevelopment work at Dewar's comes at an exciting time for tourism in Scotland and would, we hope, attract even more visitors to this popular attraction.
"This year, Scotland welcomes the world with a line-up of global events, including the Commonwealth Games, Ryder Cup and Homecoming.
"It is, therefore, important that everyone involved in tourism steps up to the plate and gives all our visitors the best possible experience that will make them want to return time and again."
Article Courtesy of STV
19 Jan
2014
Record $631,850 Macallan Whisky Sold at Sotheby's Auction
Sotheby's said it sold a bottle of Macallan for HK$4.9 million ($631,850) in Hong Kong, setting a record for the most expensive bottle of single malt whisky sold at auction.
The Macallan 6-liter "M" Decanter by Lalique, exceeded its HK$4 million high estimate and beat a previous record of $460,000 set by Sotheby's in New York in 2010, the auction house said in a press release.
The Macallan sale, proceeds of which will benefit Hong Kong charities, helped boost total sales for the Jan. 18 wine auction to HK$29.4 million, with 99.7 percent of lots sold.
Only four Imperiale "M" Decanters were ever made by the Macallan distillery, Sotheby's said.
Article Courtesy of Bloomberg
16 Jan
2014
Glen Ord Distillery Gets Its New Stills
Following Diageo's announcement earlier today (16 January) of the investment at Clynelish Distillery, Glen Ord is now seeing the delivery and installation of new stills as part of the £25 million expansion plan for the distillery, which is seeing its capacity doubled to over 10 million litres per annum. The 10 new washbacks and 6 new stills will be housed in existing buildings at the distillery.
Diageo is also doubling the capacity at the Teaninich Distillery in Alness and is progressing plans to build a new malt whisky distillery and renewable energy plant on land adjacent to Teaninich.
In total these projects represent a capital investment of nearly £150 million across the Highland Council area.
Article Courtesy of Press Release

16 Jan
2014
New Milestone In Diageo Scotch Investment With Plan For Clynelish Distillery Expansion
Diageo, the world's leading premium drinks business, has today announced plans for a £30million expansion of its Clynelish Distillery in Sutherland, in the North-East of Scotland.
In the latest major milestone in Diageo's £1billion programme to increase Scotch whisky production, plans have been submitted to Highland Council for the major expansion of Diageo's most northerly Scotch whisky distillery.
The Clynelish expansion will take the on-going capital investment by Diageo in the Highland Council region alone to almost £150million, including major expansions at Glen Ord and Teaninich Distilleries and plans to build a new distillery at Alness.
Keith Miller, Diageo Director of Distillation and Maturation, said:
"The plan to expand Clynelish Distillery is another major milestone in Diageo's £1billion investment to increase Scotch whisky production capacity to help meet the future growth in global demand for our brands.
"Clynelish is a very special distillery, producing spirit which is highly prized for its quality and character and is an important part of our Scotch whisky blending inventory, so this is an important part of our investment programme."
Clynelish Distillery produces single malt whisky unique in both taste and texture which is highly prized by Diageo's master blenders for use in world-leading Scotch whisky brands such as Johnnie Walker. Clynelish is also a highly regarded as a single malt whisky in its own right. The distillery is also home to one of Diageo's 12 distillery visitor centres, welcoming more than 5,000 visitors each year. Clynelish is near the Sutherland town of Brora.
Doubling production capacity
Under the plans submitted, Clynelish Distillery will see the installation of an additional mashtun, 10 new washbacks and six new copper stills. This adds to the 10 washbacks and six stills which the distillery currently has, and will effectively double the production capacity to nine million litres of alcohol per annum, whilst retaining the unique character and quality of the spirit. A bio-energy plant is also planned for the site to provide non-fossil fuel energy to power the distillery.
As part of the planning process Diageo will hold a community engagement session in February to share further details of the Clynelish proposals with the local community.
Diageo announced its £1billion Scotch whisky investment programme in June 2012. As well as the distillery expansions the company is also investing in new warehousing to store the additional spirit, with a major new bonded warehouse site being developed at Cluny in Fife.
Expansion at Glen Ord too
The Clynelish announcement comes as six new copper stills were delivered to the Glen Ord Distillery as part of the £25million expansion plan which is doubling the size of that distillery to over 10million litres per annum. Diageo is also doubling the capacity at the Teaninich Distillery in Alness and is progressing plans to build a new malt whisky distillery and renewable energy plant on land adjacent to Teaninich. In total these projects represent a capital investment of nearly £150million across the Highland Council area.
Article Courtesy of Press Release

15 Jan
2014
anCnoc Releases Exclusive 1999 Vintage Expression
anCnoc Highland Single Malt Scotch Whisky has today (15th January) announced the latest hand selected addition to its exceptional portfolio, the limited edition 1999 Vintage. Only 750 cases of this rare single malt will be available in the UK, Russia, Germany and Taiwan from January 2013 with a retail price of £49.99 per bottle.
The whisky, which has been matured in American bourbon and Spanish sherry oak casks at Knockdhu Distillery in Knock, Banffshire, has been bottled in its most natural form – neither chill-filtered nor coloured at 46% ABV. The exclusive liquid is amber in colour with a slight golden hue. It is an aromatic expression which is sweet to start with a touch of fruitiness and a long, smooth finish.
In true anCnoc style, the striking white and red colouring of the packaging mirrors the minimalist design of anCnoc's core range and features an intricate illustration of the enchanting Knockdhu Distillery on the bottle and tube.
anCnoc, which is part of the Inver House Distillers portfolio, is a brand closely associated with the arts, having released a series of limited edition expressions in the past few years designed by the acclaimed Scottish illustrator Peter Arkle. It's renowned the world over by malt enthusiasts for bringing a contemporary twist to the traditions of fine malt whisky, producing a single malt that is accessible and versatile for all occasions.
anCnoc Brand Manager, Gillian Gibson commented: 'Releasing our 1999 Vintage marks the first in a series of fresh and exciting developments for anCnoc in 2014 which are sure to intrigue and delight fans of our range. This very special expression, with its distinctive characteristics, will undoubtedly be a welcome addition to anCnoc collections.'
Article Courtesy of Press Release

14 Jan
2014
British Pair Wins The World's Toughest Rowing Race, The Talisker Whisky Atlantic Challenge
Brits Mike Burton and Tom Salt (Locura Rows the Atlantic) have beaten 15 international teams to win the Talisker Whisky Atlantic Challenge, the world's toughest rowing race. They completed the gruelling 3,000 mile race from La Gomera, Canary Islands, to Antigua in 41 days, 2 hours and 38 minutes.
Rowing in shifts of two hours on, two hours off, 53-year-old Mike and 30-year-old Tom, who make up team Locura Rows The Atlantic, competed in the arduous race to raise money for the Generous Hearts Foundation.
Rower Tom comments on their win: "Mike and I are absolutely ecstatic to have won the Talisker Whisky Atlantic Challenge! We're no strangers to extreme challenges, but this is definitely the hardest thing we've ever done and pushed us to new limits both physically and mentally. We will be celebrating this evening with our friends and family – and the burger we have been dreaming about since day one!"
Talisker Brand Manager Sophie Brookes comments: "The 2013/14 Talisker Whisky Atlantic Challenge has definitely been living up to its name as the world's toughest rowing race – the weather has been particularly tough for our teams this year, with an enormous storm hitting the fleet within a few days of the race beginning. Talisker is made by the on the rugged Isle of Skye in Scotland; at times it can mirror the conditions the rowers are facing. Mike and Tom have shown great determination since day one and we would like to congratulate them on their phenomenal win on behalf of everyone at Talisker."
The team have battled 40ft waves, tropical storms, seasickness, sleep deprivation, excruciating body sores, a capsize and even an encounter with a six-metre marlin which left a small hole in their boat.
Mike from Yorkshire met Tom, originally from Chichester and now living in London, in 2010 when they competed in the same crew of the Clipper Round the World Yacht Race where they finished in fourth place. Tom's also completed seven marathons and Mike regularly skydives.
The Talisker Whisky Atlantic Challenge saw 16 teams from around the world start the race on the 4th December 2013 from La Gomera in the Canary Islands. With two teams airlifted to safety following capsizes and one team rescued by a passing Bulk-carrier ship, only 13 teams are still competing to finish the Talisker Whisky Atlantic Challenge.
Follow the progress of all of the teams by visiting www.taliskerwhiskyatlanticchallenge.com
Article Courtesy of Press Release

11 Jan
2014
Whisky Advocate Names Diageo Distiller of the Year
Diageo, the world's leading spirits, beer and wine company, has been named Whisky Advocate's Distiller of the Year. Whisky Advocate, one of America's foremost publications on whisky, cited Diageo's distillery investment in Scotland, distillery sustainability initiatives, and significant innovation occurring across its whisky portfolio as evidence of the company's contributions to the global whisky landscape.
"This honor reinforces Diageo's position as the leader in the craft of whisky distilling," said Larry Schwartz, President, Diageo North America. "Within our collection of more than 100 Scotch, Irish, Canadian and American whiskies, we have some of the world's largest and fastest-growing brands. Our whisky portfolio, and the craftsmanship that goes into creating it, is unrivalled."
Illuminating on their selection, Whisky Advocate wrote, "Substantial investment, a world-beating vision for future growth, and harnessing their guardianship of brand history to reach out to consumers have helped our Distiller of the Year deliver an incredible portfolio of whiskies to suit all pockets and preferences."
Specifically, the publication referenced the enduring prominence of Johnnie Walker as the "world's biggest Scotch whisky brand"; "phenomenal liquids" from Diageo Special Releases 2013; new expressions from Talisker; and innovations in North American Whisky, such as Crown Royal Maple, Bulleit Bourbon 10 year old, Orphan Barrel and Blade & Bow.
Whisky Advocate also recognized Diageo's Talisker Storm as the Highlands/Islands Single Malt Scotch Whisky of the Year. Talisker Storm debuted in the fall as the brand's first major non-age declared Scotch whisky innovation released in the United States. Because the liquid does not carry an age statement, the Master Blender has greater flexibility to blend a fuller range of Talisker whiskies together in one vibrant dram, creating a truly unique, award-winning malt.
The Whisky Advocate Awards program, now in its 20th year, is the longest-running and oldest annual whisky award program. According to the publication, the awards are a "recognition of a combination of excellence, innovation, tradition, and … simply great-tasting whisky." Diageo will be featured, along with fellow award winners, in the magazine's Spring 2014 issue.
Article Courtesy of Press Release

10 Jan
2014
Islay's Harbour Inn bought by local whisky distillers
Morrison Bowmore Distille's – renowned for its single malt Scotch whisky – has acquired the seven-bedroom Harbour Inn hotel of the island of Islay.
The recently refurbished harbour-side property, which enjoys views across Loch Indaal towards Jura, is the latest addition to the Bowmore family business which includes the Bowmore Visitor Centre and Distillery and luxury self-catering cottages.
Anne Kinnes, operations and development manager of the visitor centre, said: "In growing the Bowmore business to include the Harbour Inn, this is a very exciting time for us.
We are looking forward to the opportunity of welcoming guests to experience our world class service on Islay." Founded in 1779, Bowmore is the oldest distillery on Islay, the southern most island of the Inner Hebrides. Bowmore single malt whisky is well known for its distinct smokiness and rich peaty flavour.
Article Courtesy of Caterer and Hotelkeeper
10 Jan
2014
Scotch whisky to be protected under new EU verification scheme
THE scheme, set up by the UK Government, will help consumers in the UK and abroad to differentiate from genuine UK-produced spirits and fake or sub-standard competitors.
SCOTCH whisky producers will be required to sign up to a new verification scheme if they want to sell their products within the European Union (EU).
The Spirit Drinks Verification Scheme, set up by the UK Government, will help consumers in the UK and abroad to differentiate from genuine UK-produced spirits and fake or sub-standard competitors.
Scotch Whisky will be the first major spirit to be protected, with other UK drinks with a geographical origin, such as Somerset Cider Brandy and Irish Whiskey produced in Northern Ireland, to follow later.
Producers, blenders, bottlers, labellers and bulk importers will need to apply online to HM Revenue & Customs (HMRC) if they want to be verified.
Under the scheme, HMRC will undertake checks on all businesses involved in the production of these spirits - everything from fermenting and distilling to bottling and labelling - and make sure that they meet strict EU requirements.
It will then publish a list of verified brands, production facilities and bulk importers.
Businesses that do not have their processes verified will be unable to market their products within the EU.
Launching the scheme at a visit to the Benromach Distillery in Forres, Morayshire, Chief Secretary to the Treasury Danny Alexander said: "I'm delighted that this scheme is now up and running, helping protect one of the UK's most important and successful export industries.
"The verification scheme will make sure people who buy Scotch get what they pay for - the finest spirit in the world.
"The Scotch whisky industry is now worth around £4 billion to the Scottish economy and employs more than 10,000 people in Scotland.
"The booming Scotch whisky industry is a huge asset to Scotland and the UK which benefits from being part of the UK and European market.
"The UK Government is doing its bit today to step in and make sure that cheap fakes don't undermine this unique global export."
Scotch Whisky Association chief executive David Frost said: "Geographical indication status is of great commercial value to the Scotch whisky industry.
"This is a step change in the protection of Scotch whisky and should be warmly welcomed.
"We fully support the introduction of the verification scheme by the UK Government.
"It will give even more protection to consumers of Scotch Whisky. It will greatly improve the industry's ability to stop the sale of adulterated Scotch whiskies bottles abroad."
Article Courtesy of Scottish Daily Record
08 Jan
2014
BenRiach Distillery introduces four new Scotch Whiskies
The BenRiach Distillery has produced unique whiskies in the Heart of Speyside since 1898. Now come four new expressions to the U.S. market: The BenRiach Horizons 12 Year Old Triple Distilled, The BenRiach Solstice 2nd Edition 17 Year Old, The BenRiach Septendecim 17 Year Old Peated Single Malt, and The BenRiach Authenticus 25 Year Old Peated Single Malt.
The BenRiach, meaning "The Hill of the Red Deer" in Gaelic, sits amongst the rolling barley fields that rise to the foothills of the Grampian mountains in the northeast Speyside region of Scotland. Acquired in 2004 by Scotch whisky industry veteran Billy Walker, The BenRiach is home to an inventory of casks that date back to 1966. Employing copper stills and using local Scottish barley malt, The BenRiach's craftsmen strive to blend traditional practices with innovative cask finishes to create whiskies that are unique to the Scotch category.
"I'm amazed at The BenRiach's ability to respect tradition while embracing innovation through their many whisky expressions, with these new bottlings adding exciting new depth to Anchor Distilling selection of single malts," says Anchor Distilling Company Director of Education Alan Kropf.
The four new expressions join the 20 currently imported into the U.S.
Here's a rundown of the four new whiskies:
The BenRiach Horizons 12 Year Old Triple Distilled (50% ABV, SRP $79.99) reflects the distillery's innovations in whisky production. While most whiskies are traditionally distilled only twice, Horizons is distilled three times before it is aged for 12 years. The resulting spirit features a nose of roasted almonds and Brazil nuts, hot freshly buttered scones topped with clotted cream, and sweet heather honey; on the palate, Horizons has huge nutty characteristics balanced by a slice of sweet, creamy oak and honey.
The BenRiach Solstice 2nd Edition 17 Year Old (50% ABV, SRP $99.99) showcases the distillery's ability to distill whisky from both styles of malted barley – peated and non-peated – and thereby capture the defining taste and aroma of peat reek. Like the first edition, Solstice 17 Year Old has been distilled from heavily peated malted barley before it is matured in ex-bourbon casks and finished in tawny port casks – resulting in a marriage of peat and fruit. On the nose, this Solstice features an aroma of stewed strawberries, blackberries and red currants, locked together by a muscular peaty blast, lending traces of fortified wine and grape qualities; on the palate, dry roasted nutty notes give way to heavy peat with subtle hints of dried raisins and candied fruit, culminating in a smooth, long finish.
The BenRiach Septendecim 17 Year Old Peated Single Malt (46% ABV, SRP $79.99) is the latest addition to The BenRiach Peated range. It is non chill-filtered and matured in ex-bourbon casks to create a bold and intense expression. On the nose, Septendecim is a robust mix of fresh peaty aromas constructed around a central core of apples and toasted nuts dowsed in wild mountain honey; on the palate, the peaty heart is united with honey-infused raisins, roasted nuts and a luxurious leather impression.
The BenRiach Authenticus 25 Year Old Peated Single Malt (46% ABV, SRP $249.99) completes The BenRiach Peated range in full-bodied, audacious style. On the nose, Authenticus exhibits elegant aromas of ripe pineapple, fresh mountain herbs and a profusion of sweet peat, producing a pungent blast of peat smoke; on the palate, the fusion of rich peat and smoldering embers are bound together by fresh herbs – oregano, aniseed and chicory – concluding with a rush of sweet, wild honey for a powerful, long-lasting impression.
Article Courtesy of the Pursuitist

07 Jan
2014
Wi Usquebe - We'll Toast the Bard!
Islay's independent farm distillery, Kilchoman, has three outstanding whiskies which make an ideal accompaniment to each stage of a special Burns' Suppers this month.
The Kilchoman 2007 Vintage is the oldest single malt Kilchoman has released to date and recently won the Whisky Advocate's Award for Islay Single Malt of the Year 2013.
Renowned whisky connoisseur, Dave Broom, says of the Kilchoman 2007 Vintage: "Kilchoman has truly arrived. Buckle up, this is going to be some ride. Here is a whisky which not only showed the difference between age and maturity, but was the first demonstration of the distillery itself reaching maturity, quicker than anyone might have imagined. Single malt is all about distillery character and here you can see what Kilchoman's is.
Perfect for the 'Toast to Robert Burns', Kilchoman 2007 is priced at £51.60 for 70cl and is available direct from www.kilchomandistillery.com and specialist whisky retailers.
The unique 100% Islay is the only Single Malt in Scotland where every stage of the whisky making process, from the barley grown in the surrounding fields to the malting, distillation, maturation and bottling, takes place at the distillery.
On the palate, peat smoke explodes in the mouth with sweet soft mixed fruit very evident, making the 100% Islay the ideal accompaniment to Haggis, Neeps and Tatties.
100% Islay is bottled at 50% ABV and is available from specialist drinks and whisky stores, priced at RRP of £59.95, 70cl. Available from www.kilchomandistillery.com and UK stockists including RoyalMileWhiskies, The Whisky Shop and The Whisky Exchange. Only 10,000 bottles of the limited edition are available worldwide and are selling fast.
Machir Bay is bottled once a year, and each release contains more mature casks allowing connoisseurs of Kilchoman to follow the development of the unique malt as it matures.
The nose of Machir Bay is soft, cooked fruits with strong peat aromas and the taste is of mixed fruits and vanilla with an intense sweetness, the perfect measure for the 'Toast to the Lassies' towards the end of a Burns' supper.
First launched in 2012, Machir Bay has since won several prestigious awards including IWSC 2012 Gold Medal – Best in Class and Whisky of the Year at the International Whisky Competition.
The Machir Bay is priced at RRP of £39.99 and is available from www.kilchomandistillery.com, and UK specialist drinks and whisky shops. Machir Bay 2013 is bottled at 46% ABV.
Article Courtesy of Press Release

05 Jan
2014
William Grant & Sons Awarded Top Honours
Global premium spirits business and independent family distillers William Grant & Sons has won two highly prestigious and sought after titles. It has received the Distiller of the Year Trophy and the International Spirits Producer Trophy at the 2013 International Wine and Spirits Competition (IWSC), which took place at London's Guildhall on November 13th.
In the individual product honours, the Glenfiddich 40 Year Old received the Single Malt Cask Strength Scotch Whisky Trophy, The Balvenie 40 Year Old scooped the Single Malt Scotch Whisky Trophy over 15 Years Old and Grant's 18 Year Old won The Independence Trophy For Blended Scotch Whisky.
This is the sixth time William Grant & Sons has been awarded the top honour of Distiller of the Year since 1999. The Company was lauded by the judging panel for "striving to progress by increasing investments and seeking new markets in order to stay at the top" and received praised for "sticking to its roots whilst refusing to be constrained by them".
Brian Kinsman, William Grant & Sons' Malt Master and Master Blender, said: "We are absolutely delighted to be named 'Distiller of the Year and 'International Spirits Producer of the Year'. It is fantastic to be recognised in this way and is truly testament to the hard work the whole team puts in to crafting our award winning portfolio of premium spirits."
Article Courtesy of Press Release

04 Jan
2014
Scotch Whisky Experience expands its global audience
WITH Scotch whisky maintaining its trajectory for world domination, it is no surprise to hear a tourism attraction dedicated to Scotland's national drink is thriving in Edinburgh.
The Scotch Whisky Experience, in the midst of celebrating its 25th anniversary, welcomes visitors from an increasingly broad geographical base, its growth reflecting the soaring performance of whisky in established and emerging markets around the globe.
The attraction on Castlehill, near the top of the Royal Mile, now cites China and Brazil as two its top five markets for visitors, though it reports that enthusiasts are steadily coming from former Soviet republics such as Kazakhstan, as well as Africa and elsewhere in South America.
Julie Trevisan-Hunter, its deputy director and marketing manager, said almost every week a foreign film crew or journalist arrives to file a dispatch from the home of the "water of life".
This is partly because the Experience now houses the world's biggest collection of Scotch whisky, but also because it is arguably a more accessible venue than distilleries, where health and safety factors often come into play.
Yet although emerging markets are increasingly key to the Experience, the English market continues to be its biggest, accounting for between 16% and 18% of its visitors.
Ms Trevisan-Hunter said: "This will be our biggest year ever.
"Everyone looks back at '95, '96 as the year of Braveheart and Rob Roy and talks about [the period] up to '98 as being the boom years of Scottish tourism. But we have seen growth in the last four years, which maybe sits against a lot of other things in terms of spend within the UK and other sectors.
"We have seen really significant growth in visitor numbers and income and profitability in the last four years, far more than in the past."
The export performance of Scotch whisky has undoubtedly helped drive visitors to the attraction, which reported pre-tax profits of £504,357 in its most recent accounts, but it is only part of the story.
The Experience, which enjoys a five-star rating from VisitScotland, raised £3 million to fund a major refurbishment in 2009, an investment that saw it revamp its whisky tours.
Ms Trevisan-Hunter said it made such an impact the business has since been able to invest in other aspects of the attraction. The shop was then refurbished, during the financial year to November 30, 2012, to incorporate some of the tour's interactive features, while its tasting bar and restaurant were renovated last year.
Although the Experience was set up with industry funding and continues to be owned by 22 shareholders across the sector, it functions as an independent, standalone commercial entity.
Ms Trevisan-Hunter said: "That [initial investment] was the thing that had the biggest impact in terms of visitor numbers and profitability.
"We have had quite a number of different events because it is our 25th anniversary and everybody who comes in says it is unrecognisable as an experience and a business from what it was - even six or seven years ago and certainly from way back 25 years ago."
Other touches, such as teaching its courses in Mandarin, have further boosted the centre's global appeal.
Ms Trevisan-Hunter said the Experience has benefited as Scotland has come on to the radar of tourists from emerging markets, people who now have the resources to travel and are developing an appreciation of Scotch as a luxury product.
She explained: "Scotland has a lot of kudos and desirability to visit. We do very well in these emerging markets. China and Brazil, for example, are in our top five international markets, whereas five years ago they wouldn't have featured anywhere."
The rise in overseas visitors has fed through to the numbers attending the centre's one-day course, which presents the opportunity to gain a certificate of expertise in Scotch whisky.
While staff from licensed premises around Scotland dominated course places in the early days, Ms Trevisan-Hunter noted it was now attracting delegates from Canada and the Nordic countries.
Many make the Experience their first port of call when they visit Scotland, equipping themselves with some whisky know-how before going on to visit distilleries around the country.
They are also buying whisky from the centre's revamped shop, which Ms Trevisan-Hunter notes is selling increasing amounts of luxury products.
She said sales have risen by 25% each year since the shop's refurbishment took place, with aged and luxury whiskies selling increasingly well.
Ms Trevisan-Hunter said: "It's up in a lot of higher-end products, which is interesting. More so than we have ever seen before.
"The whole point with the shop was to make it more experiential, with things people can engage in, find out more about the distilleries and look at flavour profiles so it has a feel of the experience within the shop. We have put as much as we can in there to bring everything to life, predominantly for the visitors that might not do for the attraction."
Meanwhile, as Scotland prepares itself for the events of this year, when it will finally host the Commonwealth Games, Ryder Cup and the tourism industry's year of Homecoming, it might be assumed that it will bring further visitors to the Scotch Whisky Experience.
But while Ms Trevisan-Hunter expects to see some uplift in visitors during Whisky Month in May, an event that will bring the curtain down on the attraction's 25th birthday celebrations, she suspects the full benefits will be realised in the long run. She noted: "A lot of things happen as part of Homecoming that happen in a guise or at a level on an annual basis anyway.
"It is just a really good way of profiling the product and getting a bit of buzz and excitement about it.
"We'd anticipate seeing more people, especially around May, but to be honest one of our issues during the summer months is that we are close to capacity now anyway"
As for her own position, Ms Trevisan-Hunter said she has lost none of her love for the role and an industry that has seen her spend the last 17 years with the Scotch Whisky Experience.
She noted: "Folk that get into whisky don't then get out of it and go and do something different.
"They stay in whisky and they love it. Similarly, people in the tourism industry maybe move up through the ranks, but they stay doing that.
"There's a real sense of community, camaraderie and sharing good practice and just helping one other out in both industries. There is just a really nice feeling about it."
Article Courtesy of the Herald Scotland

02 Jan
2014
Longship Distillery Ltd appoints Senior Advisor
Longship Distillery Ltd in Orkney has appointed Mr Jim Robertson as Senior Advisor.
Mr Jim Robertson of Orkney, Scotland, has been appointed Senior Advisor for Longship Distillery Ltd, Orkney. Jim's long and fruitful experiences in combination with his excellent contacts in the whisky business will be of great value for the shareholders of Longship.
Jim is best known and appreciated for his long time as Distillery Manager at Highland Park, Orkney.
Working experience
13 years at William Grant & Sons Ltd (Girvan, Balvenie, Glenfiddich). 10 years at Highland Park, Highland Distillers Keeper of the Quaich in 1999 Chairman of Orkney Chamber of Commerce Vice Chairman of the Orkney Enterprise Company and the Health Board
Article Courtesy of Press Release

01 Jan
2014
Scotland toasts soaring whisky exports
Scotch whisky exports have almost doubled in the past 10 years, according to new analysis of HM Revenue & Customs figures by the Scottish government.
The figures show that the value of Scotch exports increased by 87% from £2.3 billion in 2003 to £4.3 billion in 2012.
Volume sales were up by 32% over the same period.
Richard Lochhead, Scotland's food and drink minister, said: "Scotch whisky is one of out most iconic products and these figures demonstrate the huge global demand for whisky.
"We export to 173 countries, from the US – which has more than doubled its spend on our national drink – Brazil and China, to Bermuda, Papua New Guinea and the Vatican.
"This exemplifies just how important Scotch whisky is not only to the Scottish economy but to our deserved reputation as a land of food and drink."
The top five export nations by value are the US, France, Singapore, Spain and Germany.
Article Courtesy of Off Licence News



Dokumente und Grafiken, ist urheberrechtlich geschützt 2012www.scotchwhisky.net Der Inhalt dieser Website, einschließlich aller verfügbaren.