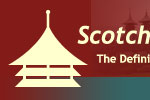 FREE WHISKY MAP OFFER
Sign up to our free newsletter and "facts & tips" emails below and INSTANTLY receive your FREE "Scotch Whisky Distilleries map".



Bienvenue sur Scotch whisky, LE site de référence du whisky
Cette page est en Anglais uniquement. Elle sera traduite bientôt.

May 2013 Scotch Whisky News
16 May
2013
The Scotch Whisky Experience marks 25 years
Edinburgh's whisky visitor attraction, The Scotch Whisky Experience, is celebrating 25 years in the capital with a specially-designed commemorative Quaich designed and hand-crafted by Edinburgh jeweller and silversmiths, Hamilton & Inches, which will be on display at The Scotch Whisky Experience for the remainder of the year.
The highly ornate, one-off piece features an elaborately designed lid, set with a 275 carat citrene stone and gold plating on the inside.
Home to the world's Largest Collection of Scotch Whisky, The Scotch Whisky Experience is celebrating its silver anniversary this year with a number of events, including the launch of a limited-edition 25 year old blend and the creation of an alumni group, to help chart the history of the attraction and the people behind its success.
The commemorative blend, which goes on sale today, has been made using 25 year old Single Malt whiskies from across Scotland and is limited to only 252 bottles.
Susan Morrison, director and general manager of The Scotch Whisky Experience, said: "Quaichs and Whisky have gone hand-in-hand for hundreds of years, so we are pleased to mark our silver anniversary with this exquisite piece of work. The team at Hamilton & Inches understood what we were looking for in the piece and the results are truly stunning.
"The Quaich will go on public display for the rest of 2013 and we hope it proves as popular with our visitors as our record breaking collection of Scotch Whisky.
The team at Hamilton & Inches, led by Jon Hunt and Colin Golder, have 50 years of experience in working with silver. The piece is similar in style to the Quaich, which the silversmiths designed for the Downing Street Silver Trust, although the Quaich has been specially designed with Scotland's national drink in mind.
Article Courtesy of the Herald Scotland

16 May
2013
Tennent's to launch whisky beer abroad
Tennent Caledonian, the UK division of C&C Group, has revealed plans to launch a whisky-flavoured beer this summer, when the first liquid will be shipped to India. Markets in the Far East, including Singapore, will also be targeted.
C&C said the new beer will form part of its campaign to revive sales of Tennent's overseas – it was one of the UK's biggest beer exporters in the 19th century –and to capitalise on the surging demand for whisky products around the world.
The beer will be made at the Wellpark Brewery in Glasgow using whisky-flavoured woodchips. The "high-end product" will have 6.2% alcohol by volume and ultimately be sold in the domestic market once it has a foothold overseas.
Tennent Caledonian hopes the launch will help open up the whisky beer category internationally following the impact made by Innis & Gunn, which exports to North America, Scandinavia and other countries. C&C insists the product is not designed to go head to head with Innis & Gunn and aimed at exploiting the potential of Tennent's abroad.
That potential was underlined as C&C delivered its full-year results yesterday, which revealed a 2.7% rise in pre-tax profits to €109 million (£91.2m) for the year to February 28. Net revenue fell 5.5% to €476.9m as factors including poor weather saw revenue slump by 15.9% to €195.8m in the company's cider division.
Alongside Magners, Hornsby's and Woodchuck, the latter acquired by C&C with its purchase of Vermont Hard Cider Company in December, Tennent's contributed to a 52% rise in international revenue to €48.5m.
Stephen Glancey, CEO of C&C Group, said: "We are growing Tennent's in Ireland, north and south, and internationally. The international markets like Canada, Australia and Ireland are very attractive to Tennent's and Scotland, and we will develop that further."
It came as Tennent Caledonian delivered what Mr Glancey said has been a "robust performance in a challenging environment" in the UK. Operating profit rose by 34.7% to €30.3m, up from €22.5m, with revenue up 2.6% to €229.3m.
The volume of Tennent's Lager sold in the independent free trade and local multiple groups in the Scottish on-trade rose by 3.3%, boosting market share, while Caledonia Best become the number two selling ale in pubs and bars in Scotland.
Mr Glancey said the decision to acquire Tennent Caledonian from AB InBev in 2009 was proving to be a "very good deal". Under C&C, Tennent Caledonian has presented itself as a "friend of the on-trade in Scotland". It has extended its loan book to pub operators by more than £20m, pegged the price of Tennent's Lager for the past two years, and invested £5m in the Tennent's Training Academy and opening a bottling line at Wellpark.
Mr Glancey said: "The business itself we have grown through gaining the development of Tennent's Lager and getting distribution in the independent free trade [pubs] in Scotland.
"We have also extended the footprint from Tennent's into Caledonia Best, which in 25 years in the industry has been the most extraordinary launch I have seen. We have also, in terms of the business, pushed with Magners and Blackthorn cider, so we are offering our customers a portfolio of products, which has clearly then driven our earnings."
Meanwhile, the prospects for C&C's UK cider division appear more challenging. Amid what the company said was the first volume fall experienced by the GB cider category in the past decade, cider revenues fell 15.9% to €195.8m. Poor summer weather and a lack of impact from the Olympics and football's European Championships were cited as the volume of Magners sold slid by 13.9%.
Although trading stabilised in the second half of the year, C&C anticipates "another challenging year".
Last year the company established a new cider division, the Shepton Mallet Cider Mill, which it said would provide a platform for selling regional, craft and specialist brands including Addlestones, Blackthorn and Old English.
Article Courtesy of the Herald Scotland

15 May
2013
The Glenlivet Makes Whisky History With Launch Of Mystery Campaign
The Glenlivet, the world's No. 2 single malt Scotch whisky, is pioneering an innovative approach to flavour with the launch of The Glenlivet Alpha; a new, mystery expression released without cask information or tasting notes.
Presented in a black bottle to preserve the mystery, consumers are encouraged to let taste and smell lead their experience of The Glenlivet Alpha. Connoisseurs of the range will be able to identify its signature style but also discover a new flavour palate due to the inclusion of never-before-released spirits.
The Glenlivet Alpha launch will be supported by an integrated marketing campaign that will see consumers exploring The Glenlivet's complex flavours through multi-sensory experiences both online, through http://www.theglenlivet.com/ and the brand's Facebook page, and offline. The campaign will help to generate discussion and a deeper understanding of The Glenlivet, the single malt that started it all.
The campaign will bring The Glenlivet Alpha to life with a launch film, advertising, in-store activity and a global media launch event in London. Additional films, which explore the roles of sight, smell, taste and feel on flavour perception, will be hosted on The Glenlivet's digital social media platforms and will link through to online sensory challenges that allow consumers to gradually unlock the secrets of The Glenlivet Alpha. Sensory experts including taste visualisation specialists, Greyworld, will also be working with the brand on the campaign.
In June, the mystery behind The Glenlivet Alpha will be revealed by Master Distiller Alan Winchester in a global broadcast to The Glenlivet fans on http://www.theglenlivet.com/ and on the brand's Facebook page.
Nikki Burgess, International Brand Director for The Glenlivet, says: "The Glenlivet is famous for its smooth, full bodied flavour and with the launch of The Glenlivet Alpha we're excited to be exploring this in an original way. This is the first time anyone has launched a 'blind' whisky in this way and we are confident that this innovative campaign will excite whisky drinkers and help them to truly appreciate single malt and understand the flavours they taste in The Glenlivet's award-winning range."
With only circa 3,500 bottles worldwide, The Glenlivet Alpha will be available in USA, UK, France, Netherlands, Italy, Germany, Denmark, Sweden, Switzerland, Andorra, China, Hong Kong, Malaysia, Taiwan, Japan, India and South Africa and will retail at $120.
The Glenlivet was the first licensed distillery in the Livet valley and offers a variety of expressions, all boasting its signature smoothness and floral, fruity profile.
The Glenlivet has been the biggest contributor to volume growth in the single malt category over the last five years, adding more than any other Single Malt brand*. The release of The Glenlivet Alpha continues the brand's legacy of innovation and reinforces its position as 'the single malt that started it all'.
Article Courtesy of the Press Release

Press Release
15 May
2013
Whisky expert outlines investment potential ahead of World Whisky Day
THE second annual celebration of World Whisky Day takes place this Saturday 18 May, an important day in highlighting the global significance of whisky and how important it is to Scotland and the UK.
David Robertson, formerly Rare Whisky Director at The Dalmore and Master Distiller at The Macallan, recently set up The Whisky Trading Company, to take advantage of the increasing demand for the rarest bottles of Scotland's most famous export.
The company has identified 3,000 bottles of rare whisky as part of its initial stock, many distilled before World War II. The investment opportunity to acquire shares in the new business is currently being widened as it seeks to raise an additional £2-4 million to capitalise on market opportunities. The shares are issued under the Enterprise Investment Scheme (EIS) and attract certain tax benefits for qualifying UK tax payers.
Commenting ahead of World Whisky Day, David Robertson said: "It's a fantastic day to celebrate what is truly a global drink. Not only will people be raising a glass in Scotland, but millions more will be enjoying a dram at home or in the pub, from Boston all the way to Beijing.
"The whisky industry is vital to the UK economy, bringing in billions of pounds in revenue, and its growing value as an investment is truly dynamic. Whisky is rarely viewed as such, but having spent my career in the industry I have seen rising prices and returns first-hand, which is why I have started The Whisky Trading Company last year.
"The volume of premium bottles being traded continues to grow significantly, with more than 20,000 expected in the UK auction market through 2013. If you had invested in the top 100 performing whiskies in 2008, you would have seen returns of 306 percent. With knowledge and insight there are huge returns to be made and it's time to take whisky investment seriously.
"I hope by World Whisky Day in 2014 the whisky investment market will have become far more prominent in the minds of alternative asset investors and whisky enthusiasts alike."
Article Courtesy of the Press Release

Press Release
12 May
2013
Brechin whisky adds a touch of glamour to Hollywood movie
Hollywood and Brechin isn't a pairing you would think off - but it just so happened that in 'A Single Man', a bit of Brechin appears in the film.
During one scene in the Oscar nominated movie, starring Colin Firth and Julianne Moore, Firth's character (George Falconer) pours himself a glass of whisky.
His tipple of choice? Brechin's own North Port 20-year-old malt whisky.
There is no known reason why this brand of whisky was selected.
The movie is set in the 1960s, and that particular brand of whisky wasn't on sale until at least 1979, so historical accuracy can be ruled out.
The same whisky was also featured in US sitcom 'Parks and Recreation', so perhaps it's just an American favourite.
The North Port Distillery was founded in 1820 by the Townhead Distillery Company - a consortium including the brothers Guthrie: Alexander, David and John.
The Distillery was named Townhead until 1823 when it became the Brechin Distillery. Due to its location near the Northern gate, it was renamed North Port in 1839.
In 1922 Distillers Company Limited acquired the site, and it was transferred to Scottish Malt Distillers. It later became part of Diageo.
North Port Distillery closed in 1939 and remained shut until 1948. It was used as accommodation for the Polish Army during the Second World War.
It was after the war, and the abolition of rationing, that popularity for whisky soared. The distilleries and producers were keen to meet demand and before too long the market became saturated.
The 1980s were a trying time for the industry and in 1983 a host of distilleries were forced to face the economic realities and as such the North Port Distillery, as an unprofitable site, was closed for good.
The distillery was demolished in 1993, and since then the Co-Op supermarket has been built on the land.
All that remains of the old site, are the signs for Distillery Street and some of the original brickwork used inside the car park near the roundabout.
Article Courtesy of the Brechin Advertiser

10 May
2013
Johnnie Walker adds Double Black to whisky line
What's Blacker than Black? The smoky new taste of Johnnie Walker Double Black.
For whisky lovers who prefer smoky to sweet, Johnnie Walker has the answer: The robust, harder-to-find Double Black just became a permanent member of its family.
The industry-leading whisky titan auditioned the more intense variety of its flagship Black Label in select duty-free stores in 2010. Inspired by a positive response to the stronger-tasting blend, it was then offered as a limited-release variety in the United States, and its signature smoke has just taken a permanent position in the whisky maker's portfolio.
"One of the key things with Walker is that there's always going to be that smokiness," said Stephen Wilson, Johnnie Walker's U.S. brand ambassador. "So now I get that smokier kind of richer, more robust version."
Article Courtesy of the Daily News, New York

09 May
2013
Jura Whisky Revamps Core Range Packaging
Jura whisky, one of the world's fastest growing malts, has revamped its packaging to make the brand stand out on shelf and to clearly explain the distinct flavour profiles of each expression.
Each carton will have its own distinct colour palette featuring a different image, drawn from the landscape of Jura. The image that adorns each carton connects back to the whisky's distinct island story and sits beside a half outline of the distinctive Jura bottle shape. When the expressions are lined up together the outlines join up to reveal the whole outline of the iconic Jura bottle.
Gemma Parkinson, Jura Brand Manager commented: "2012 was an exceptional year for the brand. We are now looking to build on this momentum and release a new creative look and feel that we hope will resonate with consumers and help them to truly identify with our brand story."
Article Courtesy of the Press Release

Press Release
09 May
2013
Whisky industry veteran Bowie to run new distillery
SCOTCH whisky industry veteran Graeme Bowie has been appointed to run the new Ardnamurchan Distillery, which is aiming to start production by the end of this year.
His appointment as distillery manager was announced yesterday by Ardnamurchan-based Adelphi Distillery, which is behind the multimillion-pound new-build project on the peninsula.
Mr Bowie is moving from Inver House's Balblair Distillery in Ross-shire, where he has been assistant manager. He starts his new role on Monday.
Adelphi, which recently welcomed Prince Albert of Monaco to the Ardnamurchan Distillery site, noted Mr Bowie had worked in the Scotch whisky industry for 28 years.
It said Mr Bowie's initial role would be to project manage the final few months of construction and equipment design and installation in conjunction with Global Construction of Muir of Ord, and Forsyths of Rothes.
It added that Mr Bowie would also be responsible for ensuring the proposed visitor centre was ready to welcome the local com-munity and tourists to the Glenbeg site.
Adelphi, which was bought nearly a decade ago by current chairman Keith Falconer and Donald Houston, from Jamie Walker, has more than 20 years of experience of bottling specially selected single casks of Scotch whisky from distilleries around Scotland for limited release in the UK and overseas markets.
Alex Bruce, sales and marketing director of Adelphi, said the foundations for the new buildings at the Ardnamurchan site were complete. The steelworks for the buildings were due to arrive next week, he noted.
He added that the buildings should be up by the start of September. The timetable then factored in about two months for the installation of equipment.
Mr Bruce highlighted an expectation that, following a commissioning period, first spirits from the new distillery would be produced in December.
He said the new distillery and visitor centre would initially employ about six people directly, with potential for this number to rise to 10 or 11.
Article Courtesy of the Herald Scotland

08 May
2013
World Whisky Day founder continues to toast success
Last year he was an unknown Aberdeen University student with a bright idea – this year he is Mr World Whisky Day and industry representatives are beating a path to his door.
When Blair Bowman, 22, came up with the idea of creating a day of celebration to toast Scotland's national drink and major export he could never have dreamt it would prove so popular.
The Hispanic Studies student found himself being hailed as one of the the country's brightest young entrepreneurs as his creation prompted more than 20,000 people to attend one of more than 200 whisky events held in 30+ countries as far afield as Kuala Lumpur to New Zealand and Alaska to Argentina.
Since then the idea and the brand have gone from strength to strength and ahead of this year's event www.worldwhiskyday.com (Saturday May 18) he shared the life-changing effects it has had on him.
"Last year I was thinking, I must start getting a CV together for when I finish my degree and this year people have been sending me their CVs wanting to come and work for World Whisky Day!" Blair said. "I've had guys from Hong Kong and Australia getting in touch asking if there are job opportunities. It's just mad.
"After I finish my studies World Whisky Day is going to be my full-time job. I really believe it has such massive potential that it will be a viable business and I'm so excited about it.
"I've been getting recognised a lot more as well, in public but also within the Scotch Whisky industry which is great. I suppose last year I might have been dismissed by some in the business as just some young guy with no clue but now distributors and distilleries are seeing the potential that the event has and they're keen to be involved."
Indeed whilst Blair was begging and borrowing to get the event off the ground last year, this time around established firms have come to him to offer support and discuss joint promotional opportunities.
"Last year the website couldn't cope with the traffic it received on the day but this year cloud computing firm iomart got in touch to offer a dedicated server so the site won't go down this time," he explained. "BrewDog contacted me and they're planning to do some taster events at their bars across the UK on the day and also the Scotch Malt Whisky Society in Edinburgh and London, which are usually members-only clubs, will be open to the public which is just fantastic.
"I've been overwhelmed by the response in terms of people's passion to celebrate our national drink but also by the industry to get onboard and get involved and to grow its reputation.
"I think distilleries are seeing it as a good opportunity to all come together under an independent umbrella group which can be mutually beneficial for everybody. And as they get involved, they'll be able to influence and decide the direction of how the event should evolve."
With well over 100 events already confirmed worldwide for World Whisky Day 2013, Blair is confident this year's celebration will top the inaugural event.
"This year we have events in every continent – except Antarctica. That would be great if we could get something happening in Antarctica! Someone tweeted us to say they were coming over to Scotland from Perth in Australia to celebrate World Whisky Day, which is almost difficult to comprehend but it shows how far the name has reached already."
Blair's achievement is made all the more impressive by the fact he has overseen its birth and development whilst still juggling his University studies. Though he can't say it hasn't affected his coursework – he managed to make whisky the subject of his Hispanic Studies dissertation by focussing on the historical links between sherry and whisky.
He said: "I've got three essays due on the day before World Whisky Day and an exam the day after, so it's definitely been a challenge studying as well as everything else.
"Obviously I'm excited about this year's event but I hope to make 2014 a really big one as I'll be able to give it my full attention. We've already been confirmed as an official partner of Homecoming 2014 and I want to hold a really big flagship event in Scotland to tie everything together."
In terms of his own movements on World Whisky Day, Blair says he's keeping his schedule free out of necessity.
"I had intended to go to a few events last year but I was so busy with media requests for interviews I ended up flitting back and forth between Edinburgh and Glasgow and was still doing TV interviews at 10.30pm! So I think I'll keep my diary flexible and hopefully I'll be able to raise a glass before midnight!"
Article Courtesy of International Supermarket News
07 May
2013
Single malt whisky Tamdhu given a 'Can Dhu' refresh
Following a relaunch of the Speyside distillery, Tamdhu has been given a new brand identity courtesy of Glasgow and London-based agency Good.
The new look is designed to maximise the brand's shelf impact as well as communicating the brand's values through the textured black, white and gold tube, illustrated monograms and glass bottle inspired by the Victorian era.
Good has drawn upon Tamdhu's heritage to create the new identity communicated by the new campaign slogan 'Can Dhu'. The new position will also feature across digital, social media, promotional materials and advertising.
The agency was appointed to the account following its positioning and packaging work for parent company Ian Macleod's other malt distillery Glengoyne.
Iain Weir, marketing director for Ian Macleod, commented: "Good came highly recommended and have delivered on their promises - a crystal clear, compelling positioning for Tamdhu that, as a team, we all embraced without hesitation."
Good co-director Keith Forbes, who visited the distillery with Good's other co-director Chris Lumsden and creative lead on the project Darren Adams to get a feel for the brand, added: "Born out of a time when Scotland led the world in many fields of endeavour, Tamdhu embraced technology and innovation. We wanted to capture that spirit that anything is possible when you put your mind to it.
"The chance to work on a brand of Tamdhu's quality and provenance, but with pretty much a clean slate doesn't happen very often. It was a huge responsibility but we relished the challenge of rebuilding, what we knew to be an outstanding premium global brand."
Article Courtesy of The Drum
06 May
2013
Whisky bottles from sunken ship fetch more than £12,000 at auction
Whisky bottles from the ship which inspired the film Whisky Galore have sold for more than £12,000 — though the buyer cannot drink a single dram.
The two bottles were part of the cargo on the SS Politician, which sank off the shore of Eriskay in the Outer Hebrides in 1941.
But sea water may have broken through the seals of the bottles during their decades spent underwater, and the drink is now thought to be unfit for human consumption.
That did not stop a bidder snapping them up for £12,050 at auction website Scotch Whisky Auctions after a bidding war at the weekend.
The website has now said another whisky collector has come forward, claiming to have more bottles from the SS Politician ready to go under the hammer.
An Ealing comedy film and a novel by Compton Mackenzie were both made about the incident, in which wily islanders recovered whisky bottles from the wreck and hid them from customs officers.
The 8000-ton cargo ship had been bound for Jamaica and New Orleans with 28,000 cases of whisky aboard.
In 1987, South Uist diver Donald McPhee made another trip to the underwater wreckage and brought up eight bottles of whisky.
The two which have now gone on auction were among these eight, after Mr McPhee's haul first fetched £4000 when they went under the hammer at a Christie's auction.
Bill Mackintosh, director of Scotch Whisky Auctions, said the new buyer would be unlikely to sample the spirit.
He said: "The suggestion has been that the original seals may not have been as strong as thought. Sea water would have gotten in.
"But the real value is not the drink itself.
"I'm delighted with how much it raised. With an auction you can't really tell how high it will go.
"But there were two very determined bidders."
Whisky collectors from as far as China made bids from the bottles, but in the end a UK-based collector clinched the drink when bidding closed on Sunday, Mr Mackintosh said.
He said another collector claimed to have two more bottles from the same dive: "Someone phoned and said 'I have two bottles I would like to auction'.
"He bought them at the same sale at Christie's."
The provenance of the new bottles would be checked before they would again go under the hammer, Mr Mackintosh added.
Article Courtesy of STV
02 May
2013
20-tonne Pictish Masterpiece Takes the High Road
After two years' continuous carving, latest Barry Grove sculpture is transported 200 miles from Tain to The Glenmorangie Company's new state-of-the-art bottling plant in Livingston.
A 20-tonne sculpture – commissioned by The Glenmorangie Company to stand outside its new bottling plant in Livingston as a permanent reminder of its Highland roots – has been transported by a low-loader lorry from Glenmorangie's distillery in Tain.
Ross-shire-based Barry Grove – internationally regarded as one of the finest large stone sculptors working today – was asked by the company behind Scotland's favourite malt whisky to create a sculpture which explored the country's Pictish heritage.
Created over two years using only traditional hand tools, the sculpture explores the theme of re-discovery and depicts blowing leaves revealing a symbol of Pictish design and intricate knot-work, the origin of which dates back to 800AD.
The sculpture was carved from 300-million-year-old sandstone sourced from the area around Glenmorangie's Tain distillery.
The public artwork stands two metres high and is just over three metres long, and is two-and-a-half times the size of his previous re-creation of the Hilton of Cadboll Stone, an eighth century Pictish Stone with incredible engravings which was discovered near the Glenmorangie Distillery in Ross-shire. This national icon is on permanent display at the National Museum of Scotland in Edinburgh.
Barry Grove said: "I am passionate about creating pieces of public art that will last for generations. The sheer size and scale of this project has presented a real challenge but I wanted to stay true to the spirit of the enterprise by using traditional stonemason's tools.
"Like Glenmorangie I am fascinated by our past, and creating this sculpture is all about rediscovering our connection with the Picts and Scotland's early history. This sculpture brings the past to life."
Paul Skipworth, President and Managing Director of The Glenmorangie Company, said: "For The Glenmorangie Company, craft and heritage are essential to creating Scotland's favourite single malt. We are very grateful to Barry for his hard work in creating this impressive sculpture.
"The Hilton of Cadboll Stone, originally found near the Glenmorangie Distillery, is a national treasure from this period and the inspiration for our company logo – the Signet – which proudly adorns our whisky bottles around the world. This new sculpture will be a notable landmark at our bottling plant at the Alba Campus in Livingston, and a permanent reminder of our Highland roots."
Grove is keeping alive the art of stonemasonry in Scotland using traditional tools and techniques. He is based near Tain in the Highlands, where many Pictish artefacts have been discovered and where Glenmorangie's iconic single malt has been distilled since 1843.
Article Courtesy of the Press Release

Press Release
01 May
2013
Whisky firm Laing brothers part company
Two brothers who have run a whisky blending and bottling firm for the past 40 years have announced they are to go their separate ways in business.
Fred and Stewart Laing have divided up the assets of Douglas Laing & Co equally, with Stewart leaving to set up a new whisky firm, Hunter Laing & Co.
Brother Fred has taken total control of Douglas Laing.
The brothers said they wanted to build a secure future for the next generation of their families.
Under the arrangement, Stewart will retain a number of brands including Old Malt Cask, the Old & Rare Selection, House Of Peers and Sovereign Single Grain, as well as a bottling facility in East Kilbride.
Douglas Laing, under Fred's charge, will continue to offer their Single Cask Provenance range, as well as brands such as Director's Cut, Double Barrel, Premier Barrel, McGibbon's and Big Peat.
Fred's daughter Cara has joined his company as head of brands marketing, having worked at Morrison Bowmore Distillers as a marketing manager.
Hunter Laing & Co, which is based in Glasgow, plans to strengthen the position of brands now in its portfolio and develop new products.
Stewart Laing has been joined in the business by his two sons, Andrew and Scott, both of whom were directors of Edition Spirits Ltd, an independent bottler of single malt Scotch whisky.
In a joint statement, Fred and Stewart said: "The Scotch whisky industry is in great shape at the moment and this presents each of us with the perfect opportunity to diversify and explore different projects with the next generation of our families.
"As drinkers around the world expand their whisky repertoire and seek out new flavours, the opportunities for niche players will flourish.
"Our commitment is to creating a solid business for the next generation of our families and the business structures now in place allow us to capitalise on the opportunities the market place provides for their long-term benefit."
Article Courtesy of the BBC News

01 May
2013
Whisky industry demands an end to duty escalator
THE Scotch whisky industry has called for a fairer tax treatment in its domestic market after new figures revealed sales had slumped by 12% in the UK over the past five years.
According to figures released by the Scotch Whisky Association (SWA) yesterday, sales in the UK –the world's third biggest market for whisky – fell from 102 million bottles in 2007 to 90m last year.
The figures are based on Her Majesty's Revenue & Customs data on bottles released from bonded warehouses for sale in the UK.
Between 2011 and 2012 the volume of UK sales dropped 0.1% but the decline was more marked in the previous year, with a 5.5% drop.
The SWA said the drop in sales could be largely blamed on the drinks duty escalator, a mechanism that has seen duty on whisky rise 2% above inflation every year since 2008.
While the escalator was scrapped for the beer industry by Chancellor George Osborne in the March Budget, it was retained for spirits and wine in a move described as an attack on distillers.
The SWA said whisky drinkers were now paying 48% more duty than beer drinkers, with the escalator adding 47p to the average price of a 70cl bottle of Scotch from £12.42 to £12.89 at the most recent Budget.
It reiterated its call for the mechanism to be scrapped for whisky following its AGM yesterday.
A spokeswoman said: "Whisky should be treated the same as every other form of alcohol and should not be taken for granted.
"It is time the Government looked at the escalator and the impact it is having on domestic industries that are doing well for the economy. We need to keep sales strong."
The SWA fears the escalator is harming the industry's prospects overseas as well as at home.
The most recent figures from the SWA indicated that the value of Scotch shipped overseas edged up to a record level of £4.27 billion in 2012, in spite of a 5% fall in the number of bottles exported.
In the five years to 2012, the volume of Scotch exports have increased by 10% from 1.1 billion to 1.2 billion bottles a year.
However, the SWA says current UK duty policy is undermining this success, as well as the industry's ongoing efforts to secure freer trade tariffs in overseas markets.
A spokeswoman said: "If other countries look at how we're taxed by our own Government, it might make it more difficult for us to justify freer market access. There is a danger it might undermine exports."
The UK is the third biggest market for Scotch behind the US and France, accounting for 7% of global sales. Some 80% of UK sales are south of the Border.
Article Courtesy of the Herald Scotland

01 May
2013
Famed Islay Distillery Names Latest Whisky "Ardbog"
The famed peat bogs of the Hebridean island of Islay are set to be celebrated after it was announced Ardbeg, the Ultimate Islay Malt, has named its new whisky…Ardbog.
Ardbog follows the highly acclaimed 2012 Limited Edition Ardbeg Galileo, which scooped the 'World's Best Single Malt' at the World Whisky Awards 2013.
Ardbeg – the world's peatiest whisky* and four-time winner of World's Best Whisky awards– will launch the single malt on 1 June, named "Ardbog Day" this year in a nod to Ardbeg's latest release.
Ardbog Day is set to take place at Ardbeg's distillery on the south coast of Islay. And Ardbeg is calling on its 85,000 fans from 130 countries worldwide to visit Scotland and compete in such eclectic events as bog welly tossing, peat-tasting and even organoleptic orienteering tasting.
The Islay Festival of Malt and Music (the Feis Ile) – of which Ardbog Day marks the culmination – runs from 26 May to 1 June 2013. It has become a key date in the calendar of malt whisky aficionados around the world, with thousands of them making the trip to the Island of Islay annually.
The Ardbeg Distillery is also organising 'Ardbog Day' parties around the world for those who cannot make the annual pilgrimage to Islay and their favourite distillery, with gatherings taking place from San Francisco to Sydney to the centre of London.
Distillery Manager Michael Heads said: "Every year we welcome hundreds of Ardbeg fans from all over the world to the distillery to have a lot of fun, and we're hoping this year will be no different.
"Bog welly tossing we've done before, but organoleptic orienteering tasting – where participants use their navigational skills to find the manager and his team at each control point and savour some extraordinary drams – now that should be interesting!"
The Limited Edition Ardbog will be launched at Ardbog Day. It is bottled at 52.1% ABV and will be available from www.ardbeg.com.
Dr Bill Lumsden, Director of Distillation and Whisky Creation, explains: "The overall combination of effects in Ardbog truly conjures up the impression of ancient, primeval, salty peat bogs, but reassuringly this is combined with some classic, intense Ardbeg notes of leather, toffee and smoke.
"As with all Ardbeg it is about getting the balance of many flavours right so others such as mocha coffee, cloves and even anchovies play their part!"
Ardbog is matured for ten years in traditional American oak ex-bourbon barrels and rare ex-Spanish Manzanilla sherry butts. This gives Ardbog a distinctively salty texture accentuating the salty, briny flavours already prevalent in the whisky.
Dr Bill Lumsden continues: "Every year we try to come up with something interesting and enticing for our Ardbeg fans, and we have for years laid down a range of experiments which may or may not see the light of day!
"Ardbog is one such experiment in that it combines two different styles of maturation to create a new flavour experience.
"At its heart our hallmark smoky yet fruity and floral spirit has been matured in Spanish ex-Manzanilla sherry casks for ten years, which has then been wrapped with traditional Ardbeg of the same age that is matured in American ex-bourbon oak casks. The Manzanilla maturation weaves salty flavours through the whisky which is then balanced with the maple syrup creaminess of the first-fill ex-bourbon casks."
"This dichotomy of savoury and sweet flavours underlines Ardbeg's status as the most complex of all the Islay Malts."
In recent years Ardbeg has spread the word about its annual celebration through its worldwide fan club, the Ardbeg Committee, which today numbers over 85,000 members in 130 countries. To sign up to become a Committee member, log on to www.ardbeg.com
Article Courtesy of the Press Release

Press Release
April 2013 Scotch Whisky News
30 Apr
2013
Kilchoman Machir Bay Named Whisky of the Year
A new release by Islay's only farm distillery, Kilchoman, is already receiving rave reviews, having been named Whisky of the Year at the prestigious International Whisky Competition (IWC).
Kilchoman's Machir Bay was awarded the highest score of the entire competition, following a blind-tasting of over 50 whiskies by an expert panel.
Owner and founder of Kilchoman Distillery, Anthony Wills, was also recognised at the awards, winning the title of Master Distiller of the Year. As a new category this year, judges unanimously agreed Anthony and the Kilchoman team deserved the recognition not only for producing a superior Single Malt, but also to further highlight that Kilchoman has only been distilling whisky since 2005.
Sylvain Allard, managing director of the International Whisky Competition, said: "Machir Bay and Kilchoman Distillery are worthy winners in this year's IWC. To have such a young whisky receive the highest score is unprecedented.
"Compared with the bigger brands' younger releases, it's a significant accomplishment that Kilchoman has only been bottling Single Malt Whisky since 2008 on a mirco-distillery."
Anthony Wills, founder and owner of Kilchoman, said: "We're honoured to receive recognition at the IWC for both Machir Bay and the distillery overall.
"We launched the Machir Bay as our core range last year and have been thrilled by the response from experts and our customers. We practice a very strict wood policy regime at Kilchoman which is crucial in our ability to produce such a high-quality young Single Malt."
Machir Bay is a vatting of four and five year old ex-bourbon casks, with the four-year casks being finished in Oloroso sherry butts for four weeks prior to bottling. Bottled once a year, each release contains more mature casks allowing Kilchoman fans to follow the development of the unique malt as it matures. Machir Bay also won the prestigious IWSC 2012 Gold Medal – Best in Class.
Founded in 2005, Kilchoman is one of the smallest distilleries in Scotland and the first distillery to be built on Islay for 125 years. A working farm distillery, it is one of only a handful of distilleries still practicing floor malting. Kilchoman also grows its own barley, and completes all parts of the production process, from barley to bottling, on the island.
Launched in April, the new bottling, Machir Bay 2013 is bottled at 46% ABV and is now available from UK specialist drinks and whisky stores and Kilchoman's distribution partners worldwide, priced at RRP of £39.99/€47/$60.
Article Courtesy of the Press Release

Press Release
29 Apr
2013
Business bosses urge Scotch whisky industry to reject independence
Manufacturers of Scotland's national drink should reject independence, according to a leading group of business bosses.
The Scotch whisky industry currently benefits from an integrated currency, a wide network of international embassies, as well as common laws and regulations as part of the United Kingdom, according to the Confederation of British Industry (CBI).
Independence would create a "problematic" currency union and a potentially fragmented regulatory regime in Britain while questions remain over how Scotland's embassies would compare to the present UK diplomatic network, CBI director-general John Cridland said in a speech at the Scotch Whisky Association (SWA) on Monday.
The CBI represents 26,000 Scottish business, who between them employ about a third of Scotland's private-sector workforce.
Mr Cridland said: "The Treasury's analysis of the currency options available to Scotland argues that a currency union, where the UK accounts for 90% and Scotland 10% of the economy, would be problematic.
"What would happen to the currency raises many unanswered questions. I think it would be difficult to sustain success by being apart.
"Would separate embassies work as well, or have the same impact for our commercial diplomacy, for instance, as the work undertaken by the UK Foreign Office?
"Our common laws and regulations make it more efficient to operate across the union, not to mention how they lay a strong foundation for us all to enjoy the benefits of our single market. We would all lose out if it were fragmented.
"There are many robust business and economic reasons not to break up the union, and the international successes we've achieved together are right up at the top of the list."
He said the SWA is a prime example of how well the UK works together to promote exports.
"Your brands are known across the globe for their quality and seemingly everyone, everywhere, wants to drink whisky," he said.
"It is obviously, as George Bernard Shaw admitted, liquid sunshine. Your export numbers are impressive: SWA members make up 25% of all UK food and drink exports, and in Scotland that number increases to a staggering 80%.
"I want to encourage other industries to follow the global paths you've already trod. I believe we can work together effectively to capture your success and translate it to other parts of the economy."
SNP MSP Mike MacKenzie hit back at Mr Cridland, saying other business leaders were "relaxed" about independence.
He said: "Given the substantial fees that the Westminster Government charges Scotland for promoting whisky through UK embassies, it is a strange argument for the CBI and the No campaign to deploy.
"The powers of an independent Scotland are absolutely essential if we are to successfully support businesses and make Scotland a wealthier country.
"With the powers Scotland currently has, we are the number one part of the whole UK in attracting jobs from inward investment - with the additional economic powers of independence, we can achieve even more.
"Simon Walker, the Director General of the Institute of Directors, has previously said he is 'relaxed' about the possibility of an independent Scotland and the fact of the matter is that the No campaign's economic credibility is fundamentally undermined by the disastrous track records of Alistair Darling and George Osborne as Chancellor."
However, the pro-UK Better Together campaign insisted Scottish businesses benefit from being able to "trade freely across the UK".
A spokesman said: "Being a part of the UK is good for Scottish businesses and good for Scottish jobs. We buy and sell more products and services from the rest of the UK than every other country in the world combined.
"Currently, Scottish businesses share a currency, a regulatory framework and have common tax laws with businesses across the UK. This allows Scottish business to trade freely across the UK and provides opportunities that separation would put at risk. We are stronger when we work together."
The Scottish Government responded that businesses in an independent Scotland would "still enjoy the benefits of a single market with the rest of the UK".
A spokeswoman said: "The expert report of the Fiscal Commission Working Group, including two Nobel laureates, has found that a Sterling area shared currency between an independent Scotland and the rest of the UK is the best option – and that is something which will be in the overwhelming economic interests of both.
"When it comes to promoting whisky and other premium Scottish products, an independent Scotland will ensure that we capitalise on all the export opportunities in the global marketplace.
"In terms of wider business confidence, Scotland is the most attractive place anywhere in the UK for inward investment jobs, for the second year in a row – with international firms investing here in full knowledge of the Scottish Government's referendum plans – and businesses in an independent Scotland will still enjoy the benefits of a single market with the rest of the UK and the EU.
"Many business leaders have made clear they see great opportunities with independence. Scotland urgently needs responsibility for the key economic levers required to boost economic recovery and create jobs, and many of the leading job-creators in Scotland agree with that.
Article Courtesy of STV
29 Apr
2013
Whisky Fest takes over WDFG stores
The event will run until June 25 in World Duty Free, Biza and World of Whiskies stores at UK airports and all of the company's Spanish stores
Travel retailer World Duty Free Group (WDFG) launched in April the 2013 edition of its annual celebration of whisky, Whisky Fest. The campaign will take place until June 25 in the company's World Duty Free, Biza Tax & Duty Free and World of Whiskies stores at 21 UK airports as well as all of the operator's Spanish stores.
According to the company, this year's event introduces more brands from around the world than ever before, supported by expert staff with thorough product knowledge in order to give whisky novices and connoisseurs alike the best possible advice. Several offers and special events will be available over the nine-week promotional period, including travel-retail exclusives and savings of up to 40% off duty-free whiskies.
WDFG has also worked closely with suppliers to offer fine, rare and exclusive at this year's event, such as the Glen Deveron range, which is supplied by Bacardi Global Travel Retail and includes 16yo, 20yo and 30yo expressions exclusively available with the retailer for one year. Other UK- and world-exclusive whiskies include Johnnie Walker Explorer's Club Collection, Balvenie Triple Cask Collection and Highland Park Einar.
Whisky Fest is also being supported across the Heathrow estate, with restaurant partners in all four terminals featuring whisky-based dishes and cocktails on their menus during the promotional period.
Article Courtesy of Duty Free News International

26 Apr
2013
Pernod shares hit by slower sales of whisky
SHARES in French drinks giant Pernod Ricard fell 2.1% as "difficulties" for Scotch whisky sales in China, which has been a key emerging market for the industry, contributed to slowing sales growth at the group.
Pernod, the world's second largest spirits group, said its business had shown "good resilience in a "more challenging macro-economic environment" as it reported growth of 2% for the third quarter of its 2012/13 financial year.
There was a "deceleration" for Scotch whisky sales over the period due to slower growth in Asia and "challenges" in the Spanish market.
However, its flagship Chivas Regal brand still managed to put on net sales organic growth of 3% for the first nine months of Pernod's financial year as a 3% fall in volumes was offset by a 6% contribution from price rises.
Its leading single malt whisky brand Glenlivet also saw a 21% sales rise, thanks largely to volume growth of 17%.
But sales of Ballantine's fell 7% as volumes declined 6%.
Top-end blended whisky Royal Salute reported a 3% fall in sales as volumes dropped 6%.
Chief executive Pierre Pringuet said: "Pernod Ricard's business demonstrated good resilience in... a less favourable economic environment."
He reiterated the company's expectation of 6% profit growth for the current financial year.
A similar picture was reported at rival Diageo, the world's largest drinks company, earlier this month where third-quarter sales rose 4%, compared with a 6% rise in the same period last year although key whisky brands remained strong.
Some analysts said the slowdown in the group's sales growth in Asia, including a 2% fall in Chinese sales, was worse than expected. But Pernod, which makes about 13% of its sales in China, said it still believed Chinese sales would be up in the current year as a whole.
There were "difficulties for Scotch whiskies" in China in the current financial year, Pernod reported, while Scotch also experienced "continued weakness" in Korea and Thailand. It was a different picture though in India where Chivas, Glenlivet and Ballantine's spearheaded the group's growth.
Overall, Pernod's Asian business achieved an underlying sales rise of 2% in the group's third quarter which is a notable slowdown from 11% growth in the first half of the year.
Asia is an important region for the drinks industry but especially for Pernod as it accounts for more than 40% of group sales and operating profit.Chivas and Ballantine's contributed to 19% sales growth in Russia, while in the United States Glenlivit showed "strong growth" in volumes and price, Pernod said.
Pernod's total revenue reached €1.74 billion (£1.5bn) in the three months to March 31, a like-for-like rise of 6% which fell short of the average of analysts' estimate of 7.3% growth, according to Reuters.

Article Courtesy of the Herald Scotland

25 Apr
2013
Rare bottles from Whisky Galore wreck SS Politician for auction
Two rare bottles of whisky salvaged from a shipwreck which inspired a book and film are to be auctioned.
The collector's items were part of the cargo on the 8000-ton cargo ship the SS Politician which sank off the shores of Eriskay in the Outer Hebrides in 1941 and inspired the book and film Whisky Galore.
The bottles, which have documents of authentication, are to be sold as a pair by Britain's biggest internet-only auction site Scotch Whisky Auctions, based in Glasgow, with bidding opening on Saturday and closing on May 5.
A great deal of interest is expected due to the unusual and legendary story behind where they came from.
Scotch Whisky Auctions director Bill Mackintosh said: "Everybody loves the idea of the wily islanders diving to the bottom of the wreck and coming back up with bottles of whisky which they would then hide from the customs.
"But it is true that there are only eight which have been authenticated recently and these are two of those which were sold at Christie's some time ago."
The eight bottles surfaced in 1987 when local man Donald MacPhee from South Uist in the Outer Hebrides explored the wreck and found his liquid treasure.
He sold them at auction with Christie's and got £4000 for his loot.
Two of those bottles were bought by a man in Fraserburgh in Aberdeenshire.
He died recently and his widow decided to sell them along with the neck tags from Christie's and letters of authentication.
The official documents from Christie's state: "Two bottles bottled by W & A Gilbey with original cork and wax sealed by Christie's in plain glass with shoulder embossing stating, 'Federal law forbids sale or re-use of this bottle'."
While the whisky itself is possibly undrinkable, the unique history of these rare bottles is predicted to attract collectors from around the world.
The bottles are expected to sell for somewhere in the region of £2000 but could go for much more, said Mr Mackintosh.
A total of 28,000 cases of malt whisky were on board at the time when the ship, sailing from Liverpool to the Jamaican capital of Kingston and New Orleans in the US, crashed.
Islanders salvaged much of the cargo, including many bottles of whisky, but only the eight from 1987 have been authenticated.
Mr Mackintosh added: "This lot of two bottles is incredibly scarce and provides a rare opportunity to obtain a real piece of Scottish history."
Article Courtesy of STV
24 Apr
2013
Minimum pricing: Drinks industry 'distorted evidence'
The alcohol industry has been accused of distorting evidence in an attempt to influence the Scottish government over its minimum pricing policy.
Academics examined submissions made by the industry to the government's public consultation in 2008.
They said their research suggested the responses had "ignored, misrepresented and undermined" scientific evidence.
The Portman Group, which campaigns for the drinks industry on social responsibility, strongly disputed this.
The Scottish government's public consultation had looked at policy proposals aimed at introducing minimum unit pricing and ending drinks promotions including below-cost selling of alcoholic drinks.
The proposals were widely supported by health professionals and the police, but were opposed by large sections of the alcohol industry, including supermarkets, drinks companies, and trade associations.
The team of three researchers, led by Dr Jim McCambridge at the London School of Hygiene and Tropical Medicine, said many submissions from the industry were critical of the evidence used by the government to justify the policy.
But the industry failed to provide any strong evidence of its own, the report said, and instead relied on "unsubstantiated claims" and "weak evidence" such as opinion polls, to justify its opposition.
The report pointed to an assertion made by the Portman Group that "there is a raft of contradictory evidence of the influence of price and promotions on harm. In the absence of strong evidence, it seems imprudent to tackle alcohol misuse by acting against price and promotions''.
However, no details of any contradictory evidence were provided by Portman or in any of the other industry submissions, it said.
The report, which was funded by the charity Alcohol Research UK, stated: "The Portman Group made unsubstantiated claims that the proposals could "increase the appeal of alcohol to young people by creating a 'mystique'" and thereby "turning alcohol into a 'forbidden fruit'".
"They also claimed that the approach taken by the Scottish government had been "widely discredited in research studies" when in fact there is broad consensus among researchers, who strongly support the approach as the correct one."
Scottish Health Secretary Alex Neil said: "We'll study the report very carefully indeed. I think not just the Scottish government but the Scottish parliament will have something to say if they have been deliberately misled by anybody."
Article Courtesy of the BBC News

24 Apr
2013
Ballantine's displays rare whisky in Amsterdam
Pernod Ricard Travel Retail displays 40yo whisky in Amsterdam Schiphol airport
Two bottles of Ballantines 40yo ultra-premium Scotch whisky are available from this month in Amsterdam Schiphol airport.
The bottles of the most exclusive whisky in the Ballantine's range retail for €6,000 ($7,800) each.
The whisky is displayed in an elegant glass cabinet, on a dark wooden plinth with a champagne-gold metal base. It features an etching of the Ballantine's crest alongside Master Blender Sandy Hyslop's signature.
Just 100 bottles of this extremely rare whisky are released each year to meet founder George Ballantine's aspiration to create a most exceptional and exquisite whisky "only when the time is right".
Pernod Ricard Travel Retail Europe marketing director John Smailes said: "It has been great to work with Schiphol airport retail in supporting the Ballantine's brand; showcasing Ballantine's exceptional 40yo and drawing travellers in-store. It is not every day that passengers passing through Amsterdam's key airport have the opportunity to add such a rare and premium whisky to their collection, and we are expecting this unique addition to generate some real excitement and interest in store."
Article Courtesy of Duty Free News International

23 Apr
2013
Gordon & MacPhail Wins Queen's Award For Enterprise For The Second Time
The growing success of Benromach whisky has helped family-owned whisky specialist Gordon & MacPhail win a second Queen's Award for Enterprise for International Trade.
The whisky specialist and distiller brought the Benromach Distillery back to life in 1998 when it was officially re-opened by HRH The Prince of Wales. Since then the Forres distillery has unveiled a series of hand-crafted single malt whiskies including the flagship Benromach 10 years old.
Managing Director, Michael Urquhart expressed his delight at winning the prestigious award for a second time, saying: "This is a wonderful achievement and recognition for the company and our dedicated staff, as well as for our customers and suppliers worldwide. The Queen's Award is recognised across the world as a mark of outstanding quality and I have no doubt that winning the first award in 2009 has contributed to our recent growth.
"I am particularly pleased that the continuing success of Benromach whisky has played such a major part in our winning this award once more. The launch of Generations in 2010 with a 70 Year Old Mortlach then a 70 Year Old Glenlivet in 2011 were also highly sought after additions to the extensive range of single malt whiskies Gordon & MacPhail can offer to the market. As a result total exports have almost doubled in three years to more than £6m in 2012.
"We have been championing malt whisky for more than a century by buying and storing casks of whisky from distilleries across Scotland. But it's been a particular pleasure for us as a family to drive the growth of our own Benromach whisky."
Scotch Whisky Association Chief Executive, Gavin Hewitt welcomed the endorsement, saying: "Further congratulations to Gordon & MacPhail are very much in order. I am delighted that they have again been recognised for their outstanding export performance. The Scotch Whisky business is doing very well in our many overseas markets. Gordon & MacPhail is one of the beacons and an inspiration to others."
The family-owned company is proud of its Moray roots and the company, its directors and its staff all play an active role in the local community. The company's support helped secure Forres as the host town for the European Pipe Band Championships over the next three years when Benromach will be the principal sponsor.
Successful marketing of the Benromach brand has included sponsorship of the National Theatre of Scotland's highly acclaimed production of The Strange Undoing of Prudencia Hart which toured extensively overseas following sell-out performances at the Edinburgh Festival Fringe. As part of the performance, audiences have the chance to enjoy a dram of Benromach.
Gordon & MacPhail employs almost 140 people in Elgin and Forres. With around 300 different whisky brands stored in its warehouses, it cares for some of Scotland's oldest and rarest casks.
Article Courtesy of the Press Release

Press Release
22 Apr
2013
Bacardi launches travel-retail exclusive whisky collection
Bacardi Global Travel Retail (BGTR) and World Duty Free Group (WDFG) have partnered to launch a single-malt Scotch whisky collection Glen Deveron, Royal Burgh, exclusively in travel-retail.
The collection includes Glen Deveron 16yo, Glen Deveron 20yo and Glen Deveron 30yo, each made with rare, aged whiskies hand-selected from the distillery's private reserve by master blender Stephanie Macleod. The collection commemorates the ancient seaport beside the distillery, the Royal Burgh of Banff, which was granted a Royal Charter by Robert II, King of Scotland, or Robert the Bruce. This Charter is represented by the seal featured on the bottle's label.
BGTR managing director Mike Birch said: "Glen Deveron is a true first for Bacardi Global travel-retail. The entire collection, from the exquisite liquid to the premium gift packs, has been created specifically for travel-retail and will be available exclusively in World Duty Free stores in the UK, Spain and internationally.
"Single-malts represent an extraordinary opportunity for Bacardi within the travel-retail channel and the launch of Glen Deveron is a major initiative that illustrates our commitment to the category."
WDFG commercial director Eugenio Andrades said: "Glen Deveron is an exceptional single-malt and we are delighted to be partnering with Bacardi Global Travel Retail to introduce it to the world for the first time. It's a rare occasion when you get to be involved in such a landmark launch and we would like to thank Bacardi for partnering with us in this unique opportunity."
Article Courtesy of Duty Free News International

20 Apr
2013
Honour to Moray whisky figures
THE lasting contribution made to the industry by two Moray whisky experts has been recognised.
David Urquhart, of Gordon and MacPhail, has been inducted into the Whisky Magazine Hall of Fame.
He was joined by David Grant, of William Grant and Sons, in the 2013 ­intake of just five inductees.
Inclusion in the Hall of Fame is a permanent tribute to individuals who have made a lasting contribution to the world of whisky.
Mr Urquhart is a non-executive director of the family-owned, Elgin-based company after retiring as joint managing director in 2012.
Said Mr Urquhart: "My inclusion is surely a reflection of the successful development of Gordon and MacPhail, which from having primarily supplied whisky to the UK grocery trade in the 1970s now sells its products in more than 50 countries around the world."
Also joining the list was Mr Grant, the great grandson of William Grant of Glenfiddich.
He played a significant role in the success of the company during the years when Glenfiddich single malt was transformed into a major global brand.
Joining William Grant and Sons in 1962, he served a thorough apprenticeship both within the family firm and in other arenas of the Scotch whisky industry.
In 1969, Mr Grant took on the key role of Glenfiddich global brand manager, and played a key role in its growth.
He remains a share­holder with an active interest in both the company and the wider Scotch ­whisky industry.
Article Courtesy of Northern Scot

19 Apr
2013
Talisker adds new whisky
Diageo has launched its second new expression of Talisker whisky this year. Port Ruighe follows Storm, which was launched in March.
Port Ruighe takes its name from the principal town and port on the Isle of Skye and the whisky was finished in port wood. The new expression is a permanent addition to the current range.
It will be available from mid-April 2013 in specialist whisky retailers in Western European markets. It will be priced at a premium of 20/25% to the price of Talisker 10 year old. It is bottled at the traditional Talisker strength of 45.8% abv, without an age statement.
Master blender Maureen Robinson explained: "Talisker Port Ruighe is a combination of spirit that has been matured in American Oak and European Oak refill casks in the traditional manner along with spirit that has been filled into specially conditioned deeply charred casks. The spirit is then finished in casks that have previously held Port Wine which endows it with spicy fruit notes. These bond elegantly with that clean, fresh smokiness that signals its essential Talisker character."
Article Courtesy of Drinks International

Drinks International
18 Apr
2013
Whisky projects get royal seal of approval
The Duke of Rothesay visited Moray yesterday to officially open two projects which highlight the continuing success of the whisky industry.
Prince Charles met local delegates at the new £60million Helius CoRDe biomass plant at Rothes, then embarked on a tour and unveiled a plaque.
He walked the short distance to Glen Grant Distillery, to view the newly-completed bottling complex, which has the capacity to produce 12,000 bottles an hour and is the largest of its kind in Speyside.
Article Courtesy of The Press and Journal

The Press and Journal
17 Apr
2013
Whisky production to resume
They are to have water with their whisky again on a Scottish island.
A distillery is to resume producing whisky today after a drought forced it to halt production for weeks.
Tobermory, one of Scotland's oldest commercial distilleries, ceased making its single malts after the loch from which it draws water dried up due to a lack of rainfall.
It was only the second time production had ever been stopped on the Mull distillery – but the second year in a row – since it was acquired by parent company Burn Stewart in 1993.
However, after six weeks of drought 2in of rain fell on Saturday, followed by another downpour yesterday, making it possible for production to resume at 3am today.
Article Courtesy of the Herald Scotland

16 Apr
2013
Chivas Brothers distillery plans in Speyside approved
Plans for a major new distillery in Speyside have been approved by Moray councillors.
The French-owned Chivas Brothers Ltd, part of Pernod Ricard, wants to build on the site of the Imperial distillery near Carron, which has not been used for 14 years.
The original distillery buildings have already been demolished.
Planning and regulatory services committee chairman Douglas Ross said the new distillery would be welcome.
It would mean an increase of 10% in the company's malt whisky distilling capacity.
Chivas is the second biggest company in Scotch whisky, with about 20% of the market.
Article Courtesy of the BBC News

15 Apr
2013
Distell acquires Scotch whisky producer Burn Stewart Distillers
The Distell Group has acquired Scotch whisky producer Burn Stewart Distillers Limited, which is behind brands such as Bunnahabhain and Scottish Leader, in a deal worth just over R2.2 billion (£160 million).
The South African spirits, wines and ready-to-drinks business has purchased the company from Scotland-based CL World Brands Limited and Trinidad and Tobago-based Angostura Limited.
As part of the agreement, Distell is purchasing 100% of the equity in Burn Stewart, whose portfolio includes three single malt whisky distilleries, a blending and maturation facility, a bottling hall and a dry and finished goods storage site. The deal also covers the company's in-house marketing and distribution functions and all whisky stocks currently in maturation.
According to Distell, the biggest brand in the portfolio is Scottish Leader, which it claims is the "pre-eminent" blended Scotch whisky in its category in Taiwan. Other brands under the Burn Stewart banner include the blended whisky Black Bottle as well as the single malts Bunnahabhain, Deanston, Tobermory and Ledaig.
The deal follows an equal partner venture established in 2007 between Distell and Burn Stewart in which the two parties co-owned and marketed Bunnahabhain, Black Bottle and Scottish Leader in sub-Saharan Africa.
Distell said the acquisition will enable it to capitalise on the continuing global growth in whisky consumption and give it access to scarce blended and single malt stocks from prime whisky-producing regions in Scotland, while also enhancing its global footprint.
"Our acquisition of Burn Stewart is a very significant development for Distell from a strategic perspective but also given the rich and proud history and heritage of the brands involve," added Distell Group Managing Director Jan Scannell. "This gives us an outstanding foundation from which to build, while cherishing their individual traditions.
"Bunnahabhain, the Burn Stewart Distillers' flagship single malt, is made on Islay, considered one of the most prestigious whisky locations by connoisseurs. There are only eight distilleries on the Island, so we are extremely fortunate to acquire this very highly-ranked brand.
"Tobermory is the only distillery on the Isle of Mull, one of the most popular tourist spots in Scotland, while the home of Scottish Leader is the Deanston Distillery situated in the Scottish Highlands in Doune near Stirling, close to both Edinburgh and Glasgow, and another important destination for whisky enthusiasts."
Based near Glasgow, Burn Stewart employs close to 270 staff and operates a sales and marketing branch in Taiwan. Scannell believes Scottish Leader will give Distell a springboard into Taiwan, a country with a "growing appetite for other speciality drinks the company offers".
Burn Stewart Managing Director Fraser Thornton, said: "The close working relationship with Distell over the fourteen years has amply demonstrated the South African group's capacity, experience and expertise to strengthen and grow the company.
"We have developed solid synergies with a strong cultural fit between our two entities and are enthused by Distell's plans to recapitalise and advance the business."
In 2009 Distell acquired Cognac brand Bisquit and associated inventories from Pernod Ricard for €31 million, as reported.
Article Courtesy of Moodie Report
Moodie Report
15 Apr
2013
Burn Stewart Distillers bought by Distell for £160m
Whisky firm Burn Stewart Distillers has been bought by South African drinks giant Distell for £160m.
Distell has signed a binding agreement with Burn Stewart owners CL World Brands Ltd and Angostura Ltd for the East Kilbride-based business.
Burn Stewart operates three distilleries and produces the Tobermory and Black Bottle brands.
The new owner said the deal would allow it to capitalise on the global growth in whisky consumption.
The deal follows an equal-partner venture established in 2007 between Distell and Burn Stewart, in which the two parties co-owned and marketed three Scotch Whiskies - Bunnahabhain, Black Bottle and Scottish Leader - in sub-Saharan Africa.
'Significant development'
Burn Stewart, which runs a bottling hall in East Kilbride and blending and warehousing facilities in Airdrie, operates three distilleries in Doune, Perthshire, Bunnahabhain on the Isle of Islay and Tobermory based on the Isle of Mull.
It also operates a sales and marketing branch in Taiwan and holds a majority stake in a spirits distribution arm in the USA.
Scottish Leader is the biggest brand in its portfolio.
The purchase is Distell's second major acquisition in recent years, having bought cognac brand Bisquit from Pernod Ricard in 2009.
Commenting on the deal, Distell Group managing director Jan Scannell said: "Our acquisition of Burn Stewart is a very significant development for Distell from a strategic perspective but also given the rich and proud history and heritage of the brands involved.
"This gives us an outstanding foundation from which to build, while cherishing their individual traditions."
Article Courtesy of the BBC News

12 Apr
2013
Whisky production suspended as island runs out of water
An island distillery has been forced to stop production of its popular single malt whiskies because of an unseasonable drought.
Tobermory Distillery, originally founded in 1798 and one of Scotland's oldest distillers, has halted operations on the Hebridean island of Mull, where it can normally be counted on to rain.
The area has only had one fifth of its normal rainfall over the past six weeks, and was officially the driest place in the UK in March, with 1.8in of rainfall.
The unusually dry weather has also been blamed for hundreds of wildfires in the Highlands and Islands over the past two weeks.
The drought has resulted in the owners Burn Stewart suspending production of the Ledaig and Tobermory single malts for the second year in a row, and only the second time in the distillery's history.
Ian MacMillan, master blender and distilleries manager, said: "The water for our single malt comes from a small, private loch on the island, and over the last three weeks we have seen the water level occasionally dip to such an extent that we have temporarily halted production in order to preserve the quality and consistency of our whisky.
"The purity of the water we use is critical to the quality of our whisky and we won't take any risks in compromising quality, so we have now decided to suspend production until a proper rainfall replenishes the loch to a satisfactory level.
"But Tobermory single malt drinkers need not panic. When we had to stop production last year, due to the driest summer for 30 years, we simply increased production when it started raining again to make up the shortfall.
"We will do so again and, in the meantime, we have a plentiful stock of the single malt ready to be bottled, and supply will not be affected."
Charlie Power, a Met Office forecaster, said: "From January onwards there has been a significant decline in the amount of rainfall we have seen on Mull.
"January was already on the dry side, then by February we saw only half of the rainfall we would normally expect. March was even drier, making Mull the driest place in Britain."
Article Courtesy of the The Telegraph

10 Apr
2013
Ballantine's Releases Unique Blend To Mark 2013 Ballantine's Championship
Ballantine's, the No.2 ultra-premium and Prestige Scotch whisky range in Asia-Pacific, has unveiled the 2013 Ballantine's Championship Blend after exclusively bringing together Master Blender Sandy Hyslop and winner of the 2012 Ballantine's Championship, Bernd Wiesberger, to create the sixth unique expression of the prestigious blend.
The 2013 Championship Blend has been created with a selection of exceptional whiskies, aged for at least 41 years, and is being released to commemorate this year's tournament which is taking place in Icheon, South Korea from 25 – 28 April 2013.
Just ten individually numbered bottles of this rare limited edition will be produced, with one being gifted to Wiesberger as reigning Ballantine's Championship winner and collaborator in the creation of this year's blend. A bottle will also be reserved for the 2013 champion and another will be auctioned during the tournament for charitable causes.
This exclusive and exceptional blend is presented in a prestigious bottle with a handcrafted and gold finished metal band which bears the individual bottle number alongside the signatures of its two creators, Sandy Hyslop and Bernd Wiesberger. The bottle also features Ballantine's unique crest carefully etched onto the glass, enhancing the brand's proud heritage and excellence. The bottle sits in a solid wooden cabinet with a premium leather cover featuring the iconic Ballantine's 'B' and gold coloured metal band. Interior leather panels on each of the cabinet doors, bearing a quote from Hyslop and Wiesberger, and a leather bound booklet complete the luxurious presentation of the 2013 Championship Blend, highlighting Ballantine's association with golf and the uniqueness of the blend.
Since the inaugural event in 2008, Ballantine's has established the unique tradition of creating an exclusive Championship Blend each year, created by Master Blender Sandy Hyslop with the reigning Championship winner. Wiesberger becomes only the fourth person in history outside of Ballantine's expert blending team to be invited to work with a Master Blender in creating a Ballantine's blend, with previous winners, Lee Westwood, Graeme McDowell MBE and Marcus Fraser having been granted the same privilege over the past five years. This year, Sandy Hyslop personally guided Wiesberger through a tasting of extremely rare and high quality grain and malt whiskies to assess which flavours he preferred before carefully blending the golfer's selection.
Sandy Hyslop comments: "It was a pleasure to introduce Bernd Wiesberger to the art of blending while creating the 2013 Ballantine's Championship Blend. We've created a truly unique blend that reflects Bernd's own taste and character but is still true to Ballantine's signature style – soft, sweet, elegant and balanced. I'm delighted with the results and I believe this Championship Blend is a fitting tribute to the shared flair, craftsmanship and excellence of Ballantine's and professional golf."
Bernd Wiesberger added: "It has been a privilege and an honour to join Ballantine's Master Blender, Sandy Hyslop, in creating this special whisky. It will have a place of honour in my home, sitting alongside the Ballantine's Championship trophy until an occasion so special that I am willing to drink it."
Peter Moore, Ballantine's Global Brand Director, says: "The Ballantine's Championship Blend is a unique tradition that celebrates the shared values and heritage of Ballantine's and golf, so we are thrilled to release this year's unique expression, one of the rarest and most exclusive whiskies ever produced by our Master Blender, Sandy Hyslop. The synergy between Ballantine's and golf has never been stronger and we are extremely proud to be associated with one of the most prestigious golf events in Asia, where our sponsorship investment, both at the top of the game and at grass roots level, marks our deepening commitment to world-class golf."
Ballantine's association with golf can be traced back to 1960 when the first Ballantine's Tournament took place at Wentworth Golf Course in the UK. Since Ballantine's became the title sponsor of the Championship in 2008, many professional golfers have demonstrated their world-class talents at the Ballantine's Championship and the event has fast become one of Asia's most prestigious golfing events, with over 45,000 spectators in 2012 and coverage broadcast to 300 million homes worldwide.
Article Courtesy of the Press Release

Press Release
08 Apr
2013
Whisky expert wins IWSC Communicator 2013
The International Wine & Spirit Competition has named UK-based whisky specialist Dave Broom as the winner of its Communicator of the Year 2013 award.
Sponsored by Veronafiere, the award was announced during a gala dinner to mark the start of this year's Vinitaly.
Broom fought off strong international competition from the five other names on the shortlist: Eric Asimov, wine critic of the New York Times; Arto Koskelo, a Finnish writer and presenter; Jean Smullen, an Irish journalist and consultant; Jan Petersen, a Swedish journalist, broadcaster and photographer; and Richard Paterson, master blender for Whyte & Mackay.
In addition to his responsibilities as contributing editor of Whisky Magazine and editor in chief of its Japanese sister title, Brighton-based Broom is a columnist and taster for US publication Whisky Advocate, as well as writing for German's Mixology, China's Drink! and French magazines Fine Spirits and Ginger.
Having most recently published The World Atlas of Whisky, a companion volume to The World Atlas of Wine, Broom highlighted the growing respect that has been won by the spirits sector in recent years.
"When I started writing about spirits they were regarded as little more than an industrial product not worthy of deep study", he remarked. "Thankfully this has changed and people are now realising the artistry and creativity that goes into crafting a fantastic spirit brand is every bit as great as that required to craft a wonderful wine."
Upon receiving his award, Broom chose to accept it on behalf of "the wonderful distillers and blenders within the spirits industry for giving me their time and sharing their expertise", as well as "all the great bartenders around the world."
Explaining the decision to make Broom the 18th recipient of this award – and only the second winner from the spirits sector – Anna Grant, head of sales & marketing, for the IWSC, said: "Judges were impressed by the breadth of his knowledge and the passion and enthusiasm with which he shares it."
Further comment from the judging panel described Broom as "one of the most universally accessible communicators" and praised "his ability to reach live audiences around the world in both consumer and trade".
Previous winners of the IWSC Communicator of the Year award include Jancis Robinson MW, Hugh Johnson, Oz Clarke and last year's winner, Charlie Arturaola from Uruguay.
Article Courtesy of the The Drinks Business

05 Apr
2013
Whisky firm's annual profit up nearly 30%
Whisky firm Chivas Brothers achieved a near 30% increase in profits during its latest full trading year.
Accounts just released by Companies House show Chivas, whose brands include Chivas Regal, The Glenlivet and Royal Salute, made pre-tax profits of £201.89million during the year to June 30, compared with £157.59million the year before.
Turnover in the latest period totalled £610.13million, up from £517.62million previously.
Article Courtesy of The Press and Journal

The Press and Journal
03 Apr
2013
Diageo to build £50m Scotch whisky distillery
Diageo is to increase its Scotch whisky production with a new £50 million distillery in the Scottish Highlands.
The distillery, which will create up to 20 new jobs, will be adjacent to the company's existing distillery in Teaninich, near Alness, but will have its own name and identity.
The company also announced a major new phase of expansion to its Scotch whisky production in the Speyside area. The combined activity is a part of the £1 billion five-year investment plan launched last year.
The new Teaninch distillery will have the capacity to produce around 13 million litres of spirit per annum from 16 copper stills. An on-site bio-energy plant will also be constructed to convert co-products into green energy to power the distillery.
At the same time, Diageo also plans to invest £12 million in expanding the existing Teaninich distillery to almost double its capacity. The single malt whisky produced at the new distillery and at the expanded Teaninich distillery will be used in a range of Diageo's blended Scotch whisky brands.
The spirits giant also announced it will invest around £30 million in new production facilities in Speyside, including a project to substantially increase the capacity of the Mortlach distillery at Dufftown. This will involve the building of a new stillhouse, which will replicate the unusual partial-triple distillation process that Mortlach uses.
Another element of the investment will be the construction of a new plant at Glendullan to process co-products in an anaerobic digestion process, producing bio-gas that will be used to power the Glendullan distillery.
Diageo Scotland managing director Bryan Donaghey, said: "This announcement is a significant milestone in our £1 billion investment programme in Scotland to support the global growth of our Scotch whisky brands."
Article Courtesy of Harpers

01 Apr
2013
Whisky firm lines up change
Gordon and MacPhail (G&M) has made changes to its boardroom team as part of efforts to manage the company's transition from third to fourth generation family ownership.
Norman Ross joins the Elgin whisky firm as finance director from Highlands and Islands Airports, where he was financial controller and company secretary for 10 years.
Mr Ross has no blood-ties but another new recruit to the board, non-executive director Jenny Houldsworth, is part of a fourth generation of the Urquhart family to have owned and run the firm.
Article Courtesy of The Press and Journal

The Press and Journal
March 2013 Scotch Whisky News
31 Mar
2013
Arran Whisky Has Other Malts Over A Barrel With Double Gold
Scotch whisky producer, Isle of Arran Distillers, has scooped a top award at an international world spirits competition.
After fighting off fierce competition from hundreds of spirits from across the world, Arran is celebrating after taking home a Double Gold for its 12 Year Old Cast Strength Single Malt Scotch.
Held in San Francisco, the annual World Spirits Competition commends the finest spirits from across the globe. More than 1,400 spirits from 61 countries* were judged this year as part of the largest competition in the event's history.
The 12 Year Old Malt, characterised by aromas of dark chocolate, toasted oak and baked apples, is released by the Distiller on Batch basis. The winning whisky is from Batch#2 released in October 2012 and limited to 12,000 bottles worldwide.
Arran's managing director, Euan Mitchell, said the high-profile win was the perfect reward for years of hard work in bringing the Malt to market.
He said: "Over the last 17 years, Arran has built up a first-rate reputation for its award-winning products and we feel extremely proud that our 12 Year Old Cask Strength Single Malt has added to that by winning this prestigious award.
"Like all our whisky, our 12 Year Malt is special because of the passion of the people who make it and because of our unflinching approach to quality. No artificial colouring has been used, the deep hue being achieved from maturation in the finest sherry casks, and the malt has not been chill-filtered at bottling thus retaining the full range of aromas and flavour which typify The Arran Malt."
Since it was founded in 1995, the Isle of Arran Distillery has won a number of awards including 'Double Gold Award' for its 14 Year Old Single Malt and 'Gold Award' for its 10 Year Old Single Malt at the World Spirits Competition 2012, 'Best Single Malt Scotch 11-15 Years' for the Icons of Arran Peacock (2011) and Scottish Distiller of the Year (2007).
James MacTagart is Arran's master distiller and created the award-winning 12 Year Old Cask Strength Single Malt.
He said: "To see a whisky I put so much passion into making be well-received on a global scale is extremely exciting for me. I can't wait to raise a glass of it in celebration of our win and we hope to continue producing award-winning malts for many years to come."
Article Courtesy of the Press Release

Press Release
29 Mar
2013
Mark has a nose for good whisky
MARK Angus, retail manager for Gordon and MacPhail, continues his look at Speyside malt whiskies in the run-up to the Spirit of Speyside Whisky Festival from May 1-4.
Here he opens a bottle of Benromach 10-years-old:
Benromach Distillery is located on the outskirts of Forres. Established in 1898, the distillery experienced many closures and changes of ownership prior to 1993 when malt whisky specialists, Gordon & MacPhail rescued it.
Just two experienced distillers create Benromach using the finest Scottish barley and the purest spring water from the nearby Romach Hills.
Benromach 10 Years Old is a multi-award winning Single Malt Scotch Whisky hand-crafted at Speyside's smallest working distillery.
Initially matured in a mix of Bourbon and Sherry casks, the whisky is transferred to European oak Oloroso Sherry casks for a final period of maturation.
Tasting notes: The result is a beautifully balanced dram, displaying a rich sherry character, forest fruit flavours, malt creaminess and a light peat smoke influence.
Article Courtesy of Northern Scot

26 Mar
2013
The Macallan whisky in charity auction Bond link-up
To celebrate 50 years of James Bond in film, The Macallan will be donating a bottle of its 50-year-old Scotch whisky to be auctioned for charity.
The single malt Scotch, The Macallan 1962 from its Fine & Rare collection, not only shares its year of inception with Bond on the big screen, but will also feature on its label the signatures of Daniel Craig, Javier Bardem and Bérénice Marlohe – stars of the recent Bond flick Skyfall.
The auction will take place at Sotheby's, London, on April 17, as part of The Macallan's Finest & Rarest Wines sale. All proceeds from the auction of this lot will go to the Government Communications Fund, which supports former and serving members of GCHQ facing hardship.
Ken Grier, director of malts for Edrington, owner of The Macallan, said: "Following on from The Macallan's appearance in Skyfall, we are delighted to further our association with the Bond franchise with this charity auction.
"We are hopeful that the combination of the Bond link with the auction appeal of vintage Macallan will give us a great result. The Government Communications Fund is a very fitting recipient of the monies raised."
Founded in 1824 in Speyside, The Macallan is one of the world's most awarded single malt whiskies and currently holds the Guinness World Record title of the most expensive whisky ever sold at auction.
In 2010 The Macallan 64 Years Old in Lalique Cire Perdue was sold for US$460,000, all of which was donated to charity.
Article Courtesy of Harpers

25 Mar
2013
Cutty Sark re-introduces whisky brand to the UK
Cutty Sark blended Scotch whisky, acquired by Edrington just over three years ago, is launching their first ever seaplane partnership with Loch Lomond Seaplanes - coinciding with the re-introduction of the brand to the UK.
Cutty Sark celebrated its 90th birthday on the 23 March this year and is one of the top 10 Scotch whisky brands in the world.
Inspired and originally named after the world famous Clipper that re-opened recently in London, a ship that was actually built just 10 miles away from the brand's HQ in nearby Dumbarton (UK).
Everything from the brand is new - from packaging, range, materials and distribution plans through to a truly groundbreaking PR event in London in the autumn.
Edrington has also committed to investing £20m on the brand in the next five years, covering both new and existing markets globally. This increase in investment is forecast to push sales up by nearly 40% across the world in the next five years.
The range is now available in specialist retailers from Edinburgh, Glasgow to London, as well as in some of the finest city bars.
Article Courtesy of FoodBev.com

FoodBev.com
25 Mar
2013
Whisky created from space experiment is named best in the world
Scotland's Ardbeg Distillery beats Japanese, South African and U.S entries to take top prize.
A whisky designed around a space experiment has been named the best spirit of its kind in the world.
The Ardbeg Distillery in Scotland's Galileo single malt whisky took the top honour at the annual World Whiskies Awards.
The 12-year-old limited edition drop, which sells for about £150 a bottle, was created as part of a collaboration with space research company NanoRacks LLC.
The Houston, Texas, firm has been undertaking zero gravity experiments in space involving the maturation of chemical compounds in Ardbeg's whisky, while the distiller monitors control samples on Earth.
The commemorative whisky, made from a vatting of different styles of Ardbeg laid down in 1999, took out the prestigious prize at an event at the Waldorf Hotel in Central London.
Judges undertook three blind tasting rounds in Scotland and America of over 300 whiskies from around the globe before making their decision.
While the best in show went to Scotland, whiskies from Japan, South Africa and America took out many of the other big awards.
Japanese distiller Mars Maltage won Best Blended Malt Whisky for its 3 plus 25, 28 Years Old, and its compatriot distiller Hibiki won Best Blended Whisky for its 21 Years Old.
South Africa's Bain's won Best Grain Whisky for its Cape Mountain Whisky and US distiller George T Stagg won Best American Whisky.
English distiller Master of Malt won Best Whisky Liqueur for its 40 Years Old whisky.
A prize for the best whisky bar was won by Boisdale restaurant and bar in Canary Wharf, London, where bars manager Hannah Lanfear has assembled some 800 whiskies, many of them rare bottles from mothballed and dismantled distilleries.
Irish Distillers, Pernod Ricard, was named Whisky Distiller of the Year and Master of Malt was adjudged the most innovative.
Whisky Magazine's independent judging panel was drawn up from the best drinks journalists, retailers, master blenders, distillers and brand ambassadors from across the world.
The magazine's Rob Allanson said: "The competition featured some eye-opening whiskies and the judging panel had a hard time separating the good from the very good.
"After last year's Japanese domination of the single malt category Islay's Ardbeg Distillery carries off the top single malt title, returning the crown to Scotland.
"But Japanese whiskies still remained strong in the Blended and Blended Malt categories."
Article Courtesy of the Mirror

22 Mar
2013
Glenglassaugh Distillery bought by Scottish company
THE BENRIACH Distillery Company today shocked the Scotch whisky industry by completing a hush-hush purchase of the Glenglassaugh whisky distillery, taking the Portsoy distillery back into Scottish ownership.
Glenglassaugh, one of Scotland's oldest distilleries dating back to 1875, which produces a range of single malt whiskies and currently has the capacity to produce 1.1 million litres of whisky a year, has been purchased from Amsterdam-based Lumiere Holdings for an undisclosed sum.
Edinburgh-headquartered BenRiach is led by industry veteran and master blender Billy Walker and his partners, South African whisky entrepreneurs Geoff Bell and Wayne Kieswetter.
An upbeat Mr Walker said: "Five years ago, our acquisition of GlenDronach surprised and delighted whisky connoisseurs around the world and today we are confident that our latest intriguing acquisition will have the same positive effect.
"We're really delighted to buy Glenglassaugh, a renowned Highland single malt with a rich and distinguished heritage. It's an excellent complementary fit with our existing BenRiach and GlenDronach brands. Part of its attraction to us is that it isn't too large for our portfolio but its potential in contributing to the group certainly is.
"It's our intention to bring this iconic distillery fully back to life by giving it the investment, commitment and care it deserves. I believe our whisky expertise, proven brand-building ability and strong routes to market will help take Glenglassaugh to the next level."
Mr Walker added: "The timing is good as there is no doubt we are currently in a golden age for scotch whisky. There's unprecedented demand for high-end brands like ours in places like Taiwan, Scandinavia, USA, China, India, Russia, the Middle East, South Africa and South America, and we now have the fantastic opportunity to re-introduce Glenglassaugh to these markets."
Mr Walker continued: "I would like to thank the Royal Bank of Scotland who have seamlessly facilitated the deal."
Glenglassaugh's managing director Stuart Nickerson said: "It's great to be back in Scottish hands.
"Glenglassaugh is a fantastic brand that was unheard of five years ago and today is exported to over 25 countries worldwide. It's highly regarded as a premium brand and has won numerous top awards.
"We've grown the business significantly and today's announcement means continued investment which will also allow the business to grow further and more rapidly."
Distilling at Glenglassaugh, which stopped in 1986 when the distillery was mothballed, re-started in 2008.
Article Courtesy of the Banffshire Journal

22 Mar
2013
Longest Serving Whisky Worker Retires After 46 Years
Chivas Brothers' longest serving employee Alistair McAllister has retired after 46½ years working for the company in Paisley. Alistair joined Chivas Brothers in the Stock Control department in July 1966, when he was just 17 years old. He later moved to the loading bay area, and eventually to the North Bottling Hall, where he spent the last 25 years working as a Forklift Truck Operator.
Reflecting on his time with the company, Alistair (64) said: "The time has flown by, and so much has changed in the last 46 years. When I started the bottling halls were mostly manual, with the ladies who worked there using small plastic hammers to put the tops on the bottles. Today, with huge advances in modern machinery, production is much faster.
"The area where the North Hall sits was just a field when I started. I remember it being built in the 1980s to keep up with demand. In future I think Chivas Brothers will just get busier and busier. We seem to get more orders than ever, from places like China and Azerbaijan that we never even considered 46 years ago. Scotch whisky has really grown internationally. We're always developing new luxury products for overseas markets."
Alistair's colleagues surprised him with a cake, gifts and special visit by St Mirren FC mascot The Paisley Panda on his last day, which delighted the lifelong Saints supporter.
Despite admitting he'll miss his team, Alistair says he's looking forward to his retirement, adding: "I'm going to get a new car, enjoy any sunshine we get this summer, and maybe plan a few holidays to places like Spain and Greece. For now there's lots to do around the house, and I'm a keen gardener, so I will certainly be keeping busy."
Notes Chivas Brothers is the Scotch whisky and premium gin business of Pernod Ricard – the world's co-leader in wine and spirits. Chivas Brothers is the global leader in luxury Scotch whisky and premium gin. Its portfolio includes Chivas Regal, Ballantine's, Beefeater Gin, The Glenlivet, Royal Salute, Aberlour, Plymouth Gin, Longmorn, Scapa, 100 Pipers, Clan Campbell, Something Special and Passport.
In July 2010 Chivas Brothers launched The Age Matters campaign to help consumers understand the importance of Scotch whisky age statements.
Article Courtesy of the Press Release

Press Release
21 Mar
2013
Diageo announces plans to shed 80 Scottish posts
Drinks giant Diageo has announced plans to shed about 80 jobs across a number of its sites in Scotland.
The company said the move followed a supply and procurement review of its Scottish manufacturing operations.
The cuts will mainly affect management roles.
Diageo stressed that an ongoing £1bn investment programme in Scotland to increase whisky production capacity would not be affected by the restructuring move.
In a statement, Diageo said the review had concluded that Diageo's Scottish manufacturing business was well placed to meet the challenges of an increasingly competitive global environment.
But it added: "To ensure the business in Scotland remains competitive, the review identified opportunities to simplify processes and organisation at local levels which will result in a proposed reduction of around 80 roles across Diageo's 50 sites in Scotland.
"The reduction will primarily be in management roles and will be spread across a number of sites.
"This change will be managed through a phased process in consultation with employees and implemented over the next financial year until June 2014.
"Diageo will seek wherever possible to minimise the impact of any change."
Last year the company announced it would invest £1bn in Scotch whisky production over the next five years.
The investment plans include a new distillery in Speyside or the Highlands and new warehouses to store the Scotch.
Article Courtesy of the BBC News

21 Mar
2013
The Bowmore water programme
Bowmore, the first Islay Single Malt whisky, introduces The Bowmore Water Program, a global whisky and water education program featuring hand-crafted water dispensing units and staff trainings to key on-trade accounts around the world. The program has been designed as an educational tool for the trade – and ultimately consumers – that explains what the addition of water does to your Bowmore Single Malt Scotch Whisky and that this practice is not an aberration as some might think, but can bring about another level of sensory (smell, sight) and gustatory (taste) experiences when enjoying Islay's most balanced single malt. The Bowmore Water Program will roll out spring 2013 in the UK as well as North America and Asia.
The centerpieces of the Bowmore Water Program are the exquisitely hand-crafted water dispensing units, which exude the essence of the Bowmore Distillery and certain to be the showpiece of any bar. In each country, Bowmore will work with their distributors to identify key on-premise accounts that are supporters of Bowmore and determine which water dispenser they would receive (Tier I, II). Once an account has been confirmed, it will receive the Bowmore water dispenser, staff training and tasting and Bowmore's Water & Whisky Guide that describes in laymen's terms the chemical reaction and science behind adding water to whisky.
Cara Laing, Bowmore Marketing Manager, states: "We are very aware of the great debate surrounding the addition of water twhisky and wanted to tackle this head on. We've created these innovative and beautiful water dispensers in the hope that people will discover for themselves their favorite way to enjoy their Single Malt, whether with or without water!"
THE SCIENCE BEHIND WATER & WHISKY
Bowmore is widely acknowledged to be among the most perfectly balanced single malts in the world, striking just the right chord between smoky and sweet. The sometimes polarizing question is: why add water? Rachel Barrie, Master Blender at Morrison Bowmore Distillers along with Cara Laing, Bowmore Marketing Manager, worked together to develop the Bowmore Water Program, not to tell people how they should drink their whisky but to give whisky-lovers an option to explore and let them make up their own minds.
"Bowmore is an amazingly complex and harmonious whisky with an enigmatic flavor spectrum," says Rachel Barrie. "The spirit takes the drinker on a sensory adventure through sweetness and ocean spices with multiple layers of fruit and smoke. Adding water allows the drinker to unlock Bowmore's waves of flavor on a journey through its creation. The taste adventure is justbeginning."
Rachel Barrie, whose scientific background includes a 1st class Honours degree in Chemistry and a stint as a Research Scientist at the Scotch Whisky Research Institute, explains that when water is added to whisky, certain physicochemical changes occur in the glass some of which you can see, smell and taste:
? SEE. Viscimetric whorls develop. These are the eddies and threads created when fluids of different viscosities mix.
? SMELL. As the alcohol and water combine, energy is released and the temperature of the liquid is initially increased by about 2º C (an exothermic reaction), allowing the liquid to 'open up' and release more of the volatile aromas. By reducing the higher alcohol strength, it enables our sense of smell to work better and the aroma paradoxically seems to increase in intensity when first adding water.
? TASTE. The addition of water and the dropping of the alcohol strength creates a 'cooling' effect on the tongue and makes us more receptive to salty and fruity tastes, rather than sweet and spicy. Therefore, we discover different facets of Bowmore's taste profile than a dram taken neat.
By example, Rachel Barrie has developed tasting notes for Bowmore 12 Years Old, served neat and with 1 part water added to 2 parts whisky. Bowmore 12 Years Old is a complex and rewarding dram that combines Scottish barley, crystal clear water from the Laggan River, rich Islay peat (which both flavors the water and fires the distillery's kilns) and a 12-year maturation in Bowmore's legendary No. 1 Vaults.
Bowmore 12YO Neat
NOSE Honey, toffee, lemon
TONGUE A balance of honey, lemon, Islay peat
Bowmore 12 YO With Water
NOSE Fresh citrus and sea-salt, vanilla, almond and orange
TONGUE Peach, pineapple, lemon cream, brine, anise and hints of mint
Article Courtesy of the Press Release

Press Release
20 Mar
2013
George Osborne attacked over 'unfair' spirits duty rise as beer prices fall
Chancellor George Osborne's decision to increase duty on spirits such as Scotch whisky while cutting the price of beer undermines one of Britain's major industries, a leading trade organisation has warned.
The decision to add 53p to a litre bottle of spirits while cutting up to 3p off the price of a pint announced in today's budget is 'unfair and incomprehensible', the Scotch Whisky Association (SWA) said.
Price hikes of 5.3 per cent on Scotch whisky, which by law can only be made in Scotland, will lead to a reduction in sales and hit jobs and employment prospects, the SWA claims.
'This is an unfair and incomprehensible attack on the Scotch whisky industry in its domestic market, where it is a vital part of the Scottish and UK economy and where it supports many other businesses,' said SWA chief executive Gavin Hewitt
'It penalises responsible drinkers who like a dram rather than a pint. There is no justification for spirits being taxed more heavily than beer.'
He added: 'It hinders the government's ambitions for an export-led recovery.'
Wine and cider drinkers may also want to drown their sorrows before the budget changes kick in on Sunday, with prices set to increase by 10p and 2p respectively.
Beer drinkers can raise a glass however after the chancellor announced plans to cut a penny off the price of a pint was greeted with the biggest cheer of the day in the Commons.
Mr Osborne also announced plans to scrap the inflation-busting beer tax escalator, taking the total reduction on the price of a pint to 3p.
BUDGET 2013: Budget 2013: Cheaper beers but no cheers in George Osborne's gloomy statement
Brigid Simmonds, chief executive of the British Beer & Pub Association, disagreed with the SWA's claims and hailed the move as a 'boost to Britain's pubs at a time when it is most needed'.
'This is absolutely brilliant news, and it will make George Osborne the toast of Britain's pubs today,' she said.
She added: 'In also abolishing the beer tax escalator, the chancellor has ended a hugely damaging policy that would have made Britain's beer the most heavily taxed in Europe.
'This will protect thousands of jobs this year, and will allow us to create many new jobs in this brilliant industry.'
Campaign for Real Ale executive Mike Benner added it 'was a momentous day for Britain's beer drinkers'.
He added: 'Tonight [they will] be raising a glass to the chancellor for axing this damaging tax escalator and helping keep pub-going affordable for hard-pressed consumers.'
Meanwhile, there was good news for motorists after a 3p petrol duty rise was scrapped, while the income tax allowance will rise to £10,000 by April 2014.
A reduction in the price of beer was a small positive in an otherwise gloomy set of financial figures, with Britain's growth forecast for this year halved to just 0.6 per cent.
While the sluggish growth figures mean borrowing will be higher than expected – hitting £114billion this year compared to a previous forecast of £108billion.
Delivering his statement in the Commons, Mr Osborne said: 'This is a Budget for people who aspire to work hard and get on.'
Despite his positive outlook, his admission that economic recovery was taking 'longer than anyone hoped' was met with jeers from the Commons.
Mr Osborne said the government had cut the deficit by a third and helped businesses create 1.25million new jobs.
He added the budget for 'our aspiration nation' despite the public sector pay cap of 1 per cent extended by another year and Whitehall department budgets set to be cut by 1 per cent.
Article Courtesy of the Metro
19 Mar
2013
The Dalmore Launches Valour for Travel Retail
The Dalmore distillery has launched a new expression, The Dalmore Valour, for sale exclusively in travel retail.
The spirit is named after the Clan Mackenzie's act of bravery in 1263 when an ancestor of the Mackenzie Clan bravely saved King Alexander III from a charging stag. The grateful King granted the Mackenzies with a 'Royal' 12-pointer stag in their coat of arms. The Dalmore distillery was long owned by The Mackenzie family and every bottle of The Dalmore single malt whisky is adorned with this proud emblem, symbolising the distillery's royal pedigree.
A unique blend of three different cask finishes, The Dalmore Valour is matured initially in first fill ex-Bourbon casks from Boston and Clermont, USA and 30 year old Matusalem oloroso sherry butts from Gonzales Byass, Jerez de la Frontera in Spain. The spirit is then finessed in Port Pipes from Duoro Region, Portugal to create a truly unique Dalmore expression.
Launching with a high profile promotional display in Qatar Duty Free in March 2013, The Dalmore Valour and will be rolled out through travel retail outlets over the course of 2013, priced at £50, €55 or $72.
The Dalmore Master Distiller, Richard Paterson
"With a distinctive aroma consisting of scents of ripe plums, creamy caramel and citrus fruits on the nose and a wonderful palate that consists of oranges, pineapple and chocolate fudge, Valour is truly an exceptional malt.
Named in honour of the Dalmore's Mackenzie heritage, travel retail shoppers will be the first and only people to savour this latest Dalmore legend"
Travel Retail Director, Francesco Scaglione
"The Dalmore brand has had a stellar year in travel retail and we are proud to say that it is now the fastest growing malt in the channel*. This year, we will build on that momentum and continue to work closely with our partners to create innovative products and displays – the first of which is our new Dalmore Valour exclusive."
*IWSR 2011
Tasting Notes:
• Aroma: Ripe plums, citrus fruits and creamy caramel
• Palate: Candied orange, pineapple and chocolate fudge
• Finish: Black forest fruits, coconut, figs and marzipan
Article Courtesy of the Press Release

Press Release
19 Mar
2013
Springbank Society "Explore Campbeltown"
Springbank Distillery now have a tourism and events person, our very own Mairi Paterson. Mairi is presently working on an exciting new project which will we hope benefit all local businesses.
Springbank Distillery, Ardshiel Hotel and the Machrihanish Holiday Park have got together to set up a web page under the name www.explorecampbeltown.com which will create an online directory of all local businesses.
Currently there is no other site offering this type of information and we feel there is a great need to showcase all of the goods and services we have here to encourage people to come to this beautiful part of the world. Our intention is to include each and every business in the area to emphasise exactly what we have to offer as a community. We get between 4,000 and 5,000 visitors to the distillery each year and we are extremely keen for as many of those as possible to spend at least one night in Campbeltown/Kintyre and explore the area in general. At present, a significant number of our visitors are merely "day-trippers" and heading straight from Springbank to the ferries to Islay or Arran, but we would much prefer it if they would spend more time in our area.
They key to http://www.explorecampbeltown.com/ will be in the fact that it is designed to be 100% inclusive – we would like to include every independent shop, every hotel, every visitor attraction, every service, whether you are a hairdresser or a retail outlet, a town centre hotel or a rural campsite, a golf course or a surf school, car hire or bike hire. Most importantly, there will be absolutely no charge to anyone and no business will be given priority over any other. We intend to list each business alphabetically under relevant categories, with a link to your own website, if you have one, where you can then promote your own business to the visitors.
We are happy to pick up the cost involved with setting up, designing and hosting the website as part of our company's overall commitment to creating a brand to promote the area on a global basis.
We will be printing the www.explorecampbeltown.com web address on every carton of whisky, gin and rum we sell to 42 different countries to help spread the work and we will encourage every local business to either add stickers to their gifts and/or carrier bags or their packaging materials and to add the address and logo to their own websites and stationery which they may use.
All local companies will be treated equally with no single company being favoured over another so that even very small companies have the same opportunities as the larger ones who could perhaps afford to advertise on a bigger scale.
The directory will simply be a well-designed, easy to use website, with a listing for each business including phone number and a link to each business' website, if they have one. If they do not, Mairi will be on hand to advise them how they can a free, one page site which can be set up with the minimum of effort.
Springbank Distillery hosted an open evening a few weeks ago in the Tasting Room for representatives from local businesses and were overwhelmed with the positive response.
Mairi has been very busy since then, taking registration forms and details of what each business has to offer so that visitors to the town can have a look at the directory and see just what they can look forward to when they come to Campbeltown.
The website is in the process of being set up but to keep up to date with what's going on login to Facebook where you can go into explorecampbeltown.
Article Courtesy of the Press Release

Press Release
18 Mar
2013
Nickolls and Perks "Carn Mor Tasting with their Ambassador – Thursday 21st March 2013
We're really looking forward to this very special evening with Peter Mackay from the Scottish Liqueur Centre in Perth. They independently age single malt whiskies under the Càrn Mòr label. As well as promising to be a fascinating evening when you'll learn some secrets about how independent bottlers go about choosing their casks, we're delighted to confirm the following drams will be on taste:
Bowmore 2001 12yo Pedro Ximenez finish
Miltonduff 1998 15 yo Trockenbeerenauslese wine cask finish
Tamdhu 1991 22yo Trockenbeerenauslese wine cask finish
Bladnoch 1990 21yo
Girvan 1989 Bourbon Barrel 24 yo
Tamnavulin 1968 45 yo
Further information from David Gardener 01384 394518 Email: david@nickollsandperks.co.uk
Article Courtesy of the Press Release

Press Release
18 Mar
2013
Arkwrights Glengoyne Distillery Whisky Tasting – Thursday 18th April 2013
For our next tasting evening we will be welcoming along Alan Wardrop of Ian Mcaleod Distillers, who will be presenting whiskies from Glengoyne Distillery.
This extremely attractive distillery is uniquely situated right on the Highland line, and has some of the friendliest and most knowledgeable staff you could wish to meet. Slow distillation, no use of peat in the kilning process and, most unusually, a proportion of Golden Promise barley being included in the mash bill, produces wonderfully elegant yet flavoursome single malts. A good spread of ages and judicious cask selection add to this mix, resulting in a well crafted and varied range of expressions.
See below for all the details and if you have any queries just contact us.
Sláinte!
Fran and Ken
Arkwrights Whisky and Wines
www.whiskyandwines.com
Article Courtesy of the Press Release

Press Release
11 Mar
2013
Highland Park Launches Loki, The Second Release Of The Acclaimed Valhalla Collection
Introducing One of Norse Mythology's Most Treacherous and Mischievous Characters
The second release in The Valhalla Collection, a set of four unique whiskies, which take inspiration from the legendary Nordic gods of old, Loki continues the ground-breaking achievement that Thor began; a malt designed around the personality traits of an individual. The Orkney whisky maker has now created a unique flavor profile for Thor's follow up – Loki, a 15 Years Old Single Malt. While unquestionably Highland Park in style, the whisky mirrors the unpredictable, shape-shifting Loki character and as with the trickster god of fire himself, all is not as it seems.
There are classic traces of sweetness and spice, being matured in both traditional Spanish sherry casks as well as heavily peated casks, giving it a smoky punch, while retaining a light color. The finish is intriguing and complex. A chameleon-like whisky, constantly changing from appearance to finish, the expert palates who have savored Loki describe it as, "enigmatic" and "truly another whisky of the gods."
Gerry Tosh , Global Marketing Manager says, "Thor was the first of its kind, a true quality malt built around an individual's personality. This proved massively successful and it sold out globally. Loki will continue to take Highland Park and The Valhalla Collection into new territory.
While everyone will recognize the definite 'Highland Park-ness' of this 15 Years Old Single Malt, it will be the unexpected and surprisingly smoky dynamics that will really get palates excited and mouths talking. This is unlike any expression that has come before and will beguile and fascinate with its complexity and trickery. Remember, all is not as it seems."
Highland Park Loki, a limited edition Single Malt bottled at 48.7% ABV, comes housed in the same unique and award-winning wooden frame as Thor, echoing the fearsome contours of a traditional Viking long ship.
Loki will be available in select whisky retailers, at the Highland Park distillery and on the Highland Park website at a SRP of $249. For more information on Loki and the Valhalla Collection, visit www.highlandpark.co.uk.
Article Courtesy of the Press Release

Press Release
10 Mar
2013
Experts to sniff out top whisky
Master blenders from across the globe will meet in Scotland next month in search of the year's top whisky.
The Scotch Whisky Experience in Edinburgh, home to the world's largest collection at 3,384 bottles, will host the International Spirits Challenge for a second year.
A panel of 10 judges will taste 300 different whiskies over three days from April 22 to 25 at the attraction on the Royal Mile.
Some of Scotland's most revered whisky experts will be joined by master blenders - the name given to the professional who decides on a whisky's composition - from a host of other malt-loving nations.
Among those on the panel are Angela D'Orazio from Sweden's Mackmyra brand, Seiichi Koshimizu from Suntory in Japan and Randy Houston from Triple 8 in the US.
Whiskies are judged across the categories of taste, design, packaging and marketing in the awards, now in their 18th year.
International Spirits Challenge chairman John Ramsay, a former master blender at Famous Grouse producers Edrington, said: "After the success of last year's event, we are delighted to be bringing the competition back to Edinburgh for a second year."
Whisky is Scotland's largest international export and worth £4.2 billion to the economy, according to the Scotch Whisky Association.
The industry is one of few not to feel the pressure of the eurozone crisis thanks to booming demand from emerging markets in Latin America and Asia.
In the year to the end of June 2012, the value of Scotch whisky exports increased by 12%.
Article Courtesy of the Paisley Daily Express
07 Mar
2013
World of Patria unlocks whisky flavours with new Uisge Source range
World of Patria International (WOPI) will introduce Uisge Source, a range of waters tailor made to suit the whiskies they complement, at next month's IAADFS Duty Free Show of the Americas (Stand number: 1300).
The Uisge Source range, aimed at consumers who add a dash of water to their whisky, includes three waters sourced close to popular Scottish distilleries in Islay, the Highlands and Speyside. The brand was introduced to UK and European markets in 2012 and is available in travel retail through WOPI.
According to Uisge Source Managing Director Graeme Lindsay, formerly of The Glenmorangie Company and Whyte and Mackay, the same whisky can have a different taste depending on which water is added. He noted that some Scotch whisky distilleries used to sell small bottles of their water to loyal customers and host tastings next to the distillery's water supply where the best water for the whisky could be collected.
Uisge Source waters are said to be tailored to the whiskies they serve: "By using Uisge Source waters you are adding 'more of the same'. So no foreign elements are introduced that might distort the character of the whisky," Lindsay explained.
Lindsay added that each of the three Uisge Source waters has its own chemistry: the Ardilistry Spring on Islay produces a water with higher natural acidity through its filtration through peat, and is said to be the only bottled water from the Scottish Islands; Uisge Source water from St Colman's Well in Ross-shire has a high mineral content and is the most northerly bottled water from the Scottish Highlands while the Uisge Source from the Cairngorms Well in Moray, one of the highest natural mountain springs in Scotland, provides a very low mineral content water like that used by most of the Speyside distilleries.
Each of the waters is presented in 100ml glass bottles; for travel retail a box containing one bottle of each variety will be offered.
"Too often, little thought is given to the water added to a great dram," Lindsay added. "Often it is simply local tap water which in many parts of the world is very poor quality and adulterated with chemicals which taint the whisky. Whisky is a product steeped in heritage, provenance and ritual and this new product from Scotland gives connoisseurs the opportunity to enjoy the best of that heritage.
"The idea has really taken off and popularity is spreading fast. As well as the UK and Europe, we're now opening up markets in Taiwan, Canada and Macau. There is also considerable interest from whisky enthusiasts in North America," he said.
World of Patria International Managing Director Rob Nichols said: "We have an excellent portfolio of premium and super premium whiskies from across Scotland available to travel retail, so it makes perfect sense for us to additionally offer the perfect range of waters to go with the selection. We have already had great interest in the concept and are looking forward to introducing Uisge at the Orlando show this year."
Article Courtesy of Moodie Report
Moodie Report
05 Mar
2013
The Macallan Unveils The Flask in Oakley Inc. Design Collaboration
Luxury single malt, The Macallan, has partnered with sport and lifestyle brand Oakley, Inc. to produce a unique limited edition flask.
Entitled 'The Flask', this latest collaboration for the brand has an edgy, adventurous feel. It underlines both The Macallan's credentials in innovation whilst adhering to the brand's unwavering commitment to precision and detailed craftsmanship.
Made from stainless steel and carbon fibre the flask is durable in style as well as design. The Flask has gone through extraordinarily exacting regimens and processes to ensure the exquisite taste of the single malt when in The Flask is maintained.
Ken Grier, Director of Malts, Edrington Group, said: "Working with people like Colin Baden and Neil Ferrier at Oakley, Inc. has not only been a huge amount of fun, but together it has allowed us to defy convention and take a truly design-driven approach in crafting this beautiful, yet high octane Flask. The Macallan is known for its unique collaborations and this latest output continues our commitment to the high quality creativity now inherent within the brand."
The edgy and adventurous theme to this collaboration is brought to life here in *The Flask: Test Sessions video
Neil Ferrier of Oakley, Inc., said: "I love the story behind The Flask as it was born in a very fitting environment. When Ken visited Oakley's design bunker, he brought us some great Macallan so we granted him access! After a few drams, he asked Colin Baden, Oakley's CEO, about making a convention-defying hip flask, and The Macallan; The Flask was born. The challenges along the way were a ton of fun and result is a highly-engineered piece of hardware that is dedicated to purpose beyond reason."
The Flask, which can hold 20cl, is extremely robust in functionality with every potential circumstance and environment of usage considered. The inner flask is laser welded, wrapped in carbon fibre composite and clad in aerospace grade aluminium.
Limited stock of 'The Flask' will be available to purchase via www.themacallan.com
Article Courtesy of the Press Release

Press Release
03 Mar
2013
Whisky industry concern over proposed water limit
Limiting the amount of water available for use by whisky distilleries could harm long-term plans, according to industry representatives.
The limit, agreed in legislation passed at the Scottish Parliament, prevents firms from taking more than ten million litres of water each day.
The Scotch Whisky Association said not being exempt could limit its expansion.
Deputy First Minister Nicola Sturgeon has promised discussions over the issue.
The Water Resources (Scotland) Bill includes plans to extend Scottish Water's functions, to enable water shortage orders to be made and to protect the public sewerage network from harm.
Scotch Whisky Association chief executive Gavin Hewitt said: "We are disappointed that the Scottish government did not include the Scotch Whisky industry among the list of exempted activities when drafting the Bill, given its economic importance to Scotland.
'Long-term concerns'
"Even more unfortunately, we were not consulted on the issue.
"Although no distillery currently uses the proposed daily limit for water extraction, the industry does have long-term concerns about how the legislation could be used in the future."
The concern was also raised by Conservatives who called for assurances during the passage of the Water Resources Bill in Parliament.
Highlands and Islands Tory MSP Mary Scanlon said: "The distilling process sees two-thirds of the water abstracted returned to source within two to 12 hours of removal.
"So I would like the Scottish government to consider the measurement being the water consumed rather than the water abstracted, which would overcome the concerns of the industry."
Responding to her concern, Ms Sturgeon said: "We will continue to discuss with the whisky industry and other stakeholders those details as we develop regulations.
"I will reflect on the point that Mary Scanlon has made."
Article Courtesy of the BBC News

01 Mar
2013
World first as Glenmorangie fans design their own dram
In a world first Glenmorangie is asking its own fans to create their own perfect dram.
It means those who enjoy Scotland's favourite malt will be able to vote online on the taste, design and launch of a new whisky.
The Cask Masters online programme is launched today (1 March) and will run for 18 months. Anyone can take part by logging on to www.glenmorangie.com/caskmasters
Last year Glenmorangie was crowned Distiller of the Year at the IWSC Awards, and this initiative is a new way of interacting with the brand's enthusiasts.
Whisky fans from across the world will help develop a new type of Glenmorangie single malt, to be released in late 2014.
In order to speed up the process Glenmorangie has pre-selected three whiskies that are nearing the end of their maturation at their Highland distillery. But it's up to fans to register their opinions online and determine the outcome of the new whisky.
The programme is being overseen by Glenmorangie's award winning arbiter of taste, Dr Bill Lumsden.
Dr Bill Lumsden, Director of Distilling and Whisky Creation at the Glenmorangie Company explained: "For years we have listened to fans and their views and noted reactions to the whiskies we have introduced.
"Now it's their turn to have a go and I hope as many whisky aficionados as possible will be able to join in and enjoy each stage of this exciting journey...who knows where we will end up!"
Glenmorangie enthusiasts will be part of the five stage process and be able to:
1. Vote for their favourite of the three whiskies.
2. Get involved in the naming of the new whisky.
3. Decide what direction the packaging and design will take.
4. Attend the photo-shoot.
5. Get involved in the location, choice of, and attendance at the global launch.
At each stage participants will also be able to win prestigious prizes including a VIP visit to the Glenmorangie Distillery and a trip to the country of origin of the oak cask in which the winning whisky has been matured.
Dr Lumsden has already revealed his selection of the three whiskies to a group of leading international whisky experts, who have all independently offered their initial views on his selection. Their taste notes are available on the Glenmorangie Cask Masters website to guide participants.
At the later stages of the programme design and photography experts will also offer their thoughts on the naming, packaging and launch suggestions received from Glenmorangie whisky fans.
Michael Atkinson, Marketing Manager for Glenmorangie added: "A few years ago this would have been impossible to organise, but with crowd sourcing in vogue, and the technology now making it more accessible, Cask Masters allows us to harness the enthusiasm and passion of our Glenmorangie aficionados."
Article Courtesy of the Press Release

Press Release
01 Mar
2013
NEW RELEASE Duncan Taylor Smokin' Blended Scotch Whisky 40%
Whisky as it used to be. Smokin' Scotch whisky perfectly balances robust peat smoke flavours and smooth notes of toffee and vanilla. Paying homage to the legendary blends of yesteryear, renowned for their rich flavor and uncompromising character, Smokin' is a full bodied experience to be savored.
Tasting Notes
Colour: Pale gold
Nose: Initial punch of peat smoke, citrus spice and zesty lemon peel, moving on to caramelised sugar, toasted oak and clotted cream. Vanilla and sandalwood to finish
Taste: Smokey with fresh cream, butter biscuits and toffee. Hint of tobacco and leather
Finish: Clean, dry and malty
Comment: Churchill would have approved
Available at: www.singlemaltsdirect.com
Article Courtesy of the Press Release

Press Release
January 2013 Scotch Whisky News
28 Feb
2013
Thousands of litres of whisky 'accidentally' flushed from plant
Thousands of litres of whisky were flushed into the public sewage system at a bottling plant.
The incident occurred at the Chivas Brothers facility in West Dunbartonshire on Tuesday.
Scotch whisky and gin manufacture Chivas, which is owned by Pernod Ricard, said the flushing of the spirit at the Kilmalid site in Dumbarton's Stirling Road was as "accident".
Scottish Water is monitoring the output after workers detected the whisky in the sewage system after the incident.
Chivas said the spirit was "bulk whisky" which would have been used for blending to make some of its brands, such as Ballantine's and Chivas Regal.
A spokeswoman for the firm said: "We are currently investigating an accidental loss on February 26 at our Dumbarton site when some spirit was released to the local waste water treatment plant operated by Scottish Water.
"We have informed Scottish Water and all other local authorities."
The drinks company also stated that none of the whisky had entered into the River Leven or any other local water sources.
A Scottish Water spokesman said: "Staff at our waste water treatment works were already aware of a problem and were working to identify the source, when contacted by Chivas Brothers.
"We are continuing to closely monitor our Dumbarton Waste Water Treatment Works to ensure treatment has not been compromised."
Article Courtesy of STV
28 Feb
2013
Bruichladdich doubles production under Remy plans
Bruichladdich has confirmed plans to double its Scotch whisky production to meet distribution targets set by new owner Rémy Cointreau.
The Islay distillery will increase its annual output from 750,000 litres to 1.5 million litres by moving to a 24-hour production for five days a week.
The distillery, which is currently building a third warehouse, has plans for a fourth in the pipeline.
"There's no doubt we have moved into a rather different universe with the takeover by Rémy," a spokesman from the distillery said. "It has a far, far larger distribution network which they're asking us to supply."
He added that the increase in output, which will be phased in gradually, would not impact Bruichladdich's production processes. "We're absolutely determined to maintain our traditional methods of production," he insisted. "We can move to this 1.5m without making any changes at the plant."
Rémy Cointreau acquired the Islay distillery in July 2012 for £58m. At the time critics questioned whether Bruichladdich would manage to retain its independent reputation under a major drinks group.
Article Courtesy of The Spirits Business

27 Feb
2013
Whisky firm Edrington Group fined over warehouse fire
The maker of Famous Grouse has been fined £40,000 for safety failures that forced two workers to flee a warehouse fire.
The blaze at the Edrington Group's site in Glasgow in June 2011 happened when liquid hit a light fitting as casks were being filled with whisky.
A Health and Safety Executive probe found lights should not have been used in a flammable atmosphere.
The company was fined after admitting breaking health and safety laws.
Glasgow Sheriff Court heard that two men were using flexible hoses on a metal walkway at the warehouse in Great Western Road in order to fill 450-litre casks with whisky that was being pumped from steel vats.
One of them said he felt his hose relax before a jet of whisky shot up towards a light fitting above a forklift truck.
It hit the fitting and a flame engulfed the cage of the truck, the HSE said.
Both men ran towards the stairs at the back of the warehouse, setting off the fire alarm as they left.
The whole site was then evacuated.
'Extremely lucky'
It was later discovered that 70 of the 110 sprinkler heads in the warehouse were activated.
HSE inspector David Stephen said the two workers were "extremely lucky" not to have been killed or seriously injured.
"More than 17,500 litres of whisky were lost during the incident," he added.
"This volume of flammable liquid could have served as fuel for a significant fire, which would have caused major disruption and damage to the environment.
"Had the company taken the simple steps of checking the light fittings were suitable for use in a flammable atmosphere and that the equipment used to transfer the alcohol was fit for purpose, this incident could have been prevented.
"Since the incident, the filling of whisky casks in this way at the premises has been made redundant with the introduction of a new tank facility in October 2011."
Article Courtesy of the BBC News

26 Feb
2013
The Scotch Whisky Industry Review 2012
The 2012 edition of "The Scotch Whisky Industry Review" is available to purchase online. The Review is published annually and, having started life in 1976, is now in its 35th edition. Every edition of the Review has been compiled by the recognised leading independent industry analyst Alan Gray.
It is the single most authoritative source of business information on the Whisky industry – incredibly comprehensive in its coverage and painstaking in the accuracy of its research. The Review contains 284 pages packed with fascinating and useful information and is used as a reference by all the leading players in the Scotch Whisky industry.
In summary, the "Review" includes detailed information covering the following main areas;
Industry Section

Includes consumption by geographic market, production, stocks, production costs and profit margins

Company Section

Includes individual company information, list of distilleries and ownership, distillery capacity utilisation, new developments and visitor numbers

Case Sales

Includes the most comprehensive Annual case sale estimate available anywhere by Whisky type ( blend & malt) and individual Whisky brand. Includes 10 year records (up to 20

11

) for major brands

List of Bottled brands

Includes list of bottled brands sold in the UK and overseas by company and category - an unrivalled list categorised by standard & deluxe blends and malts. See the brands owned by the different companies at a glance!

Sponsorships

Includes information on current sponsorship deals in the Scotch Whisky industry

Appendices

Includes detailed figures on excise duty and revenue, broking prices, retail prices of leading brands and estimated consumer expenditure
In keeping with its strategy to be the leading online source of Scotch Whisky information, ScotchWhisky.net has partnered with Alan Gray to make the purchase of "The Scotch Whisky Industry Review" readily accessible via the internet to a worldwide audience.
As Alan states "No Scotch Whisky industry professional, supplier, specialist retailer or scotch whisky connoisseur should be without a copy!"
For more information please click here
Article Courtesy of The Scotch Whisky Industry Review
T.S.W.I.R.
25 Feb
2013
France and the US are the leading Scotch whisky importers, says Vinexpo
France and the US will retain their top spots in the world ranking of leading Scotch whisky importers over the next five years, forecasts Vinexpo, the wine and spirits exhibition.
At the same time, some speedy newcomers are moving up the tables quickly, according to a study commissioned by Vinexpo from Wine and Spirits Research (IWSR).
Supremely ahead for the amount of Scotch whisky they drink, the French are expected to consume nearly 174 million bottles (14.5 million cases) this year.
That is almost double the US, ranked number two, which should see imports reach nearly 102 million bottles (8.5 million cases).
The UK is in third position with consumption expected to be just under 72 million bottles (6 million cases) this year. However, consumption is likely to fall by as much as 3% by 2016. That will push the UK into fourth position among Scotch drinkers worldwide.
Leaping into number three spot by 2016 is Russia. Consumption is expected to rise swiftly from more than 56 million bottles (4.7 million cases) this year to nearly 78 million bottles (6.5 million cases) in five years' time.
By 2016, the UK will be pushed into fourth place while Brazil, also a fast grower, will drop from number 4 to number 5. Nonetheless, Brazil will be consuming nearly 66 million bottles of whisky (5.5 million cases) by 2016.
Spain will drop out of the top five in line with steadily falling consumption of Scotch whisky over the years. By 2016 consumption in Spain is forecast to drop almost half to just over 48 million bottles (4 million cases) compared with nearly 96 million bottles (8 million cases) ten years previously.
Article Courtesy of FoodBev.com

FoodBev.com
22 Feb
2013
Limited edition blend for Scotch Whisky Experience silver jubilee
Edinburgh's Scotch Whisky Experience is to release a limited edition blend to mark its 25th anniversary this year.
The blend will be made using 25-year-old single malt whiskies from across Scotland and only 250 bottles will be released in early summer.
The attraction is also creating an alumni group to record the memories of former team members and the history of The Scotch Whisky Experience, and will hold a reception for them this summer.
Over five million people have visited The Scotch Whisky Experience at the top of Royal Mile since it opened in May 1988, and over one million bottles of whisky have been sold.
A 2009 multi-million pound refurbishment also saw it become home to the world's largest collection of scotch whisky, with 3,384 bottles displayed in a glass and marble vault.
Since it retail space reopened in March 2012, following a £1m renovation, sales have reached record levels, especially from its expanded rare and limited edition malts range, the venue said.
"Having started working at The Scotch Whisky Experience as a tour guide, it gives me great pleasure to now be celebrating its silver anniversary. Over the past 25 years, there have been significant changes in the whisky industry, including new markets in emerging economies and the growth of whisky tourism.
"As an attraction, we have continued to adapt and evolve to these changes, to maintain our position at the forefront of Whisky tourism in Scotland," said Susan Morrison, director and general manager of The Scotch Whisky Experience.
"We pride ourselves on the time and investment we make in the people that work with us, so we feel that it is important that employees both past and present share in our celebrations this year. Our call for members to join our new alumni group will give us the chance to chart the evolution of The Scotch Whisky Experience, as well as catching up over a dram or two."
Article Courtesy of Harpers

21 Feb
2013
The Glenrothes Distillery Announces 2013 US Vintage Maker Competition
The Glenrothes is delighted to announce today's launch of the 2013 US Vintage Maker Competition. Following the huge success of the 2012 competition, this year's contest will result in two grand prize winners from the USA. Each grand prize winner will receive a trip for him/her and one guest to Speyside, Scotland. The Glenrothes "Vintage Makers" will spend a week mastering single malt production, culminating in the creation of a new Glenrothes Vintage.
From February 12, 2013 until April 12, 2013, entrants can submit an essay of 750 characters or less and an image response to the prompt, "Share a Vintage Moment with The Glenrothes." Winning entries will be selected based on the best representation of how The Glenrothes Distillery defines a Vintage Moment: A perfect combination of time, place, people and/or occasion when everything comes together to create a moment that will stay in the memory forever.
Grand prize winners will travel to The Glenrothes this summer and be hosted by Ronnie Cox, Keeper of the Quaich and The Glenrothes Brand Heritage Director. Upon arriving, they will learn the time-honored art of whisky making and skills that have been passed down from generation to generation. The winners will spend time working at each stage of the process: testing the purity of the water source at the distillery's two springs; milling the malt to achieve the golden proportions of husk, grits and flour; mashing to ensure maximum extraction of sugars in the wort; adding yeast to the washbacks and overseeing fermentation; and slowly and carefully distilling new make spirit in our tall copper pot stills.
The "Vintage Makers" will nose single malt from maturing casks to assess whether the contents are true of all The Glenrothes whiskies and exceptional in quality and maturity; only the top 3% of the distillery's output is bottled as The Glenrothes Speyside Single Malt Whisky. Finally, the "Vintage Makers" will have the opportunity to create a new Vintage of The Glenrothes, to be released when it reaches the peak of maturity. As an added bonus each of the lucky guests will produce their own selection of The Glenrothes – labeled with their own hand-written tasting notes.
When their work is done, our Vintage Makers will enjoy the simple pleasures that Speyside has to offer; a spot of fishing, dining in the local Highland restaurants or perhaps a picnic in the hills surrounding the distillery. The "Vintage Makers" will stay in Rothes House, a private home belonging to the family that owns The Glenrothes.
The Glenrothes is now available throughout the U.S. through Anchor Distilling. For more information on The Glenrothes or the 2013 US Vintage Maker Competition, please visit www.theglenrothes.com.
Article Courtesy of the Press Release

Press Release
20 Feb
2013
Glenfarclas unveils rare Port cask whisky
Glenfarclas has taken a step away from its famously Sherry-led style with the launch of a 31-year-old single Port cask expression.
Laid down in 1981, the whisky was bottled in July 2012 at 42.8% abv, with the 480 bottles being made exclusively available to the UK and French markets at an RRP of £280 per bottle.
Explaining this stylistic diversion, George Grant, Glenfarclas' sales director and sixth generation of the Speyside distillery's owning family, noted: "The traditional Glenfarclas style is achieved using predominantly first and second fill Sherry casks for maturation.
"While we never do any kind of wood finish, we do have some casks in our warehouses which don't quite fit in with our typical house style but have their own distinctive character. Some though, like this exceptional Port cask, are just too good to pass by!"
As for what buyers of the Port cask expression can expect, Grant outlined the whisky's "very sweet and fruity nose, evolving into some exotic notes, like beeswax, cloves, ginger and exotic woods." With "exotic fruits, wood and spicy notes" on the palate, he described the finish as "very, very long!"
The release follows Glenfarclas' 43-year-old Cognac cask, which was launched last year. 2012 also saw the distillery fill two old Hine Cognac casks as part of an informal exchange project between the two houses, with a plan to release the result in 16 years time.
Article Courtesy of the The Drinks Business

18 Feb
2013
Jura Launches 1977 Vintage
Jura distillery has added a new, limited-edition vintage expression to its collection – the 1977.
This uniquely crafted vintage takes its name from the Gaelic word for the Yew tree, which once sprawled across the entire island of Jura. Translated as 'Juar', the Yew tree has long been associated with immortality and regeneration, with some even believing it gives access to the "otherworld".
Filled to cask in 1977, this vintage release was originally matured in three first fill bourbon casks before being finished in a ruby port pipe for 12 months. Each of the 498 bottles has absorbed the character and colour that only comes with careful aging.
The 1977 vintage is presented in a solid oak box, with each box hand-crafted individually by Scottish-based cabinet maker, John Galvin.
The whisky is sweet, fruity and warm amber in colour. The nose provides subtle notes of peach melba, creamy caramel, ripe sweet pineapple and maple syrup, giving way to the tastes of crushed pear, passion fruit, kiwi and sweet apricots.
Jura 1977 is bottled at 46% ABV and available to buy from www.jurawhisky.com or from specialist whisky retailers priced at £600 RRP.
Jura distillery manager, Willie Cochrane:
"The 1977 is a perfect mix of amber and gold shades – a quality which is only achieved through age. Complemented by an enticing scent and soft sweet flavours, Juar is a real treat for all whisky lovers.
"Each of the lucky 498 buyers of this whisky will also receive their own hand-carved box, each one a testament to the craft and expertise of John Galvin. We're proud to collaborate with someone who takes craft as seriously as we do."
Article Courtesy of the Press Release

Press Release
15 Feb
2013
Meadowside Blending Co.Ltd. Announce New UK Distribution Partnership With Forth Wines
Meadowside Blending Co.Ltd. announce new UK distribution partnership with Forth Wines Ltd.
Glasgow based Independent bottlers Meadowside Blending, are delighted to announce Forth Wines Ltd will be their sole distributor for their Maltman single cask, single malt whiskies in the United Kingdom.
Forth's Managing Director George Thomson is happy with this addition to their extensive portfolio.
Meadowside Blendings Director Andrew Hart said "We are delighted to have Forth Wines supporting us and look forward to a successful partnership. Previously The Maltman has been sold exclusively for export, and we have been looking at the home market for some time. Working with a company of the high calibre of Forth Wines gives us a perfect platform to launch our brand in the UK,and we are confident it will be well received."
The initial UK launch will include bottlings such as:
Mortlach 14 year old bourbon cask 46%
Benriness 18 year old bourbon cask 46%
Bunnahabhain 10 year old sherry cask 46%
Tobermory 16 year old sherry cask 46%
Dalmore 15 year old sherry finish 46%
Glentauchers 15 year old bourbon cask 46%
For sales inquiries, please contact Claire Cameron on claire.cameron@forthwines.com direct dial no 01577 866004
Article Courtesy of the Press Release

Press Release
14 Feb
2013
Chivas Toasts Chivalry This 'Valentine's Day'
Chivas Deluxe Scotch Whisky is rejuvenating Valentine's Day this year, calling all men to embrace Chivalry as a celebration of gentlemanly behaviour.
Brothers John and James Chivas founded Chivas Brothers grocery store in 1801, satisfying the fine tastes of the
aristocracy of the Highlands with luxurious products and unparalleled service. Among their noble following, Queen
Victoria, took heed of their chivalrous approach, and awarded the Chivas brothers the Royal Warrant.
In the same chivalrous spirit, Chivas plans to reignite classically gallant, honourable acts this year, with a few simple steps this Valentine's Day.
A Guide to Chivalry on Valentine's Day
1. The Tell-tale act of chivalry, the 'Classic': Holding open the door for your female acquaintance
2. Don't let technology rule: Turn off your phone or any other device that could interrupt your date
3. Stand up for what you believe in: Always offer your seat up to a woman or anyone who might have a greater need
for it
4. Wrapped up warm: Offer your coat or jacket to the ladies
5. Raindrops shouldn't fall on your head: carry the umbrella, not always easy, but always chivalrous
6. Ladies first: Always serve any female guests first, whether it be food or drink
7. Be interested: Listen, ask questions, show an interest in what she has to say!
8. The cliché: Flowers. Always flowers!
For 14th February, toast to the resurgence of chivalry with Chivas 12 Year Old in any number of ways, as below.
Enjoy Chivas 12 Year Old either on the rocks for a sophisticated balanced dram, or as a simple cocktail:
The Little Green Apple:
Named after a Frank Sinatra song, this delicious and simple cocktail is perfect for those who love a refreshing whisky, or
for those new to the taste of Scotch.
Ingredients:
50ml Chivas 12 Year Old
10ml Monin Cinnamon Syrup
Top up with Apple Juice
Serve over ice
Method: blend ingredients together in tumbler glass
Chivas Peach and Green Tea:
A long drink, blending Chivas 12 Year Old with green tea – a superb blend of eastern flavours meeting the distinctive
floral whisky characteristics.
Ingredients:
35ml Chivas 12
5ml lemon juice
5ml vanilla syrup
5-6 Mint leaves
Method: blend ingredients together in a highball tumbler glass then top up with firefly peach and green tea, serve over
ice and garnish with a mint leaf
Chivas Regal is a truly global brand, selling 4.6 million 9L cases annually in more than 150 countries across Europe, Asia Pacific and Americas. In the UK, Chivas is one of Pernod Ricard's key brands. It was at the beginning of the 19th Century that blending pioneers James and John Chivas, two brothers from Aberdeen in Scotland, first combined different matured whiskies to create a unique 'house' character, setting a standard that would be handed down through the generations. In 1909, Chivas Brothers made distilling history by creating the world's first luxury Scotch whisky – a 25 year old blend called Chivas Regal. This sophisticated whisky took America by storm and went on to become an international legend. Today, the Chivas Regal range is the epitome of style, substance and exclusivity and includes Chivas Regal 12, 18 and 25 Year Old.
For further information:
Chivas UK Facebook page (facebook.com/chivasregaluk).
Chivas Brothers is the Scotch whisky and premium gin business of Pernod Ricard – the world's co-leader in wine and
spirits. Chivas Brothers is the global leader in luxury Scotch whisky and premium gin. Its portfolio includes Chivas Regal, Ballantine's, Beefeater Gin, The Glenlivet, Royal Salute, Aberlour, Plymouth Gin, Longmorn, Scapa, 100 Pipers, ClanCampbell, Something Special and Passport.
Article Courtesy of the Press Release

Press Release
13 Feb
2013
Bowmore launches its first Twitter whisky tasting with Yomego
Bowmore is running its first Twitter whisky tasting tonight, with 14 industry journalists and bloggers from across the UK chosen via a competition to take part.
Working with Yomego, the campaign saw every taster involved receiving a 'whisky bouquet' through the post – a special parcel containing the four whiskies being sampled, along with a Valentine's card from Bowmore.
Joe Hughes, digital marketing manager at Morrison Bowmore Distillers, said: "Many whisky fans will tell you that they don't just like whisky – they love it – which made Valentine's eve the perfect time to run our tasting.
"We know we have very loyal fans that enjoy learning more about Bowmore – and on top of that, we've been able to give them something back, with the preview of one of our 'under development' secret expressions. The hashtag means that anyone interested can follow and learn more too – and even join in with a wee dram at home if they have a bottle to hand!"
Taking place tonight at 7pm, Bowmore master blender Rachel Barrie (@theLadyBlender) will provide instructions and images through the hashtag #LoveBowmore.
Steve Richards, MD at Yomego, said: "This is a playful way to use Twitter – a fun way for bloggers to get closer to the brand, those behind it and each other. The involvement of Rachel Barrie is a great coup and fans even get an unprecedented 'social tour' of the newest blend."
Article Courtesy of The Drum
13 Feb
2013
Whisky production returns to Highland distillery after 130 years
Whisky production has returned to a Highland town after more than a century.
The Wolfburn Distillery in Thurso has started the process of bringing a new malt to the market.
Whisky production ceased in the town over 130 years ago after the distillery there fell into ruin.
Now just feet away from the old Wolfburn site the stills are being fired up again.
The first bottles of malt whisky are not due for sale for three years.
Article Courtesy of STV
13 Feb
2013
Scotch and vodka show Latin America promise
Headline spirits sales for Latin America are underwhelming. Consumption is smaller today than in 2006 and will only expand by 6% on 2011 levels up to 2016, to 2.24bn litres, says Euromonitor International, whose regional figures include Mexico.
However, falling consumption of native spirits, such as cachaça in Brazil and Tequila in Mexico, conceals premium opportunities. "Scotch and vodka are showing a lot of promise," says Diageo's president for Latin America and the Caribbean, Randy Millian.
Diageo saw net sales rise by 16% in Latin America & Caribbean in the first quarter of its new fiscal year, and that's no fluke. The drinks giant has posted double-digit growth in the region for five of the last six quarters, according to Sanford Bernstein analysts.
Millian says Latin America was the largest regional contributor to Diageo's global sales growth on Scotch whisky in its last fiscal year. "In Paraguay, Uruguay and Brazil, over 60% of [our] net sales growth was driven by Scotch, primarily Johnnie Walker and Old Parr," says Millian. He names Venezuela, Colombia and Mexico as other strong-performing countries in this increasingly dynamic region.
In calendar 2011, Scotch exports to Central and South America increased by 38% in value to £489m, according to the Scotch Whisky Association (SWA). Brazil was the ninth largest single export market for Scotch globally, worth £99m.
"The most exciting market at present is Brazil," explains Mark Thorne, regional director for Pernod Ricard-owned Chivas Brothers. "Brazilian consumers are increasingly looking to trade up with an interest for international brands."
Expect to see more marketing around Chivas 18 and 25 Year Old blends in Brazil, and across a Latin America region that is traditionally known for 12-year-old whiskies.
Native Scotch
However, premium international brands must still mix with Scotch blends that have "gone native" to the extent that many outsiders either don't know them or have forgotten they existed. Names like Passport, Old Parr and Haig are not just gathering dust on bar shelves, while Pernod's Something Special has enjoyed a decade of success via its collaborative 'Enbotellarte' competition with regional artists.
To emphasise the point, Diageo reported Buchanan's net sales up 25% in its last full year, with Johnnie Walker up 12%. In Brazil, Pernod reported Chivas sales up 10% and Passport up at more than double this rate.
Article Courtesy of The Spirits Business

The Spirits Business
12 Feb
2013
Speyburn 25yo "25 years by the Granty Burn"
More good news, you should now be able to find the brand new Speyburn 25 Year Old in the shops. Laid down in American oak Fino sherry and ex-bourbon casks, this is a whisky that slowly matures by the banks of the Granty Burn – for a quarter of a century. All those years mean the taste is rounded and smooth. And you'll notice it's got a longer, more warming finish than you might expect. Our oldest, most exclusive Speyburn now comes in a beautiful silver wooden box with two exclusive tasting cups. Every box is a one-off signed personally by Distillery Manager Bobby Anderson.
Article Courtesy of the Press Release

Press Release
11 Feb
2013
Addingham pub holds whisky tasting
A dram or four of the hard stuff awaits Scotch whisky aficionados in the tap room at The Fleece in Addingham. Following the success of an inaugural gin sampling experience at the Main Street inn and restaurant, bar manager Graham Taylor is holding a whisky tasting evening featuring four of Scotland's best, paired with food to match. Toastmaster Graham will be joined by the whisky ambassador from Bowmore Islay single malt, one of the oldest brands in Scotland. The tasting is on Thursday, February 28.
Article Courtesy of Bradford Telegraph and Argus

Bradford Telegraph and Argus
08 Feb
2013
Whisky industry career is tasty prospect
Given that he didn't particularly enjoy his first taste of whisky, it's interesting to watch Dr Bill Lumsden in action.
He is the global brand ambassador for Glenmorangie, Ardbeg and Glen Moray.
Today he's addressing a group, some of whom have come half way round the world, to hear him discuss his latest 'baby' – Glenmorangie Ealanta, the fourth from its award-winning Private Edition Range.
Article Courtesy of The Press and Journal

The Press and Journal
07 Feb
2013
Study claims minimum pricing cuts alcohol-related deaths
Research published in Canada has linked the introduction of minimum pricing with a significant drop in alcohol-related deaths.
The findings, in the journal Addiction, were welcomed by health campaigners.
But they have been criticised as "misleading and inaccurate" by the drinks industry, which has questioned the statistical basis of the research.
The Scottish government's plans to introduce a minimum unit price are on hold pending a court challenge.
The researchers said a rise in alcohol prices of 10% had led to a 32% reduction in alcohol-related deaths.
The Canadian study was carried out between 2002 and 2009 in British Columbia, where alcohol could only be sold directly to the public in government-owned stores.
It suggests that, when drink prices rose, there were "immediate, substantial and significant reductions" in deaths wholly attributable to alcohol abuse.
The authors suggest increasing the price of cheaper drinks reduces the consumption of heavier drinkers who prefer them.
Dr Tim Stockwell, director of the University of Victoria's Centre for Addictions Research of British Columbia, said: "This study adds to the scientific evidence that, despite popular opinion to the contrary, even the heaviest drinkers reduce their consumption when minimum alcohol prices increase.
"It is hard otherwise to explain the significant changes in alcohol-related deaths observed in British Columbia."
During the period under study, the law changed in Canada, permitting private liquor stores to open.
A 10% growth in the number of such outlets was associated with an increase (2%) in all alcohol-related deaths.
This is the first study to highlight the effects on mortality of alcohol minimum pricing, although the Scottish government has used previous research from the University of Sheffield to claim consumption of alcohol would be reduced if prices rose.
'Saving lives'
It has been welcomed by health campaigners. Alcohol Focus Scotland (AFS) said it was further evidence that minimum pricing will be effective.
Dr Evelyn Gillan, chief executive, said: "This is important evidence which shows that minimum pricing is saving lives in Canada and will save lives in Scotland.
"Increasing the price of the cheapest alcohol through minimum pricing has the biggest effect on the heaviest drinkers who are most at risk of alcohol-related illness and death."
She criticised drinks organisations who have challenged the Scottish government's plans to introduce minimum pricing.
MSPs passed The Alcohol (Minimum Pricing) (Scotland) Act 2012 in May 2012, setting a 50p minimum unit price as part of an effort to tackle alcohol misuse.
However, the government has undertaken not to introduce the measures until after the conclusion of the challenge brought at the Court of Session in Edinburgh by the Scotch Whisky Association (SWA) and several European wine and spirits bodies.
They argue that it breaches EU trade rules.
A consultation in England and Wales for a 45p minimum unit price ended on 6 February and similar plans are being considered by the Northern Ireland government.
An SWA statement said the experience of Canada, where there is no minimum unit pricing, was different to that in Scotland.
It added: "The claims made by the Canadian researchers are not supported by official data from Statistics Canada which show alcohol-related deaths in British Colombia rising by 9% in the period, not falling as claimed.
"This compares with a drop in alcohol-related deaths in Scotland of 25% since a peak in 2003. This would suggest measures already in place in Scotland to tackle alcohol misuse are working."
The chief executive of the Wine and Spirits Association (WSA), Miles Beale, also attacked the research.
"There is not a simple link between alcohol price and harm," he said.
"Consumption is more likely to be related to cultural factors and that the increase in price does not impact on these significantly. The industry is committed to tackling problem drinking and its consequences, but minimum unit pricing will not do that."
Article Courtesy of the BBC News

06 Feb
2013
Last 100 tickets released for whisky festival
With just 100 days until the Spirit of Stirling Whisky Festival in Stirling, organisers have put the last 100 tickets up for sale.
The festival takes place in the Albert Halls on Saturday May 11, and the final tickets are available via www.spiritofstirling.com.
The 2012 festival was a sellout and organisers are confident this year's event will prove just as popular.
The Spirit of Stirling Whisky Festival is organised by local businessmen Cameron McCann and Iain McMenemy.
Cameron said: "We are delighted with the success of the festival. After last year's event, we received many emails and messages asking to buy tickets for the 2013 Festival straight away. We launched 50 Early Bird tickets which sold out in just over a week. We have made available the final 100 tickets on our website and these are available on a first come first served basis.
"So far this year we have sold tickets to London, Lancashire, Yorkshire and even further afield including Sweden and the United States. That's whisky devotion for you!
"As for the exhibitors this year, many of the major well-known whisky brands will be there including Laphraiog, Macallan, Highland Park and of course, our closest local distillery brands including Deanston, Glengoyne, and Arran.
Co-organiser Iain McMenemy added: "Our aim is to grow the Spirit of Stirling brand so people will learn more about our historical city and travel here for a few days to enjoy the many attractions on offer."
Article Courtesy of the Stirling Observer

04 Feb
2013
Johnnie Walker House in Beijing Opens: Second Luxury Whiskey Center in China
Popular Scottish Whiskey label, Johnnie Walker has recently opened a swank whiskey center in Beijing, Johnnie Walker House. The whiskey brand has called it "the world's largest embassy for luxury Scotch whiskey" outside of Scotland, reported CNN. This is Johnnie Walker's second outpost in China, with one popular spot already open in Shanghai.
The upscale whiskey club has four-levels and offers rare whiskey, culinary pairings and personalized whiskey blends.
"The Johnnie Walker House in Shanghai has been our most successful experiment in marketing and commercial innovation in Asia to date," said Gilbert Ghostine, president of Diageo Asia Pacific, Johnnie Walker's parent company, to The Los Angeles Times. "This experience has brought new energy to Johnnie Walker's century-long story of progress in China."
The center in Beijing's Dongcheng district includes a re-creation of founder John Walker's grocery shop in Scotland from the 19th century as well as a blending room and distillery bar.
"Johnnie Walker House Beijing is located at Ch'ien Men 23 - a historical meeting point of East and West in China and one of the most prestigious addresses in the city. The luxury spaces in the two Houses offer the brand a unique opportunity to engage VIP consumers and influencers through invitation-only experiences and rooms such as the Master Blender Suite in Beijing - a VIP-only space inspired by the original Johnnie Walker Blending rooms," says a Diageo press release.
The upscale center also features a members only club where only 200 people will have access. Perks of the members-only club including a whisky vault available only to members where they can store their glasses and bottles and a private dining experience prepared by the in-house chef.
A retail outlet, a bar and museum are also all part of the Johnny Walker House.
"Johnnie Walker House Beijing is a multisensory experience," said General Manager Lawrence Law to The Los Angeles Times.
Diageo said to CNN that they have plans to expand Johnnie Walker House beyond just China, starting in Asia and moving onward. Since it opened the Shanghai outpost in 2011, sales of Johnny Walker whiskey have increased by 64 percent year on year, reported CNN."The Johnnie Walker House in Shanghai has been our most successful experiment in marketing and commercial innovation in Asia to date. This was a journey for our consumers, as well as our business, and we are very happy today to share even more luxurious offerings through the Johnnie Walker House Beijing," Ghostine said in a Diageo press release. "This experience has brought incredible success and new energy to Johnnie Walker's century-long story of progress in China."
Article Courtesy of Travelers Today
04 Feb
2013
Glengoyne Whisky supports Help for Heroes
Glengoyne Highland Single Malt Scotch Whisky, owned by Ian Macleod Distillers, presented a boost to the funds of military charity Help for Heroes.
Glengoyne raised £15,000 in partnership with 1879 Events – organisers of events in support of military charities – through two key events in 2012: the Auld Enemy Dinner, an annual event stage on the eve of the Calcutta Cup and the Auld Enemy Golf Day, a Scotland v England tournament which took place at Fairmont St Andrews.
Alan Wardrop, UK Sales Manager of Ian Macleod Distillers, presented a cheque to Major (Retd) Tim Grantham on behalf of Help for Heroes, at the Dreghorn Barracks in Edinburgh, home to The Royal Scots Borderers (1 Scots), 1st Battalion Royal Regiment of Scotland. Captain Bob Stuart MBE – 1 SCOTS, Lieutenant Commander Billy Adams MBE – Royal Navy and Squadron Leader James Lafferty – RAF Leuchars was also be in attendance.
Article Courtesy of The Edinburgh Reporter
01 Feb
2013
Whisky makers toast first Wolfburn cask
THE country's newest distillery has raised a glass to the first barrel of whisky made in Thurso in over a century.
Wolfburn Distillery began creating its single malt whisky this week at its new premises on the outskirts of the town, metres from where the original distillery was located.
The private consortium behind the project was granted planning permission to build the distillery in June, with construction starting in August and the distillery equipment installed in December.
The first oak casks were filled with the Wolfburn malt on Wednesday, the first such process to take place in Thurso for 136 years.
Production manager Shane Fraser said the firm is delighted that everything has gone according to schedule so far and revealed the first casks being filled with malt was an exciting moment for everybody involved.
"To watch the distillery go from concept to reality has been a truly superb experience," he said.
"Commissioning went very smoothly indeed – the equipment performed exactly as expected and the first spirit is already flowing from the stills."
The distillery has been built at Thurso Business Park, 350 metres from the original Wolfburn distillery which closed in 1877 and the ruins can still be seen today. The distillery draws its water from the Wolf Burn, as did the original building which was constructed in 1821.
It was owned by William Smith and was passed down through subsequent generations of the Smith family in the 19th century and in its heyday was the largest distillery in Caithness.
Wolfburn has now taken Pulteney Distillery's title as the most northern distillery on the UK mainland but the Wick firm has been in close contact with management at the new distillery, offering help and advice to get the business up and running.
The pair will be working together in Wolfburn's first few years in various areas of business, while it has also been announced the Thurso distillery will be mentioned in the Malt Whisky Yearbook 2013.
The first bottling of the Wolfburn single malt is expected in early 2016 when it is planned to be marketed in the UK and abroad to capitalise on the success of the Scotch whisky industry.
The firm consists of three members of staff but once the whisky is on the market it plans to hire more staff to promote the product.
Article Courtesy of John O'Groat Journal
01 Feb
2013
Global thirst for whisky 'to continue'
Diageo predicted yesterday that demand for whisky would continue to rise across the world after Scotland's national drink helped to boost profits.
A rise in the number of consumers acquiring a taste for whisky in regions including Latin America and Africa more than offset a fall in sales in troubled European countries such as Spain and Greece in the second half of last year.
Chief executive Paul Walsh also predicted Diageo, the firm behind brands including Johnnie Walker and Buchanan's, would continue to enjoy rising sales of whisky and said a £1billion Scottish investment programme was on track.
Article Courtesy of The Press and Journal

The Press and Journal
31 Jan
2013
anCnoc Highland Single Malt Scotch Whisky Releases 22 Years Old
anCnoc Highland Single Malt Scotch Whisky has announced the first limited release of its 22 Years Old, the latest hand selected addition to the brand's core range.
The whisky, which has been matured in American bourbon and Spanish sherry oak casks at its Knockdhu distillery in Knock, Banffshire, has been bottled in its most natural form – neither chill-filtered nor coloured.
Priced at a recommended retail price of £85, only 950 cases will be made available throughout 2013 in the UK, USA, Sweden, Russia, Denmark, Japan and Taiwan.
Gillian Gibson, Brand Manager at anCnoc, said:
"Releasing our 22 Years Old marks the first in a series of exciting developments for anCnoc in 2013 which are sure to delight fans of our portfolio of single malts worldwide.
"This particular expression, which was bottled at 46%, has a unique taste profile and we are confident that it will find favour with whisky enthusiasts everywhere."
Bright gold with a copper tint in colour, anCnoc 22 Years Old is full bodied and complex with crushed clove, raisin and blood orange flavours on the palette, the taste is closely followed by layers of fragrant vanilla and leather.
As well as the release of the 22 Years Old, anCnoc has also re-released its popular 16 Years Old single malt which was unavailable for the majority of 2012. Over 800 cases will be made available this year and will be sent to key customers in the UK, USA and selected export markets.
Wholly matured in American ex-bourbon oak casks, the product will have a recommended retail price of £60. Gillian Gibson added:
"anCnoc 16 Years Old was very popular when we first released it in 2008 and we are delighted that global whisky lovers will once again be able to purchase this distinctive expression."
The distillery at Knockdhu has been in operation since 1894. anCnoc, which is owned by Inver House Distillers, is a brand closely associated with the arts having released a series of Limited Edition expressions last year with the designs of acclaimed Scottish artist Peter Arkle and a continuing support of the arts community.
Article Courtesy of the Press Release

Press Release
29 Jan
2013
Parker Williams makes whisky bottles 'talk' to each other
Parker Williams has designed new packaging for premium whisky brand Ballantine's Finest, which creates an illusion of the movement of light across the bottle by using electroluminescent technology.
Electroluminescent technology allows thin materials to emit light as an electric current passes through them and can be customised to create an animated sequence.
The consultancy was appointed in December 2011 by Ballantine's Finest brand owner Chivas Brothers, which needed an innovative way to capture the brand proposition 'Leave an Impression' according to Parker Williams.
The bottle needed strong visibility behind bars where light is poor in the on-trade environment of bars and clubs.
Recent Ballantine's marketing work had forged a link between the brand and music, which also had to be addressed in the design according to Parker Williams.
In response the B of Ballantine's is emphasised in the design and appears to conduct light, pulsing across the bottle like sound waves.
Parker Williams creative director Jo Saker says, 'We were particularly excited that electro-luminescent technology could be developed to make it seem as though the bottles can 'talk' to each other.
'When they are grouped in a large bar display, they can be programmed for the sequence to run in unison or for the light effect to radiate out from a central point across the bank of bottles.
Article Courtesy of Design Week

25 Jan
2013
First Criminal Conviction In China Over Fake Scotch Whisky
The first criminal case in China against someone misusing the description 'Scotch Whisky' has been concluded.
The Chinese authorities prosecuted LI Cuihong, a wholesaler selling a range of fake alcoholic drinks, in Urumqi in the west of China. Some of the fake products were labelled as 'Scotch Whisky' when, in reality, they were unaged Chinese spirits containing artificial flavouring. She has been sentenced to four years in prison and fined £50,000.
The Scotch Whisky Association said this criminal conviction underlines the serious approach taken by the Chinese authorities to the issue of fake alcohol which can be dangerous for consumers and can harm the reputation of Scotch Whisky. It is the first time the Scotch Whisky trademark in China has been used to take a criminal case in that market. While there have been previous convictions for misuse of individual company trademarks, it is the first prosecution for using the term 'Scotch Whisky'.
Lawyers told the judge that if the fake spirits were sold they would "cause enormous damage to the trademark owners and consumers". They also drew the judge's attention to the fact the defendant had served a prison sentence as a result of a previous conviction for selling illegal spirits.
The defendant's lawyer did not challenge most of the facts presented, but argued that 1,400 bottles should be disregarded when passing sentence. Although these bottles bore the words 'Scotch Whisky', the defendant's lawyer claimed they did not resemble any international Scotch Whisky brands. The judge rejected this argument and made it clear that misuse of the words 'Scotch Whisky' alone constituted a serious criminal offence.
The SWA described this decision as a major success for its legal protection work in China.
Lindesay Low, the SWA legal adviser responsible for China, said:
"China is a growing market for Scotch Whisky. Unfortunately, its popularity also makes the production and sale of fake Scotch Whisky a lucrative pursuit. The Chinese authorities are very supportive in the fight against fakes and this case shows they are willing to crack down on those involved. It is the first time the Scotch Whisky collective trademark has been used to secure a criminal conviction.
"This conviction of someone selling fake 'Scotch Whisky' should be an example to others involved in this dangerous business which is damaging for both consumers and the legitimate drinks industry. It is further evidence of the successful work being done in co-operation with the Chinese authorities to protect the reputation of Scotch Whisky."
Article Courtesy of The Caterer, Licensee & Hotelier News Group

24 Jan
2013
Viking Line Whisky Fair hosts first Age of Discovery III global tasting
Liquor supplier William Grant & Sons hosted a number of samplings, masterclasses and events to showcase its full product portfolio during the 2013 Viking Line Whisky Fair, which took place on board the MS Cinderella on January 17–20.
The events included the world's first public tasting of the Glenfiddich Age of Discovery range, including the latest addition, Red Wine Cask Finish, as well as samplings of the Glenfiddich 125th Anniversary Edition, both led by Glenfiddich global brand ambassador Ian Millar.
Balvenie global brand ambassador Sam Simmons paid homage to the 50th anniversary of malt master David Stewart by offering passengers the chance to taste some of the memorable samples from each of David's five decades with the distillery including The Balvenie Fifty, while Grant's fans were introduced to the range by global brand ambassador Ludovic Ducrocq . Tullamore Dew irish whiskey and Hendrick's gin also had displays and samplings on board.
William Grant & Sons brand manager Nordic travel-retail and Norway Anneli Sjöblom said: "Events like this provide us with an absolutely wonderful opportunity to showcase our brands to a very appreciative and high consuming passenger. What is so brilliant is that Viking Line gives us such scope to create our own promotional activity for each brand, enabling us to engage with consumers in the right way for each line. We are once again most grateful to Viking Line for giving us this opportunity."
Viking Line tax-free manager sales and purchasing Kim Engblom added: "We're delighted that William Grant & Sons continues to place such importance on the Whisky Fest and supports the event so whole-heartedly. With all of the company's brand global ambassadors here onboard hosting masterclasses, customers have had an unparalleled opportunity to better understand the various whiskies in the WGS portfolio and to be introduced to new products such as Glenfiddich Age of Discovery III and the new-look Tullamore Dew…We enjoy an excellent ongoing partnership with William Grant which continue to provide innovative and engaging events for our customers."
Article Courtesy of Duty Free News International

23 Jan
2013
Glengoyne Whisky announces additional listings in Sainsbury's stores
Glengoyne Highland Single Malt Scotch Whisky has this week launched its 10yo malt, part of the enhanced and repackaged whisky collection, into the top 150 malt selling Sainsbury's stores across the UK, bringing the total number of Sainsbury's stockists to 169.
The additional listings follow the re-launch of the award-winning brand's collection in autumn 2012. In addition to the 10yo, 12yo and 21yo, Glengoyne introduced three new malts to complete the line-up – a new premium Glengoyne 15 year old malt, a new formidable cask strength expression to replace the current 12 year old cask-strength and a new world-class 18 year old replacing the 17yo as well as iconic new packaging. Each new expression has been crafted from some of the finest sherry casks within Glengoyne's warehouses.
Neil Boyd, UK commercial director for Ian Macleod Distillers said: "Since the Glengoyne re-launch, consumer response has been fantastic which is being reflected in significantly increased sales. We continue to build our distribution base in order to make Glengoyne available to consumers everywhere and this additional Sainsbury's listing is a welcome and ideal opportunity to take our flagship brand to malt-lovers in areas where Glengoyne was not previously available."
Glengoyne is Scotland's leading, independent, family-owned distiller and has been owned by Ian Macleod Distillers for almost 10 years. Each new expression has been crafted from some of the finest sherry casks within Glengoyne's warehouses. The Glengoyne Distillery – highly regarded as Scotland's most beautiful distillery in Dumgoyne near Loch Lomond – runs its stills slower than any other distillery, supporting the claim that Glengoyne genuinely is "Worth the Wait".
The Glengoyne 10yo is available from Sainsbury's for £32.99.
Article Courtesy of Talking Retail

21 Jan
2013
New Zealand Prime Minister Repatriates Shackleton's Whisky
New Zealand Prime Minister John Key returned 3 bottles of more than 100 year-old whisky to the Antarctic Heritage Trust in Antarctica. The 3 bottles are from whisky crates excavated from under explorer Sir Ernest Shackleton's only Antarctic expedition base by Trust conservators in 2010.
The Prime Minister handed the whisky over to Antarctic Heritage Trust Trustee Rob Fenwick. The bottles will then be entrusted to Lizzie Meek, Antarctic Heritage Trust's Programme Manager – Artefacts. The Trust cares for the whisky, as well as thousands of objects left in the expedition bases by the early Antarctic explorers.
The handover marks part of the final stage in a remarkable journey. After excavating the whisky one crate was flown to Canterbury Museum, New Zealand under permit from the New Zealand Government and thawed by Programme Manager Lizzie Meek, revealing eleven bottles of Mackinlay's whisky.
Three bottles were then sent to Scotland for scientific analysis by Whyte & Mackay, (owner of the Mackinlay's brand) and The Scotch Whisky Institute. The whisky provided a unique opportunity to apply modern sensory and chemical analytical methods to establish the flavour and composition of a product manufactured more than one hundred years ago.
Whyte & Mackay's Master Blender, Richard Paterson, then used his unique nosing and tasting skills to create an exact replica of the whisky. This whisky, which has been sold around the world, has gone on to raise over £250,000 to fund various Antarctic Heritage Trust projects, including the preservation of Shackleton's Antarctic expedition base.
Repatriating the whisky back to Antarctica fulfils the permit conditions issued by the New Zealand Minister of Foreign Affairs to remove, analyse and return the whisky.
The whisky travelled to Antarctica on Thursday 17 January 2013. The handover took place in the Antarctic Heritage Trust's conservation lab at New Zealand's Scott Base where the Trust's team of conservators work over winter, conserving the explorers' clothing, equipment, tinned goods and personal items.
Once conservation is complete at Scott Base the 3 crates will be returned to Ernest Shackleton's British Antarctic Expedition 1907-1910 base at Cape Royds, Antarctica.
Richard Paterson, Whyte & Mackay Master Blender said "Having the chance to analyse and taste a whisky that is over 100 years old has undoubtedly been the highlight of my career. The whole process – from discovery to excavation to recreation and now repatriation - has taken 5 years but it's been well worth it!
And as we come full circle in the original whisky's journey, I'm pleased that the pioneering spirit of Shackleton will live on through the Antarctic Heritage Trust's research, books, stories and of course the whisky! It is indeed an enduring spirit."
Article Courtesy of the Press Release

Press Release
17 Jan
2013
£1 tax on whisky could hit jobs in Leven
A PROPOSAL to boost Scotland's coffers by imposing a £1 tax on each bottle of Scotch Whisky has been slammed by Levenmouth's biggest employer.
Global drinks giant Diageo – the UK's leading player with almost a 40 per cent share of the market – claims the move would "deeply damage" its local operations at Banbeath and Cameronbrig Distillery.
The firm made a cool £3 billion profit last year but in the 'Scotched Earth' TV programme aired last week, economic advisor Professor John Kay claimed the benefits for Scotland were "disappointing".
Tax plan
He proposed a tax of £1 on the production of each bottle could boost Holyrood by at least £1bn.
Professor Kay said: "The largest producers are not based in Scotland.
"Their profits go mostly to people who are not resident in Scotland.
''They don't pay much tax in Scotland, and we don't think they pay much tax in the UK."
Diageo has invested more than £200 million in Fife over the past three years.
It spent £91 million on expanding Banbeath, creating 400 new full-time jobs.
During peak periods, 1500 people are employed by Diageo in Levenmouth.
The firm's spokeman said: "The suggestion of a production tax on Scotch whisky is potentially deeply damaging to the industry and to the prospects for investment and growth in the future.
"Scotch whisky is part of a fiercely competitive global market place and anything which adds to the cost of production will damage its competitiveness and harm its long term prospects.
Damage to growth
''Anything which damages the growth of Scotch whisky will also jeopardise the investment which is being made in Scotland and the jobs it creates."
Gavin Hewitt, Scotch Whisky Association chief executive, said the national drink was contributing more in productivity than the City of London.
It was "ludicrous" to tax a product and potentially stifle a market which had become one of Scotland's few economic success stories, he commented.
Article Courtesy of the Fife Today

15 Jan
2013
Whisky industry challenges Scottish plans for minimum pricing for alcohol
The whisky industry has launched a legal challenge to the Scottish Government's controversial plans to introduce minimum pricing for alcohol.
The Scotch Whisky Association claims the proposed minimum unit price of 50p is illegal and will damage the industry.
It is seeking a judicial review of the legislation, along with several European wine and spirits bodies, and argues that the law passed by the Scottish Parliament last year breaches EU trade rules.
The Alcohol (Minimum Pricing) (Scotland) Act 2012 was passed in May 2012 as part of an effort to tackle alcohol misuse north of the border.
The Scottish Government has said the minimum price would initially be set at 50p, meaning the cheapest bottle of wine would be £4.69 and a four-pack of lager would cost at least £3.52.
The bill received royal assent in June, but Scottish ministers have undertaken not to introduce the measures until after the Court of Session in Edinburgh has made its ruling.
Article Courtesy of the The Telegraph

13 Jan
2013
Moray whisky trail 'a missed opportunity'
Speyside's unique malt whisky heritage should be marketed more vigorously to attract wealthy tourists, according to the former chairman of VisitScotland.
Peter Lederer, who is also director of Diageo in Scotland, said Moray's whisky trail was "a missed opportunity".
He said the area should learn from some of the world's top regions for vineyard tourism, such as South Africa, California and Spain.
Speyside is home to about half of Scotland's malt whisky distilleries.
It boasts some of the most famous and long-established distilleries as well as the only working cooperage in the UK.
However, the former tourism boss believes the area is not fully capitalising on its unique position.
Continue reading the main story
"Start Quote
There's only one place that could call itself the malt whisky valley, and that's Speyside"
Peter Lederer Former VisitScotland chairman and Diageo director
Mr Lederer said: "I think you've got an opportunity here with an industry that has proven it has growth potential.
"We should look at it as an economic opportunity, how can Scotland benefit from this growth industry and build on it?
"I've been to South Africa and looked at what Stellenbosch is doing, and Franschhoek next door. All the wineries are working together, they're all individual, they've all got great products and beautiful restaurants, coffee shops and hotels. All are working with government, at all levels, to market South African wine.
"And then I look at Speyside and see that as a lost opportunity."
Scotch exports were worth £4.23bn in 2011 - representing roughly a quarter of Scotland's total exports, with 40 bottles shipped overseas every second.
Mr Lederer's comments come after calls were made for a tax to be levied on each bottle of Scotch, to give Scotland a greater share in its growing success.
Professor John Kay, who served on the Scottish government's Council of Economic Advisers, told a BBC documentary, Scotched Earth, that whisky's recent exporting success had brought "disappointing" benefits to its country of origin.
He said Holyrood could put a levy on the water used in the distilling process, a suggestion backed by another former economic advisor to the government, Sir George Mathewson.
'Fragile rural economy'
However, the whisky industry said move would hit demand, reduce investment and cost jobs.
Mr Lederer said: "The industry provides huge numbers of jobs, it's a successful industry.
"In Speyside, it is a huge player in a fragile rural economy. How can we build that, so it's not only a visitor experience but also growing the economy in that area?
"There's only one place that could call itself the malt whisky valley, and that's Speyside.
"That's the way we should be looking at it, rather than asking what the industry gives back."
You can hear more on this story by listening to BBC Radio Scotland's Business Scotland on BBC iPlayer and by free download.
Article Courtesy of the BBC News

13 Jan
2013
Scotched Earth: Who controls Scotland's economic levers?
There's not much doubt about the direction of travel of the Scotch whisky industry.
The start of last year saw exports dip as higher French taxes kicked in, but distillers are assuming the longer-term trend is strongly upwards.
So in an industry that has to produce now for consumption in five to 15 years from now, they're splashing around the investment.
The world's biggest spirits company, Diageo, last year committed another £1bn of investment over the next five years.
After opening Roseisle distillery near Elgin in 2009, with capacity to make 35 million bottles a year, it's just opened its new bottling hall at Leven in Fife, with plans near there for a big expansion in warehousing.
It says it needs at least one more like Roseisle, and a dozen smaller distilleries are having capacity increased.
Pernod Ricard, the industry's number two, better known in Scotland as Chivas Brothers, is ramping up production as well, expanding existing distilleries and reopening Glen Keith ten years after it was closed.
It has about 60% of Roseisle's capacity.
Barrels of business
In other words, it's a good time to be a coppersmith in Scotland, and not a bad time to be working in a cooperage either.
Along with producer Craig Williams and cameraman Alan Harcus, I was at the Craigellachie distillery recently to film for a documentary, Scotched Earth, which was broadcast this week and is still available on iPlayer.
It showed not only that there's a lot of demand for repaired casks, but it's also a fascinating example of how piecework motivates productivity.
The 14 coopers working there (one of them a Hungarian barrel-maker called Attila, who turned up on his Harley-Davidson one day, looking for work) never stop for a moment, least of all to speak to each other.
Despite the growth in production, the number of jobs doesn't appear to be growing by much. Direct employment remains below 11,000, according to industry figures.
Roseisle operates round the clock on a workforce of only 12 people.
The industry recently put out figures boasting that it's got higher worker productivity than any other industry other than offshore oil and gas, and better than the City of London's financial sector. But that's because you can make so much with so few people.
Bottle tax
And that's why the documentary looked not only at the success of Scotch exports, but asked about the benefits coming back to Scotland.
Venerable business experts Professor John Kay and Sir George Mathewson, both former members of the Scottish government's Council of Economic Advisers, on the government to look at introducing a bottle tax.
They're arguing that that would be a means of getting more value for Scotland and sharing some of the distillers' big profits with the country from which this product has to be produced.
And Sir George pointed out this is not a debate about tax powers: they may already exist, as Holyrood has powers over regulation and pricing of water - the ingredient in whisky which, unlike barley or casks, has to come from Scotland.
Barrels of malt whisky at the Glen Grant distillery in Speyside Despite growth in production, the number of whisky jobs doesn't appear to be growing by much
This has caused quite stir in recent days. Gavin Hewitt, of the Scotch Whisky Association, described it as "completely harebrained"; why tax success, and why make a product more expensive in markets where distillers of other spirits are eager to knock Scotch off its premium perch?
The Greens' Patrick Harvie liked the idea. Tories hated it. The Scottish government says it's not looking at it, though SNP MPs took divergent lines on it.
One clarification worth making: there's been some confusion about the idea of a bottle tax and the current tax on whisky.
The tax already paid is mainly a consumer tax, and it varies from one country to another. As the main part of the cost of a bottle of spirits, the UK Treasury only gets to tax the 10% or so of production that's sold in the UK, and of course, it charges VAT on top of that alcohol duty.
The other source of tax at present is corporation tax levied on the profits made by distillers, and that should apply to all the production of Scotch.
However, big corporations are rather good at moving the value of production to tax jurisdictions where they pay the lowest possible tax.
It's not clear how much this applies to the multinationals which dominate Scotch whisky. Diageo says it pays 18% tax on profits in the average year, but doesn't break down where that's paid.
The bottle tax proposal differs from these other sources of taxation as being a tax that's levied on production for UK markets and for export. It would not be directly levied on consumers or on profits, but is more easily collected, as it's linked to the volume of whisky as it leaves the distillery or bottling hall.
Modest jobs
The undercurrents of this issue of a bottle tax are several bigger questions about the Scottish economy, particularly in the context of the debate on Scottish independence.
First, how much control can any government have over internationally-mobile business? The Mathewson/Kay argument is that whisky stands out against other products because distillers have to be in Scotland to make it, so here's an opportunity to take advantage of that leverage. You can't, by contrast, do that with electronics or cars.
Second, how would an independent Scotland treat international investors? As a source of tax revenue, expected to share the benefits of operating in Scotland? Or as a source of jobs, however modest the numbers might be?
Third, why are the people who control Scotch whisky overwhelmingly based elsewhere? And fourth, does that matter?
Foreign control
Diageo has more than 35% of the whisky market, and if it can secure control of India's United Distillers, including Whyte & Mackay, that will push up to 40%. (A report in the Sunday Herald suggests that Indian regulators are sticking their oar in as the Delhi authority resists, yet again, opening up to foreign ownership. This debate about foreign control of economic assets is raging much more ferociously elsewhere).
Pernod Ricard in France, has around 20%. LVMH, with Glenmorangie, Remy Cointreau, which recently paid a whopping £58m for Bruichladdich distillery on Islay, and Japan's Suntory which has Morrison Bowmore, contribute to another 20%.
There are newcomers on a small scale based in Scotland, along with two Scots headquarters for bigger players, William Grant and the Edrington Group, combined representing around 20% of the industry.
The Business Scotland radio programme this week has also looked at the industry's past, present and future.
The view I found, in widespread discussions, was that, whatever the criticisms of big distillers for taking the benefits of Scotch whisky's success in very large profits, these same companies brought professionalism, marketing expertise, global distribution networks, and it's turned around the industry's dire position in the 1980s.
Tartan ring fence
And while the industry's doing well, it seems a friendly business environment, where smaller players are happy to work with the bigger ones, swapping stock and benefiting from the marketing and advertising reach worldwide.
As part of that investigation, economic commentator Alf Young looked back at where this debate about foreign ownership has come from.
He puts the takeover of Distillers Company in 1987 by Guinness, later to become Diageo, amid the other fundamental changes in the economy at the time, as Royal Bank of Scotland fought off takeover by HSBC, and heavy industries faced huge job losses and closures.
Even in business circles, the issue then was whether to put a "tartan ring fence" around strategically-important Scottish businesses.
As he puts it, neither of the two alternatives at that time looked attractive: foreign ownership or oblivion.
It was oblivion for some sectors, foreign ownership for others, and an opportunity for other Scottish firms to go out and acquire business overseas, including, as it happens - and with disastrous consequences - Royal Bank of Scotland.
And to quote Alf Young: "It's extraordinary we're having this debate about independence, and we don't have a debate about the independence of our corporate base".
Scotched Earth can be seen again on iPlayer, and is being broadcast on BBC News 24 on Sunday 13 January at 14:30, 20:30 and 22:30. Business Scotland can also be heard on iPlayer.
Article Courtesy of the BBC News

10 Jan
2013
SWA slams proposals for Scotch whisky tax
The chief executive for the Scotch Whisky Association, Gavin Hewitt, has defined proposals to put a bottle tax on whisky as "ludicrous".
The comments came on the back of a suggestion by senior SNP advisers Professor John Kay and Sir George Mathewson, on the BBC One Scotland programme Scotched Earth, that a "tartan tax" could be levied at £1 per bottle in order to bring a £1 billion boost to the Scottish government.
It was reported by the Telegraph that both Kay and Mathewson, who have served as members of First Minister Alex Salmond's Council of Economic Advisers, believe that the extra tax would help Scotland share in the global success of the country's most successful export.
Hewitt said: "It is a ludicrous suggestion that Scotch whisky, one of Scotland's few economic success stories, should be burdened with additional taxation."
"Scotch whisky competes in the international market with other spirits and alcoholic drinks, most of which are cheaper to produce and sell at a lower price. Any new tax would be passed on to consumers, which would reduce demand, and stifle growth and new capital investment in Scotland, much of it from foreign sources."
He added that the tax would impact on jobs and damage communities which depend on the industry. "Why would a government looking for export-led recovery penalise Scotch whisky, its biggest export? It shows economic naivety about the industry."
He added: "Scotch whisky is worth more than £4 billion to the Scottish economy and has reached record levels of productivity – it contributes more in productivity than the City of London. For decades, industry success has been built, with government help, through fighting penal taxes overseas. A new tax at home would inevitably undermine that work, decrease production of Scotch whisky and other spirits produced in Scotland, such as gin and vodka, and make Scotland less competitive internationally."
Article Courtesy of Harpers

9 Jan
2013
Plans announced for £3m single malt whisky distillery in Fife
Plans have been announced for a new single malt whisky distillery and visitor centre at Kingsbarns in Fife.
The Wemyss family, who own Wemyss Malts - an independent bottler with a whisky range, have been unveiled as the backer of the £3m development, which will be around six miles from St Andrews.
The Scottish Government is also supporting the development with a grant.
It is anticipated that work will begin at the site at East Newhall Farm Steading, close to the Kingsbarns championship golf course, early this year and that distilling could be a year later.
The distillery will be built on land which will be leased for Sir Peter Erskine of the Cambo Estate.
Speaking on behalf of the family William Wemyss said: "This rare opportunity to distil our own single malt whisky and develop a new Scotch whisky brand to support our existing business as an independent bottler will secure the family interest in Scotch for the next generation.
"We are delighted to be working with the Scottish Government, Sir Peter Erskine and Kingsbarns Distiller founder, Doug Clement, to bring a new distillery and visitor centre to the East Fife area."
Article Courtesy of STV
9 Jan
2013
Whisky tax 'could benefit Scots'
A tax should be levied on each bottle of Scotch whisky to give its country of origin a greater share in its growing success, economic experts have said.
It is reckoned a tax of £1 on the production of each bottle could boost Holyrood coffers by at least £1bn.
The call came from Professor John Kay, who served on the Scottish government's Council of Economic Advisers.
The Scotch Whisky Association said the move would hit demand, reduce investment and cost Scottish jobs.
Prof Kay said the recent exporting success of Scotch had brought "disappointing" benefits to Scotland.
In a BBC Scotland investigation, Sir George Mathewson, who was chairman of the Council of Economic Advisers appointed by First Minister Alex Salmond, supported the idea.
The Scottish government cannot now tax the alcohol, as that power is reserved to Westminster.
However the former chairman of the Royal Bank of Scotland said Holyrood could put a levy on the water used in the distilling process.
Powers over charging for water are already devolved to Scotland so it was argued they would not require additional constitutional changes.
The Scotch whisky industry said it exported 40 bottles per second in 2011. When the produce left the distilleries, it was reckoned to be worth about £5bn.
In addition to the huge market in the United States and France, Scotch has had great success in attracting the fast-growing middle class in emerging markets from South America to Asia and Africa.
However, Mr Kay, who is an economics professor and author, criticised the industry for the concentration of ownership in major corporations outside Scotland, meaning most of the profits leave the country.
Diageo, which has its headquarters in London and is also listed on the New York stock exchange, is the leading player.
It is expanding towards a 40% share of the Scotch market.
Whisky is about a third of its business, with total profits last year of £3bn.
Prof Kay said: "I think the benefits to Scotland from the whisky industry are really quite disappointing."
"The largest producers are not based in Scotland.
"Their profits go mostly to people who are not resident in Scotland. They don't pay much tax in Scotland, and we don't think they pay much tax in the UK."
According to analysis by Biggar Economics consultancy, in work commissioned for BBC Scotland, the Scotch whisky industry spends about £500m on paying fewer than 11,000 direct employees.
Supplies are reckoned to cost the industry around £1.5bn, of which 80% goes to Scottish firms, including grain farmers, packaging and haulage.
That leaves £3bn in profits and the cost of capital.
On that basis, it is calculated that a 10p per bottle tax on the production of Scotch whisky could raise £104m, rising to £1.04bn for £1 per bottle.
That assumes distillers absorb the extra tax from profits, which would lead to a drop in corporation tax paid to the Treasury in London.
If, however, the tax is passed on to customers in higher prices, it is assumed there would be a drop in demand but it would lead to a much smaller drop in corporation tax paid by distillers.
In that case, Biggar Economics said there would be a £128m net gain from a 10p tax and £1.22bn gain from a £1 per bottle tax.
Sir George said a new tax of 50p per bottle could lead to higher prices but that "would not be a major percentage of the sales price".
He said: "It's also highly profitable as I understand it, so it would seem to me there's room there for something."
He argued that employment from whisky was "pretty minimal for that scale of business".
And he said that a bottle tax would be mainly paid from overseas rather than the UK.
"I don't believe it (the industry) would be substantially harmed and I believe that the success could be spread around a little more," Sir George said.
Gavin Hewitt, chief executive of the Scotch Whisky Association, which represents the industry, stressed that Scottish-made whisky was competing in tough international markets where it was up against other whiskies and other spirits, from vodka to distilled rice.
He said: "I cannot see why any government would apply a production tax which would make Scotch whisky less competitive overseas against other drinks which are cheaper to produce and cheaper to sell."
He went on to stress the industry's commitment to Scotland, saying: "We have already enjoyed over £1bn of investment into Scotland in the past four years.
"I will put my head on the block now and say that we're going to enjoy £2bn of investment in the Scotch whisky industry in the next three to four years."
Peter Lederer, director of Diageo in Scotland and a senior figure in the tourism sector, said that a new tax would send the wrong signals to those thinking of investing in the Scottish economy.
He said: "If the argument in an economy is to take a successful business and keep taxing it because it's successful, then I think that gives the wrong impression."
Scotched Earth will be shown on BBC1 Scotland at 22:35 on Wednesday 9 January. It is also scheduled for broadcast several times on the BBC News Channel during Saturday 12 and Sunday 13 January.
Article Courtesy of the BBC News

7 Jan
2013
Glenmorangie Global Master Brand Ambassador David Blackmore Named 2013 Scotch Whisky Ambassador of the Year
Glenmorangie, Scotland's favorite single malt Scotch, today announced its global master brand ambassador David Blackmore has been named 2013 Scotch whisky Ambassador of the Year by Whisky magazine. This marks the second year in a row Blackmore has been bestowed with the honor by this premier publication.
Blackmore leads Glenmorangie's single malt Scotch whisky education program in the U.S., hosting tastings and consumer-facing events across the country. Working with thousands of whisky novices and connoisseurs alike, Blackmore's initiatives have helped Glenmorangie become the fastest growing single malt whisky in the U.S. for the fourth consecutive year.
"David's passion for whisky education and ability to make the complexity of Glenmorangie accessible to others is unparalleled," said Brian Cox , Vice President of Glenmorangie in the U.S. "He is a consummate professional, and he has made teaching about whisky an art form. David is truly in a class of his own and we are honored he's been a part of our family for the last six years."
Blackmore is a native of Edinburgh, Scotland. He has honed his skills working alongside the famous Sixteen Men of Tain at The Glenmorangie Distillery and with the whisky creators at Ardbeg distillery.
Prior to his tenure at Glenmorangie, Blackmore spent three years at the Scotch Malt Whisky Society in Scotland and London. During this time, he chaired the prestigious "Tasting Panel," which is responsible for selecting casks for maturation.
The fastest growing single malt whisky in the U.S., Glenmorangie has received tremendous accolades from the International Wine and Spirits Competition, the San Francisco World Spirits Competition, Jim Murray 's Whisky Bible and the Wine Enthusiast's Wine Star Awards. Over the last five years Glenmorangie has won more "Gold Best in Class" medals than any other single malt from the International Wine and Spirits Competition and was named Glenmorangie the 2012 Distiller of the Year.
Article Courtesy of the Press Release

Press Release
4 Jan
2013
Whisky challenge laid down
A CHALLENGE is being laid down for more businesses and communities to share in the success of the Spirit of Speyside Whisky Festival
Last year's five-day event contributed £1.3 million to the local economy, and the organisers have launched a New Year drive to get more people involved this May.
Chairman James Campbell said: "It brings a huge boost to the economy and attracts thousands of visitors from all over the UK and abroad, some for the first time and many returning year after year.
"They need goods and services for their stays, and they want to get involved with local experience by eating out with us, enjoying the food experience, and by joining with us at entertainment events.
"Businesses all over Moray should start thinking now about how they can benefit from this influx of people and the money they bring, and we want to encourage communities to think about how they can be more involved in the festival, perhaps by putting on events and entertainment that would draw visitors while here.
"It's an opportunity not to be missed."
Mr Campbell and festival manager Mary Hemsworth are heading up an initiative to seek local involvement in solving two problems surfacing as the festival grows bigger year by year – finding enough beds for visitors and moving people around the area's many events.
"We need to know if there is accommodation in the Speyside and Moray area that has not been identified," said Mr Campbell. "It is becoming increasingly difficult to find beds for visitors and last year we were pointing people towards Grantown, and this year Aviemore is preparing to take visitors, with both places also becoming involved in festival events.
"If there are B&Bs in Speyside and Moray that will have places then we want to hear from them now."
Ms Hemsworth is also calling for bus companies to come forward and participate in talks on how to move festival goers around the area more easily.
"We have tried various systems but we would love to hear from bus companies on what they think and how they can benefit from the festival. We want people visiting distilleries and other events, and having a dram, to be transported there and back.
"There were 28,500 visits to festival events last year, which shows the scale of the challenge, and there is obviously a great opportunity there for local transport companies."
More music events are planned for this year and the festival is also opening up its prestigious awards judging to more local people and visitors.
Instead of judging being held before the opening Thursday night dinner, it will be spread over seven locations over several days, in the run-up to the winners being announced at a separate function on the Sunday.
"We are taking the judging out to the people," said Mr Campbell. "There will be tastings events and dinners for people to attend, blind-tasting the finalists in the three different age categories and making their choice.
"We are the only festival that does this and it makes the Spirit of Speyside special. It makes these the people awards and again encourages the involvement of different communities."
Ms Hemsworth said the Spirit of Speyside Festival was building a massive fan base throughout the world through its website and other forms of social media.
"We hear from people in many countries who have been to the festival before or will be coming for the first time. There is tremendous interest as soon as our programme of events goes up and tickets go on sale. It is quite remarkable.
"This is bringing great prestige to Speyside and Moray and we want local businesses and local communities to get involved with us and benefit. Now is the time to do that."
This year's opening dinner will be at The Glenlivet Distillery on Thursday, May 2, and the festival will run until Monday, May 6.
Ms Hemsworth can be contacted through the website www.spiritofspeyside.com, by writing to her at Spirit of Speyside Whisky Festival Ltd, PO Box 6764, Elgin IV30 9AW, or by telephone at 07789 671 635.
Article Courtesy of Northern Scot

2 Jan
2013
Scotch whisky industry more productive than City of London
Scotch whisky is now worth more than £4 billion to the Scottish economy and is more productive than the City of London, according to a report commissioned by the Scotch Whisky Association (SWA).
The research; Scotch Whisky & Scotland's Economy - A 100 Year Blend, which was undertaken to mark the industry's centenary, reveals the industry is experiencing a second "golden age", with inward investment and the development of international markets helping deliver a "spectacular" performance last seen in the 1970s.
Generating more productivity than the City of London, with employees adding 57% more value per head, the total impact of Scotch Whisky on Scotland's economy is £4.2 billion, with £2.9 billion from the industry itself and £1.3 billion through the industry's supply chain.
It also supports around 36,000 jobs in the industry and across the supply chain in Scotland, outperforming most other industries and underpins the expansion of Scotland's total international export markets, accounting for 55% of the growth since 2002 with rising export value contributing to its success.
Gavin Hewitt, SWA chief executive, said: "This new research is further evidence of the key role Scotch whisky plays in the Scottish economy. The demand for Scotch Whisky is coming increasingly from the world's fastest growing markets. In comparison with other Scottish industries, Scotch whisky already enjoys an enviable export position across a wide spread of emerging economies.
He added: "The report shows Scotch whisky is likely to play an increasingly important role in Scotland's export markets. The momentum of growth needs to be better nurtured by both the UK and Scottish Governments. Scotch Whisky underpins their ambitions for export-led recovery."
A further investment of £2 billion in Scotland in the next few years has been committed by Scotch whisky producers.
Article Courtesy of Harpers




Tous les images et l'information copyright 2012 de www.scotchwhisky.net Le site de référence du whisky.