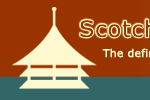 FREE WHISKY MAP OFFER
Sign up to our free newsletter and "facts & tips" emails below and INSTANTLY receive your FREE "Scotch Whisky Distilleries map".





Knockdhu Scotch Whisky Distillery
Knockdhu Distillery, Knock, by Huntly, Aberdeenshire AB5 5LI
Tel: +44 (0)1466 771223 Fax: +44 (0)1466 771359
Knockdhu Distillery General Information
Knockdhu Distillery History
| | |
| --- | --- |
| 1893 | Discovery of several springs of the purest, crystal clear water |
| 1894 | The Distillery construction was completed and production started in October |
| 1898 | Increased demand required additional warehouses to be built |
| 1924 | Operated by the Distillers Agency |
| 1930 | Taken over by Scottish Malt Distillers Ltd. (SMD) |
| 1940 | The Distillery was connected to the national Grid |
| 1960 | A sad day, as the Distillery horse and cart are replaced by a tractor |
| 1966 | The furnaces of the two pot stills were converted to mechanical stoking |
| 1983 | Closed |
| 1988 | Purchased by Inver House Distillers and reopened. |
Knockdhu Distillery Comments
'Knockdhu' means 'Black Hill' in Gaelic. 'An Cnoc' means 'The Hill'
Major contributor to Haig's blends.
Traditional earthen floor warehouses.
Knockdhu Distillery was founded in 1894 following the discovery of several springs of the purest, crystal clear water on the southern slopes of Knock Hill. When production first started, the Distillery was a showpiece. Two pot stills could turn out 2500 gallons of spirit per week, motive power being supplied by a 16hp steam engine. Cottages were built for the workers and their families, creating a new community around the Distillery. Much has been done to modernise buildings and machinery, but very little has changed in the distillation process. The two originally designed pot stills remain, giving Knockdhu the same traditional, distinctive flavour as was first tasted almost 100 years ago.
Knockdhu Distillery Bottlings
An Cnoc 12 Year Old
Nose
Soft, very aromatic with a hint of honey and lemon in the foreground
Colour
Amber with a slight yellow hue
Taste
Sweet to start with a fresh appetising fruitiness and a long smooth finish
An Cnoc 21 Year Old
Nose
Clean, sweet and fresh with an appetising fruitiness. The base note is citric green apples with a hint of sweet meadow
Colour
Pale gold like a young chardonnay
Taste
After a sweet start, predominantly dry with a fresh citrus finish. Light honeycomb and chocolate notes, especially in the aftertaste
An Cnoc 1991
Nose
Floral, fragrant, citrus, lemon, peardrops, sweet, honey, sherry, spicy, vanilla, full bodied.
Colour
Golden amber rich honey.
Taste
Sweet, full bodied, spicy, vanilla, sherry, smooth, citrus, smoky tannins.
An Cnoc 30 Year Old
Nose
Rich, smooth and well balanced. Sweet with fruity overtones and hints of vanilla
Colour
Rich amber, with a golden hue (with hints of emerald and ruby).
Taste
Smooth and full bodied with a long lasting finish. Sweet with sherry and vanilla notes.
Knockdhu Distillery Independent Bottlings
Visit:
www.knockdhu.com
All Images and Information Copyright 2009 www.scotchwhisky.net The Definitive Online Guide to Scotch Whisky.